Bibetta Ultrabib Baby Bib with Sleeves Review
|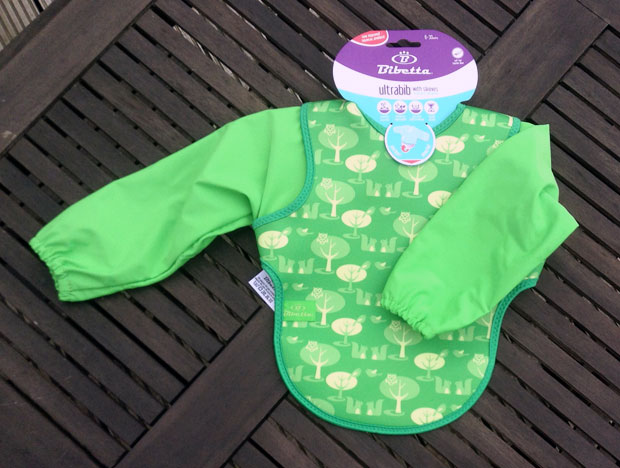 I bought this Bibetta Ultrabib baby bib with sleeves a couple of months ago because I needed a bib for my baby to take with us on holiday. I needed one that would protect my baby's clothes completely and one that was easy to clean.
The Bibetta Ultrabib with sleeves was a great choice! None of my baby's clothes got stained on our holiday and you can just wipe the bib clean. The sleeves are elasticated so no food goes up them. The bib is made from neoprene which is soft, stretchy and feels nice but is also waterproof! The front is long and can be folded into a pocket to catch bits of food. You can adjust the size of the bib with the Velcro fastening on the back and, unlike my baby's other bibs, this one can't be pulled off. The neck opening feels and looks really comfortable.
You can wash and dry this bib in your washing machine and dryer but I find that most of the time a wipe with a damp cloth or a rinse under the tap is enough. It dries really quickly! Berries will stain the bib permanently, though, as we discovered when my baby ate berry flavoured rice crackers. Bibs are meant to get messy though, so it really doesn't matter! They only stay clean for a few seconds after being put on, anyway.
We saved so much packing space by taking this bib with us on our holiday. We didn't need lots of extra clothes because my girl's clothes were fully protected at each meal. I highly recommend the Bibetta Ultrabib with sleeves for holidays and everyday use at home.
The Bibetta Ultrabib with sleeves is available from Amazon for under £10 and comes in lots of colours and designs. The green owl one is perfect for us since I love owls and the colour green!