Book Review: Happily by Sophie Tanner
|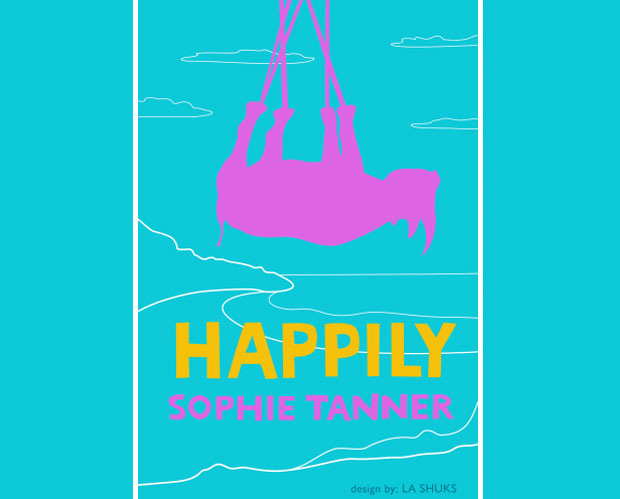 Book Review: Happily by Sophie Tanner
I'm one of those design nerds who judge books by their covers and as soon as I saw the bold and colourful cover for Happily by Sophie Tanner, I knew I wanted to read it. Even though I've read the book as an e-book, the cover still matters.
The book is about a woman called Chloe Usher who's sick of being asked why she's still single and her concerned friends who think she'll become a spinster are trying to be supportive when they tell her it will all happen to her soon too – settling down, getting married and having children, that is. But Chloe is not worried — most of the time, life is quite good and she's happy, has a good job that she enjoys, great friends and a flat share near Brighton beach.
One day at the birthday party of her friend's child, Chloe is told that she will not know what love is until she has children. This makes her think and Chloe decides that she does know what love is and that she is getting married — to herself! Most of her family and friends support her warmly and the media are very interested in her decision and Chloe's story goes viral. What follows is a journey of self-discovery and Chloe's road to happily ever after.
The plot for this book is so unique — I've never read anything like this story before. It's not just a story though, the author Sophie Tanner actually did marry herself too. You can read more about that on her blog here.
I got sucked into the book straight away as the writing style is very appealing. It's beautifully written but very modern too which is perfect for my generation. As soon as I started reading the book, I wanted to learn more about Chloe and her intersting thoughts and ideas. The book is quite short but doesn't feel rushed. Sophie Tanner writes in a concise way and the book never feels stretched out to up the word count like some books. It's a lovely book that modern women will enjoy whether they're single or not. Happily is an unusual and important book and it did make me quite happy, actually!
Buy Happily by Sophie Tanner via Amazon.co.uk. It's only 99p or free if you have Kindle Unlimited.
I was sent a digital copy of this book for this review. As always, all thoughts and opinions are my own.