Book Review: Worry with Mother by Francesca Hornak
|
Book Review: Worry with Mother by Francesca Hornak
If you're a mother or a mother-to-be you know that motherhood comes with never-ending worrying. There are so many contradicting parenting advice books and parenting experts are all saying different things. In the modern day we live in, we also have the lovely Internet which provides us with even more information in seconds and we can Google all our worries — which usually leads to more worries! We also get to connect with other parents and see the concerns and worries of other mothers which at least lets us know that we are not alone and that most mothers worry about all kinds of aspects of motherhood.
Francesca Hornak's Worry with Mother: 101 Neuroses for the Modern Mama is a book that perfectly highlights and captures the madness of modern parenting and is full of worries that most mums — new and experienced — have had or will have. The book covers the topics Feeding, Playtime, Developmental Milestones, Health & Safety, Technology, Education, Other Parents, Behaviour and Boundaries, Relationship-Building and Everything Else.
The book is a beautiful chunky hardback book and makes a beautiful coffee table book for quick reading sessions. The book contains 101 worries each printed on a page or two in large fonts. The book's colours are light blue, dark orange and white and these run through the book in the typography and the accompanying funny and beautiful illustrations by cartoonist Dorrance.
Worry with Mother is a quick read that provides entertainment and relief for all us fretting mums! I got my copy yesterday and curled up on the sofa with the book and a cup of tea as soon as my toddler was in bed and it was a lovely reading session. I read the book cover to cover in around half an hour. I recognised the thinking of the mums quoted in the book and constantly had a smile on my face as the worries were so entertaining. Some made me laugh out loud and a few even made me cry with laughter.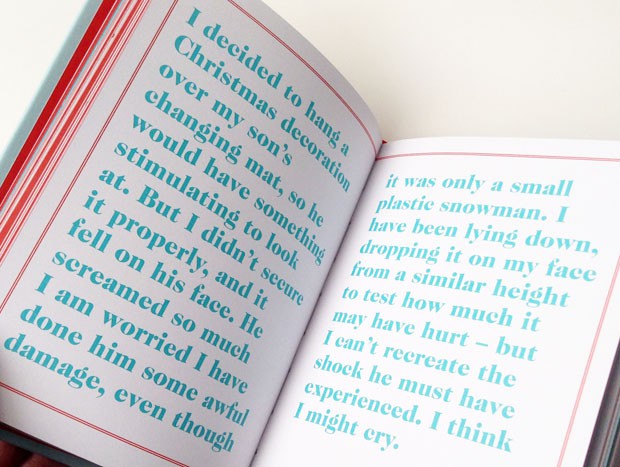 This one above is my absolute favourite one and when I tried to read it out loud to my husband I really struggled because I was laughing and crying so much. I would have done the exact same thing as this mother!
This book is hilarious and I recommend it to all mothers. It would make a brilliant Mother's Day gift too! It's available from Amazon.co.uk as a hardcover book or for Kindle.
I was sent this book for review. As always, all my reviews are 100% honest and all thoughts and opinions are my own.