More Bounce! Bounce Energy Balls Review
|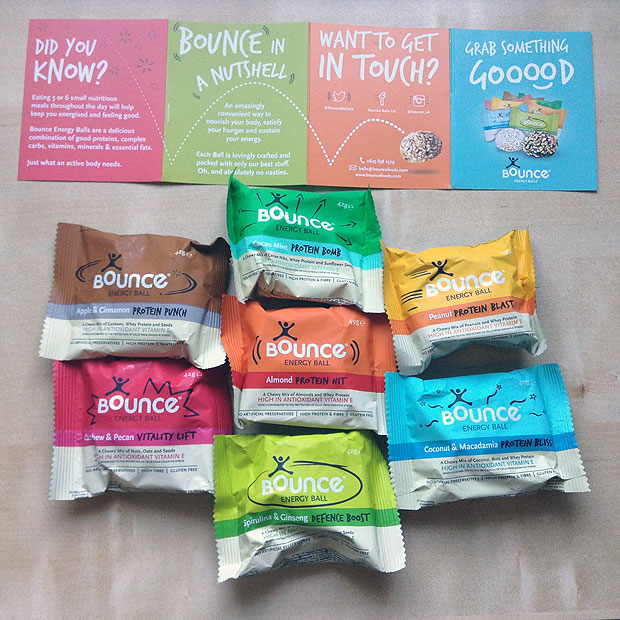 More Bounce! Bounce Energy Balls Review
I've been a very lucky girl over the last week as I have had big selection of Bounce Energy Balls to snack on, including flavours that were new to me. I've had one as my morning snack and one as my afternoon snack and have thoroughly enjoyed having a selection of healthy and delicious snacks available to give me energy throughout my day.
I have previously reviewed three flavours of Bounce Balls: Coconut & Macadamia, Spirulina & Ginseng and Cashew & Pecan. You can read that review here.

Almond Protein Hit 
A yummy protein ball that tastes of real almonds (not almond flavouring which I am not a fan of), full of crunchy nuts and like a smooth almond butter on the outer layer… Mmm! A great way to eat your almonds. Classic and delicious!

Cacao Mint Protein Bomb
The new flavour Cacao Mint has quickly made it to the number one position of my favourite Bounce Balls. It's sharing the title with Coconut & Macadamia. This Bounce Ball TASTES LIKE DESSERT! I love healthy snacks that taste like naughty treats and this one really does. If you love the dark chocolate and mint combination as much as I do, you will love the crunchy Cacao Mint Bounce Ball. It tastes so nice! Perfect with a cup of coffee at any time of the day, but it can easily pass for an after dinner treat. I want one now…

Apple and Cinnamon Protein Punch
You know what I just said about healthy snacks that taste like naughty desserts? This falls into that category too! The Apple & Cinnamon is another new flavour and it tastes like apple pie or apple pie cookies. It's chewy and a bit softer than the other flavours. It is very satisfying and can, like the Cacao Mint, easily pass for a dessert. Afternoon tea with an Apple & Cinnamon Bounce Ball? Yes, please. Yum.

Peanut Protein Blast
I love peanuts! They are rich and filling and very tasty! This has got lots of crunchy bits and like the Almond Bounce Ball, it has also got a lovely nut butter style coating that is creamy and smooth. Best of both worlds. Peanuts always work for me and this is a great snack ball for any time of the day.
I have now tried all Bounce Ball flavours except one (Fudgie Walnut Health Storm) and I find them so great. They make healthy snacking so easy and enjoyable. There are lots of different flavours to choose from and they all taste amazing. I love Bounce Balls! I might be a bit addicted to them now after my luxurious week of sampling…
You can buy Bounce Balls online here or in good health food shops.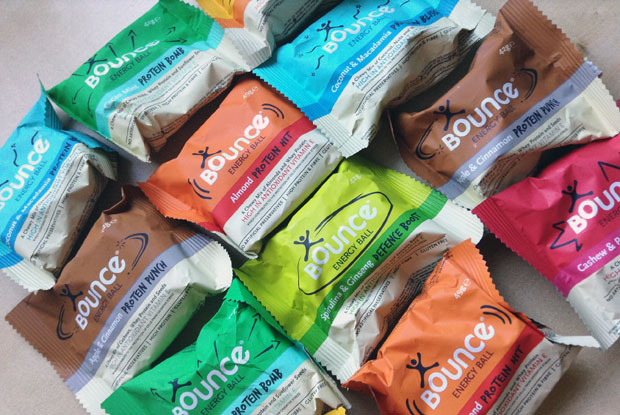 I was sent some Bounce Balls for sampling for this review. As always, my reviews are 100% honest and all thoughts and opinions my own.