Bounce Energy Balls Review
|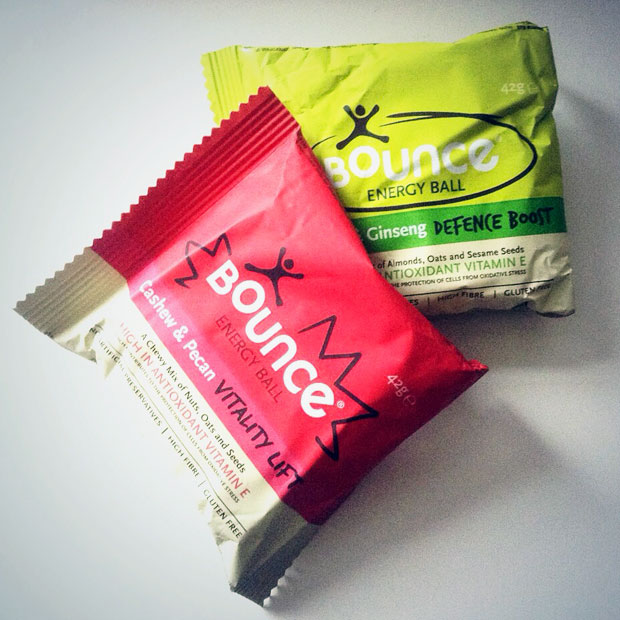 Bounce Energy Balls Review:
I have recently sampled some lovely Bounce Energy Balls. They are balls full of goodness and energy and make great on the go snacks. I've tried three flavours so far.

Spirulina & Ginseng Energy Ball
This ball looks a bit strange because it's dark green! That's from the superfood Spirulina. This ball tastes delicious and is very satisfying. It's also got almonds, oats, sesame seeds and ginseng (another superfood!) in it. It feels very healthy!

Cashew & Pecan Vitality Lift
This is a high fibre ball that is very filling and tasty. I love the crunchy nuts! This flavour is more classic than the Spirulina & Ginseng and is one that everybody (who likes nuts!) will love.
Coconut & Macadamia Protein Bliss
This is my favourite Bounce Ball (so far!). I love coconut and indulgent, creamy macadamia nuts! It really is bliss! This ball is not only yummy but has lots of protein, fibre and healthy fats. This one feels like a treat!
---
Bounce Balls make wonderfully healthy snacks that really keep you satisfied between meals. I had mine as mid morning snacks with a cup of tea or coffee. They can seem quite expensive but if you look at the ingredients and nutrients that are packed into these balls of goodness you soon see that they are worth their cost! Much better for you than a bun or a chocolate bar and will keep you full for a longer time and actually provide your body with something other than empty calories. I think they are a great snack choice when you are out and about. They are also vegetarian and gluten free! Some are vegan, too.
You can buy Bounce Balls from health food shops or bulk buy online here.