Brush-Baby BabySonic Electric Toothbrush Review
|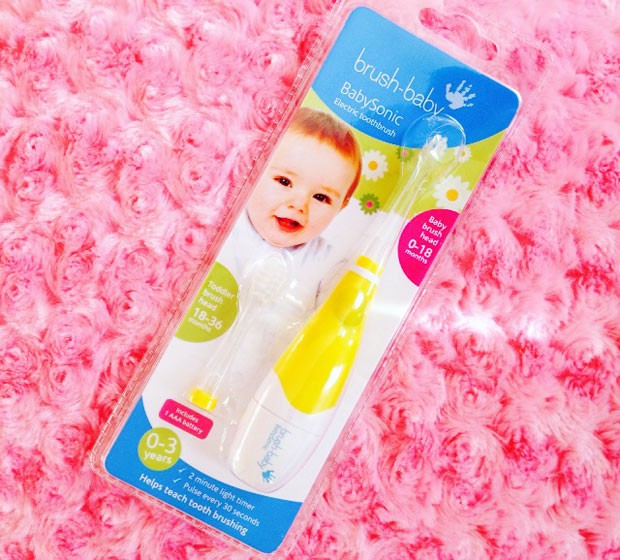 Brush-Baby BabySonic Electric Toothbrush Review
The BabySonic Electric Toothbrush from Brush-Baby has been specially designed to help parents care for their baby's or toddler's teeth.
It's a battery powered toothbrush with soft but effective vibrations. The brush head is small and comes in two sizes — one for 0-18 months and one for 18-36 months. The brushes have soft DuPont bristles and are ideal for keeping baby and toddler teeth and gums clean. The vibrations provide 16,000 strokes per minute.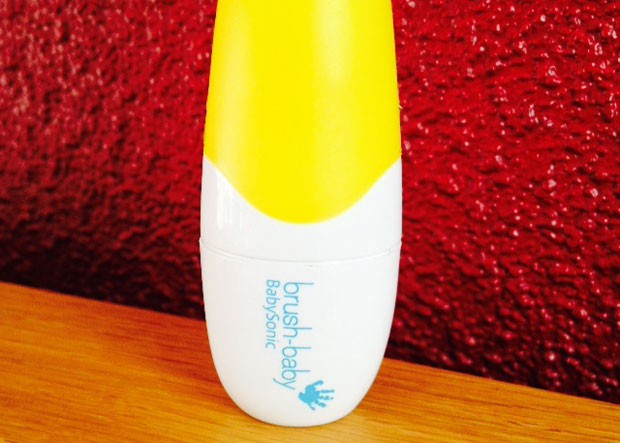 The toothbrush has a thick yellow handle which is comfortable to hold for adults and toddlers and also allows the toothbrush to stand on its own which is very practical and hygienic.
The BabySonic Electric Toothbrush has a unique 2 minute timer and a 30 second pulse reminder to help teach good oral care habits from a young age. The tooth brush switches off after two minutes as that's the recommended toothbrushing time. Divide the mouth into 4 quadrants and when the BabySonic pulses after 30 seconds, you can move onto the next quadrant.
I love the light feature and we currently just use the light for my two-year-old daughter. She's not quite sure about the vibrations yet but I'm sure she'll love them soon.
The light doesn't stay on for 2 minutes on its own so I have to turn it back on a few times during the toothbrushing session. The light is brilliant and allows me to see into my daughter's mouth and see each tooth as I'm brushing it. It's so useful when brushing her teeth at night when it's dark. The whole clear brush head lights up and provides plenty of light to see well.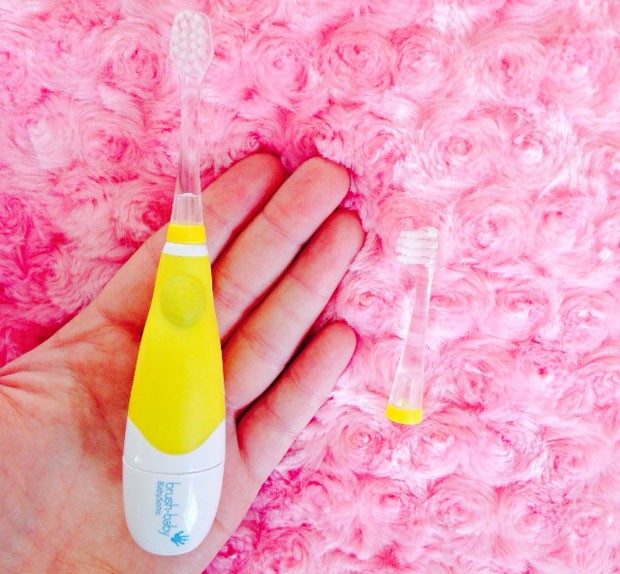 The toothbrush comes complete with 1 x AAA battery and one brush head of each size.
Replacement brush heads can be bought separately and only cost around £3 for a pack of two. The BabySonic Electric Toothbrush has an RRP of £8.99 (it is slightly cheaper on Amazon) and I think it's definitely worth it as you only need to replace the heads every now and then. If you have several babies/toddlers they can use the same BabySonic but have their own brush heads. It's a great quality product and the brush bristles are so lovely and soft — perfect for young, sensitive gums.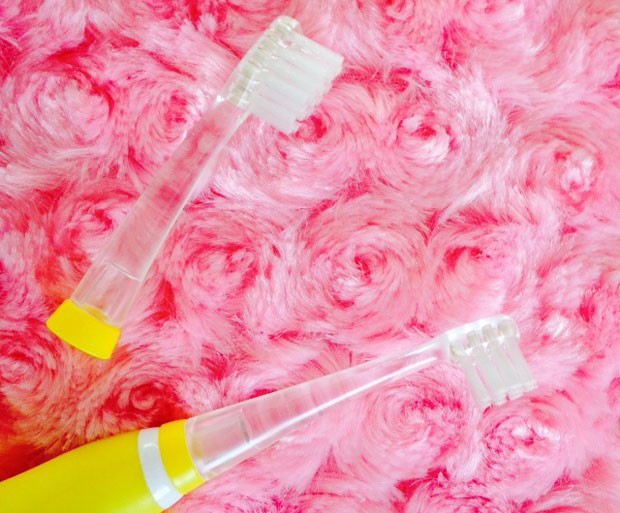 This electric toothbrush is a great way to teach children about oral hygiene and to get them excited about looking after their teeth from an early age. The BabySonic Electric Toothbrush has been awarded Silver in the Best Bathtime product category at the prestigious Mother&Baby Awards.
Find out more on the Brush-Baby website and buy from Amazon.co.uk. Also, don't miss Brush-Baby's guide to How to Teach Your Child Proper Toothbrushing.
We were sent this product for this review. As always, all my reviews are 100% honest and all thoughts and opinions are my own.