Cancer Care Parcel – Childhood Cancer Gift Box Review
|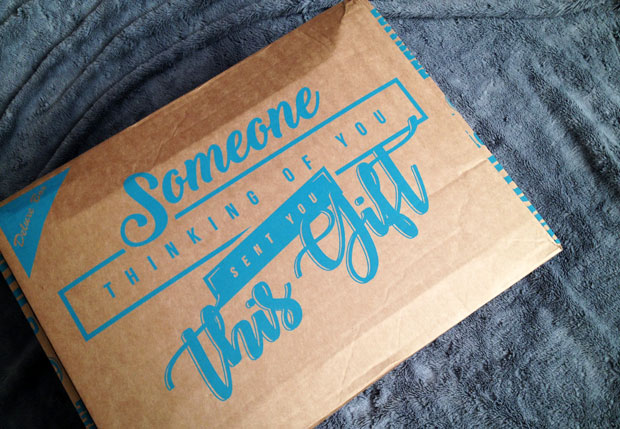 Cancer Care Parcel – Childhood Cancer Gift Box Review
Today, I have a special review of a wonderful product that is a Cancer Care Parcel for children. Cancer Care Parcel is a company that was founded by Dr Shara Cohen who was diagnosed with breast cancer herself in 2013.
With firsthand experience of dealing with cancer and the awkwardness that sometimes comes with friends and family not quite knowing what to say or how to react, she set up Cancer Care Parcel to enable children and adults with cancer to take some of the worries away and bring some calm back into their lives and also to give other people a way to give a gift to people with cancer that they know, to let them know that you're thinking of them during this difficult time.
Having gone through treatment, Shara understands the needs of people with cancer but other cancer patients and survivors have also been consulted to ensure the products in the gift boxes that Cancer Care Parcel provide are well suited for a cancer patient's needs.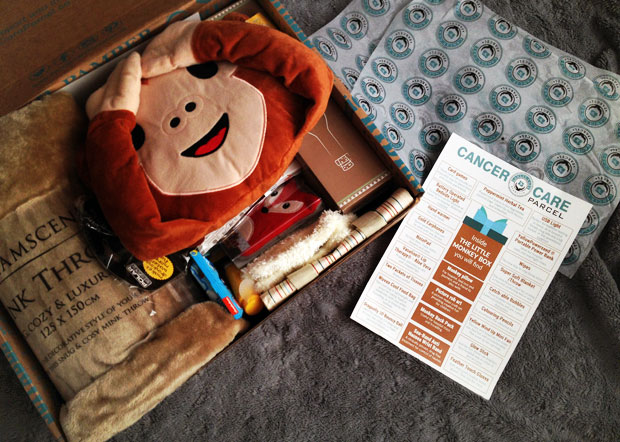 Cancer Care Parcel makes a large range of gifts and gift boxes for children, men and women — all filled with thoughtful and appropriate gifts to provide comfort and support and also help to relieve stress. They are such a lovely way to let your loved one know that you're thinking of them, even if you don't quite know what to say.
We've been sent a "Childhood Cancer Gift Box: The Little Monkey Mighty Big Hamper" to review and it's such an amazing box full of products that I can see being very much appreciated and useful.
This gift box has a fun monkey theme and is suitable for all children with any cancer diagnosis. It's sure to brighten up their days and provide comfort, relief and entertainment too.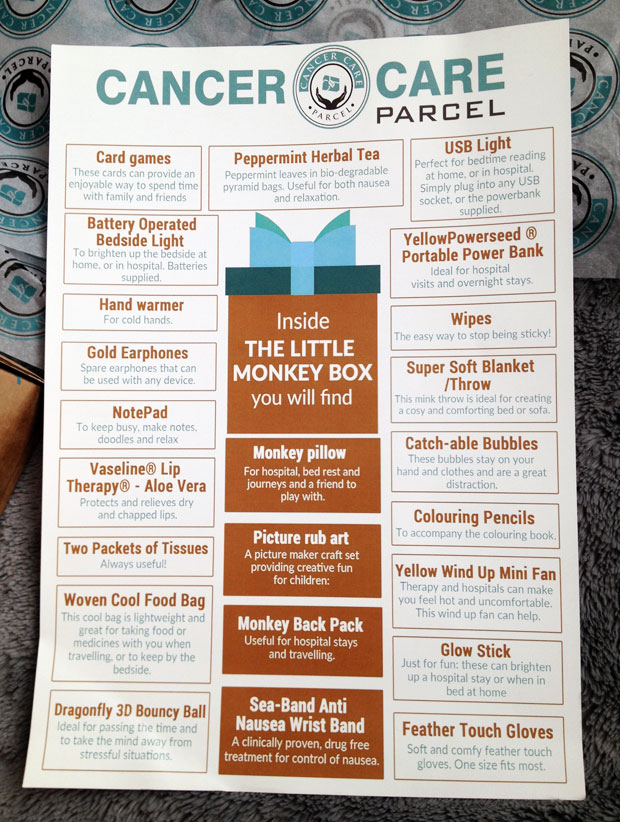 This huge gift box is full of useful, fun and practical items and includes the following: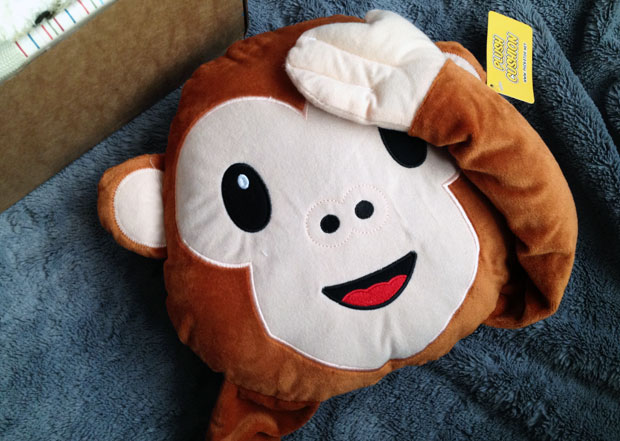 A funny and comfy Emoji Monkey Pillow that provides comfort and support for bed rest or car journeys. The hands have a kind of Velcro on them too so that you can stick them in any positions and recreate your favourite monkey emojis for fun.
A large, super soft and think blanket that is luxurious and cosy. When you're having chemotherapy, your extremities can get cold so a blanket is always good to have near and it also makes a nice comforter when convalescing. It can be used wherever you are and you can take it with you when you move between therapy, hospital stays and home.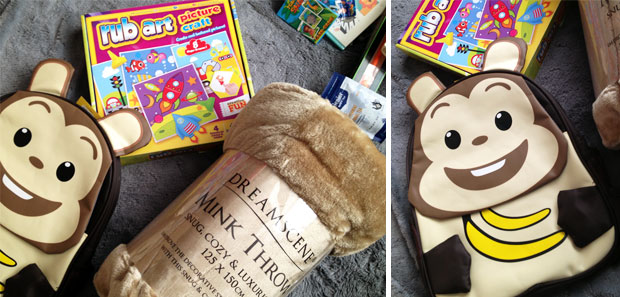 A large and practical Monkey Backpack to keep all the items that you want to keep on hand at all times like things to keep you entertained or distracted.
A Picture Rub Art Craft Set that provides creative fun and stress relief. The kit includes 8 x finger crayons, 4 x scene cards, 4 x plastic texture sheets, 6 x sticker sheets and an instruction sheet.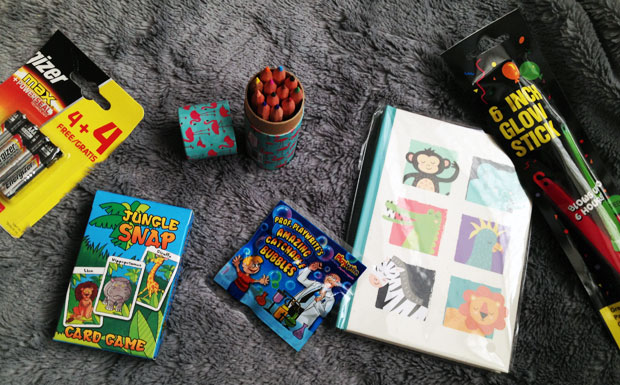 A Jungle Snap Card Game to play with family and friends to beat boredom and to disctract when needed.
A Note Pad to keep with you to use as a diary or to draw in.
Colouring Pencils in a handy carton to use for drawing in the notebook.
Catchable Bubbles that stay on your hands and clothes. Kids of all ages love these and they're a great distraction and lots of fun.
A Glow Stick for fun and to brighten up hospital stays.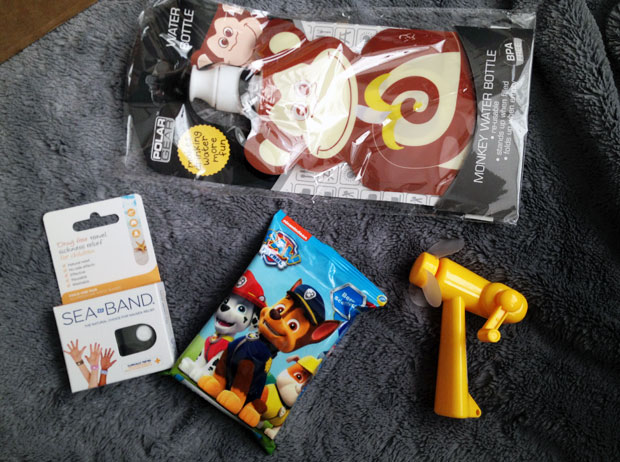 A practical and fun Monkey Water Bottle that is light and flat when not in use but can hold 380ml when filled. It can also stand up and is easy to drink from. Staying hydrated is so important and this will encourage water consumption. It's of course BPA free too.
Sea-Band Anti-Nausea Acupressure Wrist Bands that are a great natural way to treat nausea. They are clinically proven and a drug-free alternative that doesn't have any side effects.
Paw Patrol Hand Wipes for easy cleaning of hands.
A Wind Up Mini Fan for when the hospital gets hot and uncomfortable. It's lightweight and easy to carry and use. You don't need any batteries as you simply wind it up to use it. The blades are soft and flexible so there's no danger of anyone getting hurt.
Two packets of tissue as tissues are always useful to have. (Not Pictured)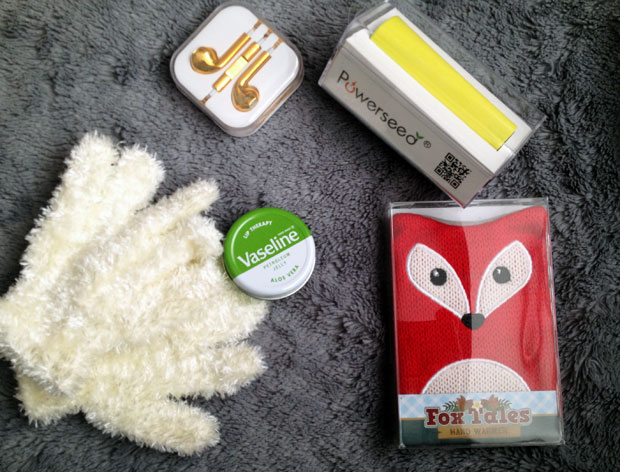 Gold Earphones that look cool and are handy to keep in your travel bag or on your bedside table to be used with phones, MP3 players and tablets for listening to music, watching films/shows, playing games or video chatting with friends and family.
A Yellow Portable Power Bank that is very light and compact. You can use it with the USB light that is also included in the box (you can see further down in this blog post) or to charge your phone, tablet or MP3 player. You don't want to run out of power during hospital visits.
Soft Gloves that are super cosy and perfect for keeping hands warm during and after chemotherapy or on cold days in general.
A Fox handwarmer, also for keeping hands warm and also for a bit of fun. The warmer is reusable.
Vaseline® Lip Therapy® – Aloe Vera to keep lips and skin moisturised.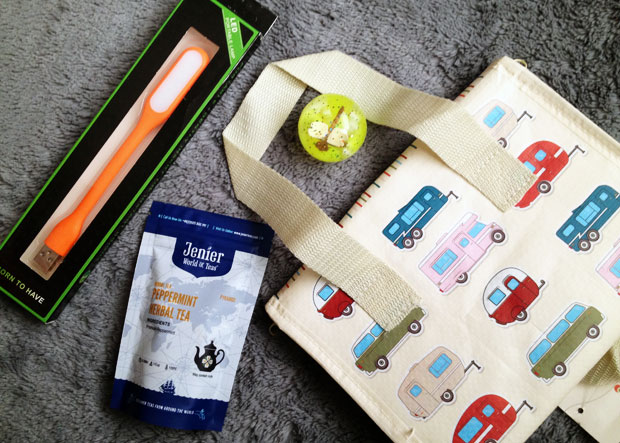 A USB Light made from flexible silicone that can be used at home or in hospital by simply plugging it into any USB socket or the powerbank above. It can bend and twist to many positions to get the light right for you.
Peppermint Herbal Tea Pyramid Teabags to help relieve nausea. It's a relaxing and warming drink too and it's naturally caffeine free so suitable for children. Also good for carers and parents.
A lovely Woven Cool Food Bag to store snacks in when at the hospital or travelling. It's practical, lightweight and robust enough for everyday use and ideal for taking food or medicines when on the go or to keep by the bedside.
A Dragonfly 3D Bouncy Bal for fun, to pass the time and take the mind away from stressful situations.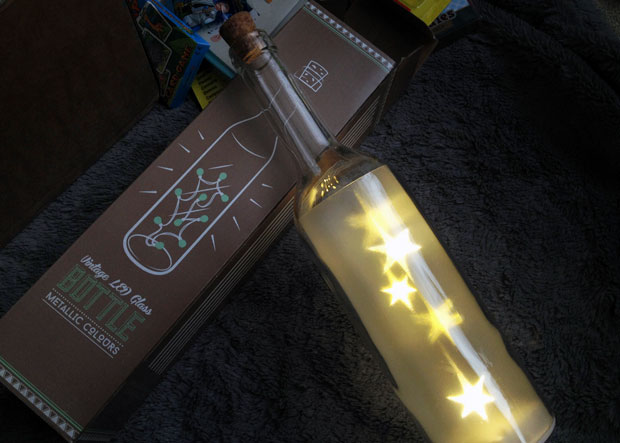 A Battery Operated Bedside Light with stars inside this bottle light to brighten up the bedside at home or at hospital. Batteries come included in the gift box too. This light provides such a pleasant and relaxing light and is great for reading or just as mood lighting to create a cosy environment.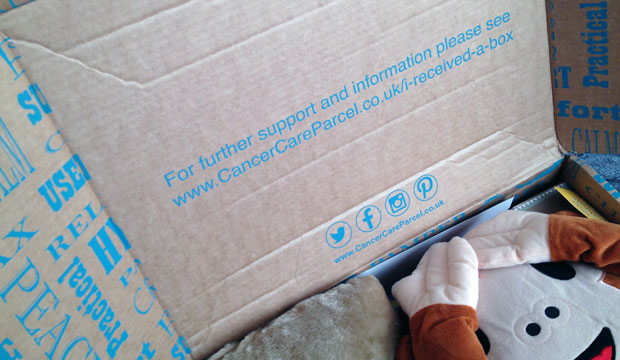 You also get access to cancer resources with support to people affected by cancer and their parents, friends, family and carers.
This wonderfully thoughtful gift box costs £119.99 but includes £139.39 worth of products. Check out all available gifts and gift boxes from Cancer Care Parcel here.
Box was provided to us by Cancer Care Parcel for this review. As always, all my reviews are 100% honest and all thoughts and opinions are my own.