Christmas Party Maternity Outfit from Mothercare
|
Mothercare challenged me to design maternity outfit for a Christmas party using items from their maternity lines Blooming Marvelous, Mamalicious and Envie De Fraises.
All three of these lines are full of gorgeous items so this challenge is not that challenging — just fun! I love maternity clothes and think there's plenty of stylish clothes out there for mums to be and new mums.
Christmas Party Maternity Outfit from Mothercare
I'm not pregnant this Christmas but if I was this is what I would be wearing for a Christmas party: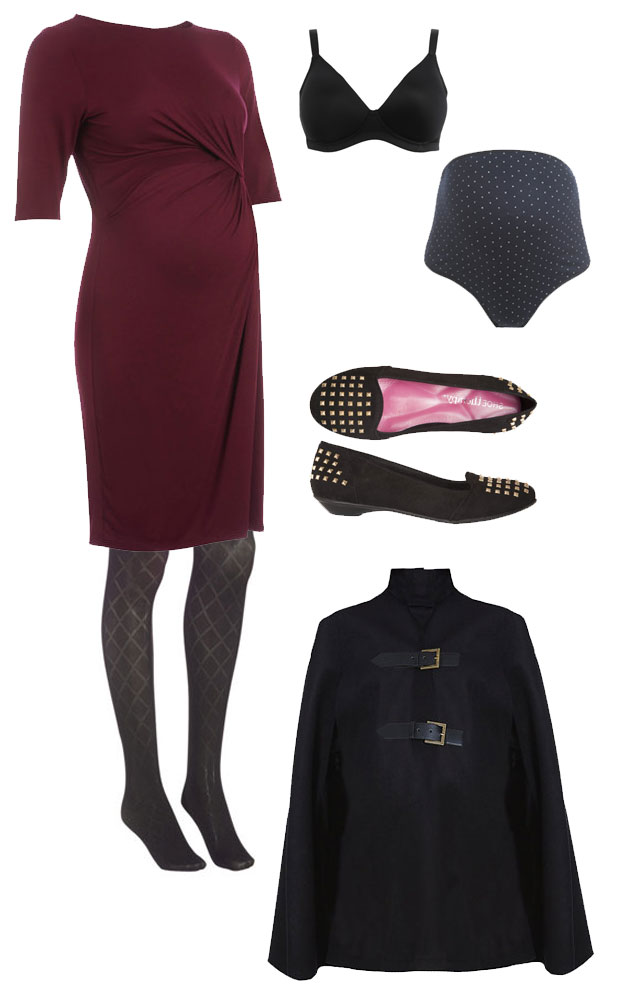 Blooming Marvellous Burgundy Knot Maternity Dress £28
Blooming Marvellous Non Wire Support T-Shirt Bra £5
Blooming Marvellous Brighton Beach Maternity Over The Bump Briefs – 2 Pack £10
Shoe Therapy Kyle Studded Loafers £86
Envie de Fraises Maternity Coat Cape £59
Blooming Marvellous Diamond Pattern Maternity Tights £6
When I think about Christmas dresses the colours that pop up in my head are red and dark blue. Outfit 1 has a red dress and outfit 2 a dark blue one! My first outfit is all about creating a comfortable pregnancy outfit with plenty of room and support for the bump but an outfit that is also stylish. I really like the studded shoes and the Envie de Fraises maternity cape. Tough and chic at the same time.
---
Christmas Party Nursing Outfit from Mothercare
I am breastfeeding though and will probably still be this Christmas so I have put together a Christmas party outfit suitable for breastfeeding mums, too: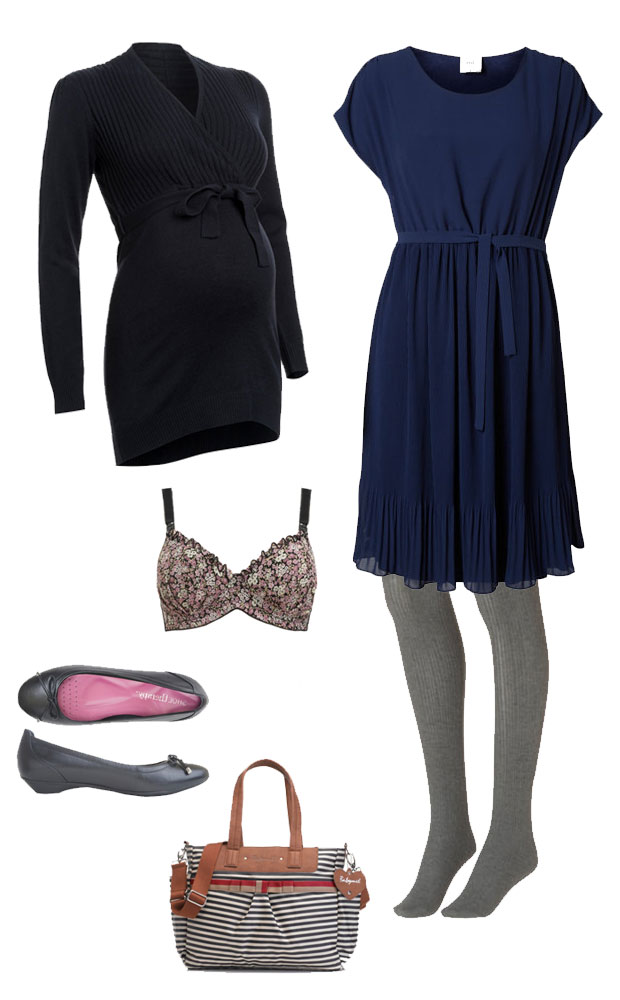 Blooming Marvellous Maternity Crossover Tie Front Jumper- Navy £25
Mamalicious Navy Tie Waist Jersey Nursing Dress £55
Blooming Marvellous Floral Chiffon Nursing T-Shirt Bra £18
Blooming Marvellous Maternity Grey Cable Tights 100 Denier £10
Shoe Therapy Fabi Black Pumps £65
Babymel Cara Stripe Navy Changing Bag £55
The second outfit is probably even more comfortable because I now have to be able to play with my baby and comfortably nurse her. I love the nursing bra from Blooming Marvellous. Nursing bras do not have to be boring at all! The cardigan, the dress and the tights (and the the shoes, the bag and the bra too actually!) can all be used during pregnancy and after (and before!). I love clothes like this that have a long life because that makes them really good value for money.
---
If you're pregnant or nursing, I highly recommend that you check out Mothercare for stylish and comfortable maternity items.