#ClothNappyMonday – My Essential Cloth Nappy Accessories
|
#ClothNappyMonday – My Essential Cloth Nappy Accessories
You've got the cloth nappies — now what? What else do you need when using cloth nappies? In this post I will share my favourite cloth nappy essentials that I use:
Wet Bags for out and about and to store used nappies in at home. I had a bucket that I received when I bought my first big lot of nappies from TotsBots but I prefer using wetbags. I've got five medium size wet bags that hold about 4-5 nappies each. My favourite one is my Baba+Boo one which is really strong and sturdy but I also like the Canny Mum ones that I buy from Amazon.co.uk

—

they are good quality too and very affordable. I really want to get a Wet & Dry Bag like this gorgeous one from TotsBots. They have to compartments so that you can store clean nappies in one and dirty in the other which is perfect for the changing bag when you're out and about.
Fleece Liners are my preferred type of liner. I use Little Lamb ones that I bought through eBay and they are SO soft. They are amazing and I would recommend them to everyone who uses cloth nappies. They're one of my favourite cloth nappy buys!
Disposable Liners are good to have available at home even if you use fleece. I use them when I need to use a nappy cream to protect the nappies. Many creams cannot be used with cloth nappies and I've not read up enough on the topic yet so I'm being safe by using these TotsBots disposable liners to protect the nappies from the cream. Overall, we don't experience nappy rash very often, just when my toddler is ill or teething.
Cloth Nappy Safe Laundry Detergent is a must have for anybody using cloth nappies. I use ALDI's Almat Non-Bio powder which works very well. I usually use this brand for our other clothing too but normally buy the gel. Now I'm mainly using the powder again as I've read that powder is better for cloth nappies than gel.
A Cosy Changing Mat is a must for us and there is no better changing mat than the Happy Mat by TotsBots. It is amazingly soft and lovely for babies to lay on and it's waterproof on the other side in case your baby or toddler decides to have a wee mid-change. It rolls and ties up for easy storage and is small enough to take with you when you go out. It's a great size and covers public changing tables very well. Plus, they make you happy! They are also available from Amazon.co.uk in some designs.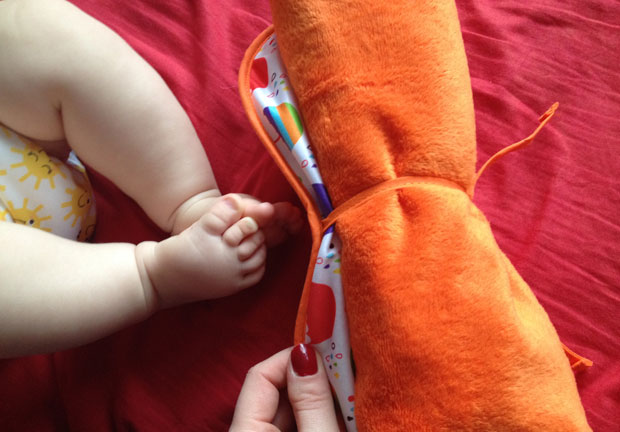 Other Notes:
Boosters for overnight nappies are part of many people's essentials but I have found such an amazing nappy, this Baba+Boo one, that doesn't need any boosting at all and can handle 12-14 hours of toddler weeing overnight and still not leak.