Creeper Crawlers Easy Grip Crawl Suit Review
|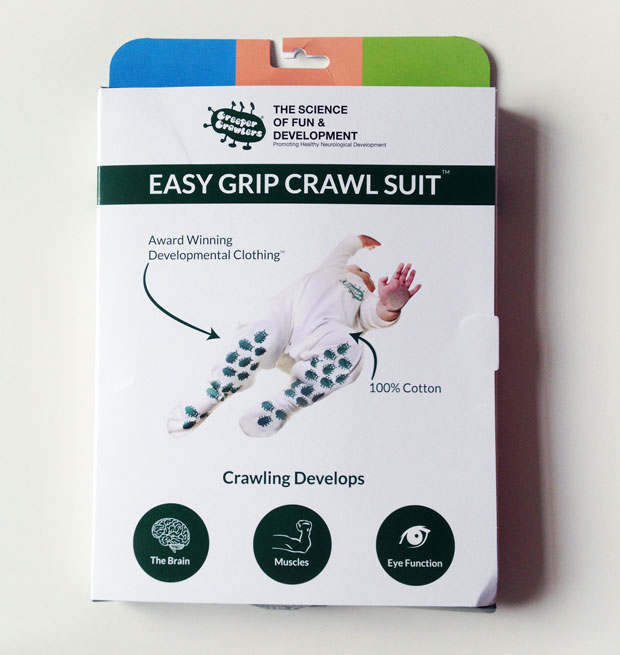 Creeper Crawlers Easy Grip Crawl Suit Review
The Creeper Crawlers Easy Grip Crawl Suit is designed to help babies reach the important developmental milestone that is crawling by facilitating grip on modern floors. Floors that are not carpeted are a difficult environment for babies trying to master crawling. They're usually cold and slippery and in recent years there has been an increase in non-crawling babies because of this.
Crawling is a very important developmental stage that helps develop the brain, muscles and eye function. Crawling is the first time babies use both sides of their brains together to complete a task. Co-ordinating opposite arms and legs is an incredibly complex task that stimulates an array of connections throughout the brain.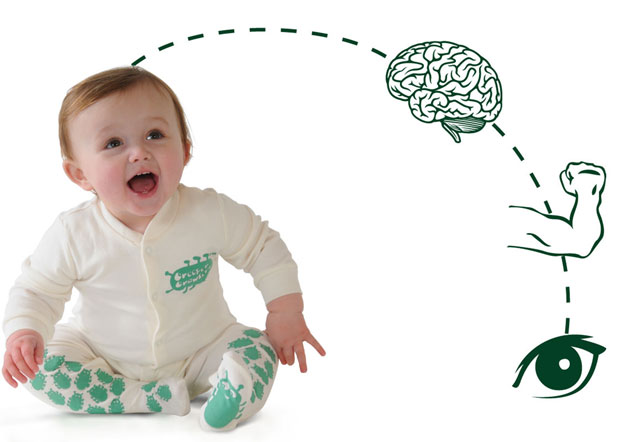 The Easy Grip Crawl Suit and the other products in the range have evolved from studies around crawling:
"Babies who are not crawling by the time they reach nine months are more likely to suffer from learning and behavioural problems." — Millennium Cohort Study UK (2010)
"Crawling represents a crucial stage in the integration of motor patterns, for in the process of crawling the infant learns to synchronise this balance, motor, kinetic and visual systems for the first time." — Institute of Neuro-Physiological Psychology, Chester, UK (2014)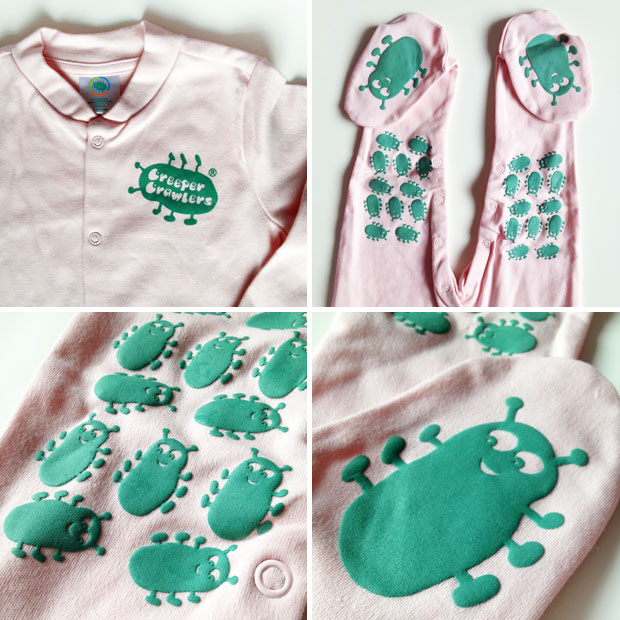 The clothing items in the range have unique patented gripper bugs on the knees, tops and soles of the feet that provide just the right amount of traction for babies who are learning to crawl. The optimal grip position has been developed over time to make sure no other movements are being inhibited.
Easy Grip Crawl Suits are made from 100% cotton and the fabric is very soft, thick and luxurious. Creeper Crawler products are certified REACH compliant which means that they have been tested free from dangerous chemicals throughout production.
The Easy Grip Crawl Suit has won a variety of international awards and parents keep sharing their love for the products across social media with snaps of their happy and crawling babies.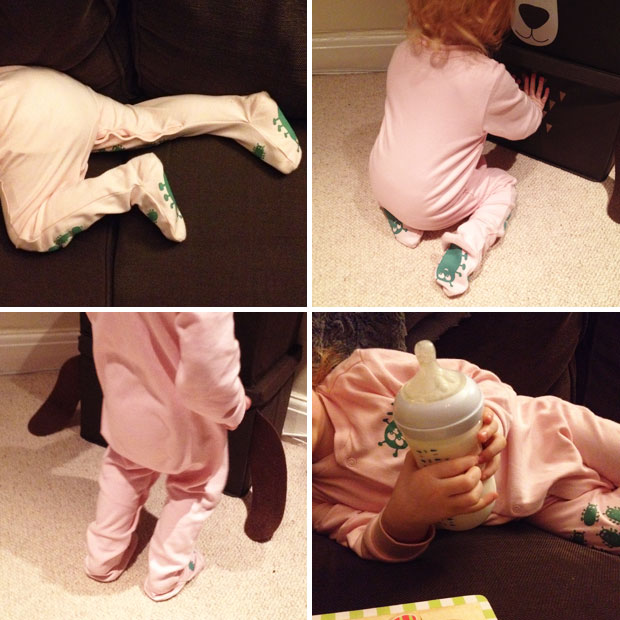 My daughter is nearly 2 years old and started crawling at a young age but we have laminate flooring in the kitchen which is very slippery. She likes to play in there while I'm cooking our evening meal or tidying up and she keeps slipping when she's on her feet and when crawling around on the floor playing with toys. That's why I wanted to try the Easy Grip Crawl Suit.
We use is as a pyjamas as that's the time of day when my toddler still wears an all-in-one. She's obsessed with her Easy Grip Crawl Suit! She's never really been excited about putting her pyjamas on before but now she gets really happy and impatient to get it on when she sees it out and yesterday she even got it herself and asked to wear it — at 4 o'clock in the afternoon which is many hours before her bedtime. It must be really comfortable. The fabric feels so soft and the quality is lovely.
Of course, she also really likes the bug design of the anti-slip grippers. She thinks they're bees and points to them saying "Beezzzzzzzzzz".
The suit fits her really well and doesn't inhibit any movements but makes sure she doesn't slip when she's playing on our slippery kitchen floor. My toddler is happy and I'm very happy too!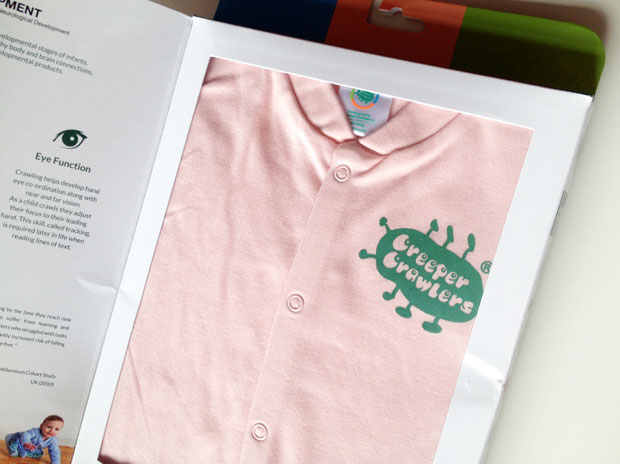 The Creeper Crawler Easy Grip Crawl Suit comes in a nice presentation box with information about the product which makes is a great gift to give to people with babies. It's also available in Baby Blue, Mint and Cream. I would love to see some brighter colours and patterns too. It costs £13.82 and is available in sizes between 6 months and 24 months. You can shop online on the Creeper Crawler website or find local retailers here. The Easy Grip Crawl Suits can also be bought from Amazon.co.uk.
There are also premium Bamboo Crawl Suits, Bamboo Sensory Teething Bibs, Bamboo Tops and Leggings and Cotton Tracksuits available from the Creeper Crawler range.
Creeper Crawlers is currently re-branding to CogniKids to better reflect their brand ethos.
We were sent this crawl suit for this review. As always, all my reviews are 100% honest and all thoughts and opinions are my own.