A Small Mother & Daughter Shopping Haul
|
A Small Mother & Daughter Shopping Haul
On Wednesday I had one of those days when I just had to go out and do something that was not working or playing on the floor. Usually, I am very happy being at home a lot but on Wednesday I needed to head out. My daughter and I got the bus to the city centre, met up with Daddy for a coffee and a bun in John Lewis and then us girls did a little bit of shopping. The only things I had planned to get were toothbrushes and milk (fun!) but I did intend to have a look for some bargains. Successful, I was!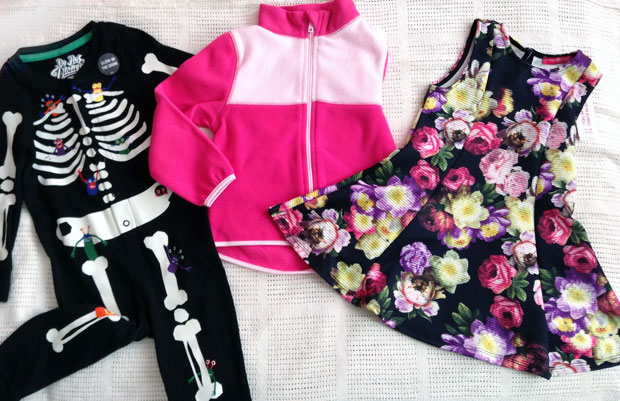 There are sales everywhere at the moment so there are lots of bargains to be had. In Marks & Spencer I found this glow in the dark sleepsuit reduced to only £2.99 from £10. There was only one left on the sale rack and it was the right size to fit my girl around Halloween later this year. This year she will be big enough to enjoy it more!
The fleece is from H&M and cost £3 instead of £5.99. H&M make really soft and lovely fleece tops that wash very well. This is for after the summer. I don't usually go for all pink but the "boy" equivalent fleece's colours were not as nice (and £1 more expensive!) and the child's current fleece is a blue striped one (also from H&M) so I thought I'd mix it up a bit.
I bought this dress for one reason only: it matches a skirt that I have! Sometimes, I like buying items for my daughter that looks like something either her daddy or I would wear. I think it's cute! The dress will probably fit this summer. It's from Primark and cost £3 instead of £6.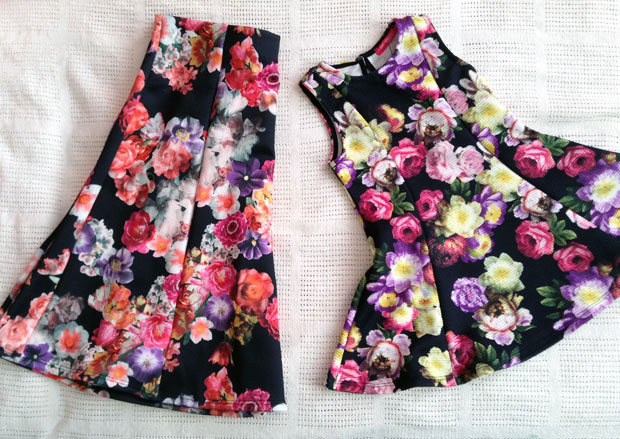 This is the skirt that I have (folded) and the dress again. When I bought this skirt on sale from Primark sometime before Christmas, I regretted not getting two because it fits me really well and I like the quirky grandma's curtains print on a quite modern skirt. When I was on my way to the lift in Primark on Wednesday, I spotted a lonely one that must have been left over from the old sale. It was one size up but I figured I can save it for when I have a bit of a bump next time. The price tag said reduced to £3 but it scanned at £1. Wonderful! Now I have two, just like I wanted.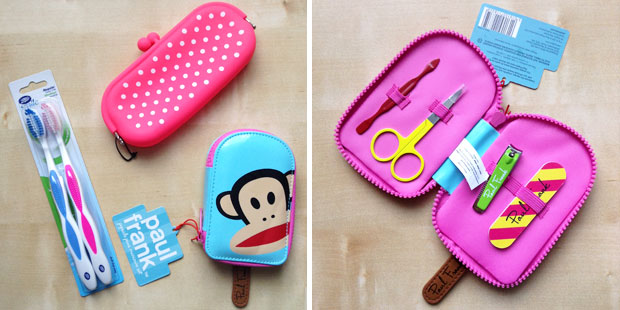 Some bits that accidentally match: the toothbrushes that I needed from Boots, a glasses case from Primark (50p) and a Paul Frank manicure set from Boots (reduced to £2.40 from £8). The glasses case and the Paul Frank case (after I've emptied it!) are for my daughter to play with. She likes anything you can open and close or that has zips on it. I actually needed some small scissors and nail clippers and these turned out to be really good. I love the bright colours!
It was a good Wednesday afternoon out with lots of bargains!