Diono Quantum Review | Diono Quantum Multi-Mode Stroller
|
Diono Quantum Review | Diono Quantum Multi-Mode Stroller
The Diono Quantum is an innovative Diono Quantum multi-mode travel stroller that is engineered with clever design features that makes it easy to use and practical for parents and safe, secure, protective and comfortable for babies and toddlers.
It's suitable from birth when using the seat as a carry cot. The carry cot then transforms into a seat for older babies and toddlers by simply clipping together a few clips. This is so clever and means you don't need to store many parts at all. It also means you can swap between the carry cot mode and seat mode very easily if you have two young children who take turns using the Quantum.
Unboxing & First Impressions
The Quantum comes almost ready to use. You just click the wheels in which is really easy and put the carry cot on as it is (plus add the liner and mattress) or clip it together to become a seat. You then add the hood and the bar if you want it. It was probably one of the easiest pram/pushchair assemblies that I've done.
This travel system impressed me from the very first look. It's really sturdy and strong and almost demands your attention. It looks comfortable and secure and practical for both parents and children. Oh, and the huge shopping basket is another big plus of course! And the hood! It was love at first sight! I really like the teal colour that we have too.
Ease of Use & Comfort
The Quantum is a breeze to use! It's really easy to put the seat on and to reverse it too. You just take it off and turn it around and attach it in exactly the same way. You don't need to change any of the attachments or anything like with other pushchairs that I've used. See this in my video a bit further down in this post.
The seat is wide and roomy and my toddler looks very comfortable in it. For the first few days that we had it, we had it in the living room and my toddler kept asking to sit in it so it must be comfy! The 5-point harness is padded and the covers are easy to take off too. You get a reversible seat pad with your Quantum for extra comfort and protection.
The seat is XL to suit taller children though I have to say that my 17-month-old's head does reach the top where the hood starts. There's plenty of legroom though. I think she'll be fine in it as she grows more so there are no concerns about the size.
You can easily recline the seat by using the handle on the top. This is so much easier than any other pushchair I've come across. Usually you have to adjust straps and try to get them even to recline the seat but you just lift the handle and recline the seat to where you want it. It so smooth and my toddler doesn't wake up when I do it. She likes to sit up straight when she's awake and if she falls asleep, I pull down the hood and recline the seat so that she has a relaxed and private place to nap.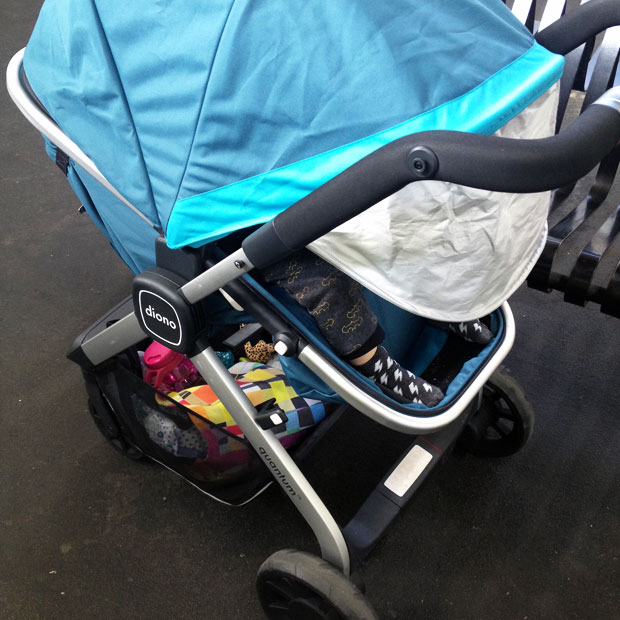 The handle bar has a foam cover which is nice and soft on your hands, though it might not stay looking nice for as long as plastic. It's very comfortable! The handle bar has six positions to choose from to accommodate parents of different heights. It's really easy to adjust the height. The shape of the handle bar is lovely to hold and there are a few different ways that work well for me.
Wheels & Brakes
There are four wheels — two larger ones at the back and two smaller ones closer together at the front. All wheels are easy to take off by pressing a button and easy to clean thoroughly. The wheels are strong and run smoothly on all city terrains that we've tried so far. Due to the smaller front wheels, I have to lean onto the handle to lift the front of the pushchair when getting up onto the pavement if there's no slanting but most crossings have this so it's not a problem.
If I could, I might make the wheels a bit larger to make them more suitable for uneven grounds but overall, they're good.
The brake is a one-step brake which means you just step down on it and it locks and step on it again and it unlocks. It's large and in the middle of the two back wheels which is a great position. This unique design means you don't need to worry about your shoes getting scuffed all the time or hurting your toes if wearing open shoes in the summer.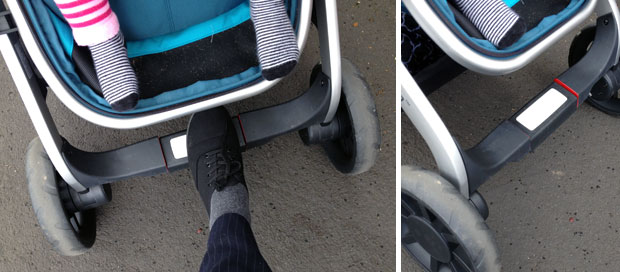 I've had some problems with the brake sticking in the locked position for a little bit but Diono were amazing and helped me investigate this and ensured me it was a one-off problem that hadn't been reported before.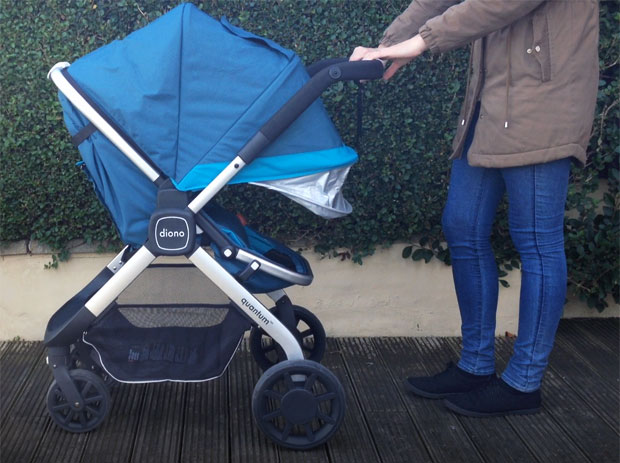 Weather Protection
You get a rain cover with your Quantum but the hood is so amazing that you will not need it much. The eclipse canopy has four tiers that let you adjust the coverage to suit your baby and the current weather. It protects your little one against the elements whether it's sunshine, wind or rain and it has a peek-a-boo window, a ventilation panel and a pull-down sun visor too. This is probably my favourite feature of this pushchair as and I'm so happy that I don't need to worry about using any separate sun covers in the summer.
I personally don't like plastic rain covers and have only used one twice when I had my first baby over 3.5 years ago. I prefer using more flexible and softer ones that don't cover your baby and bought one from Sweden that is open where the child is but keeps the pram and the child's legs dry. Together with the amazing hood, this works really well at keeping my toddler and the Quantum dry even when it's raining really heavily.
I know many people do like using traditional rain covers and I think it's great that you get one included with the Quantum.
Shopping basket
The XL shopping basket is also a great feature of the Quantum! When it comes to pushchair shopping baskets, size really matters and bigger is definitely better. This shopping basket is absolutely brilliant and can hold so much! You can get to it from both the front and the back too if you angle the seat. It's mesh so it's easy to see what's where too. I can fit three soft bags of shopping which is great.
So far, I've not had any problems fitting what I need for the school run, days out with the kids or supermarket shopping. I'm usually a bit of a pack donkey with bags everywhere but now they all fit in the basket. My shoulders are thanking Diono and my husband can stop complaining about all the bags I'm carrying!
When it's really full, the basket can sometimes rub a bit on the wheels on hills of certain angles but the fabric seems strong so hopefully it will not wear down.
Update February 2018: Small holes are starting to wear in the basket where the fabric is rubbing against the wheels. It might be my fault though as I'm probably going over the weight limit with our shopping bags! I'm going to mend the holes with duct tape!

I like that you can take the basket off too in case you need to clean it after a muddy walk for example.
Public Transport and Stairs
Even though the Quantum is quite a large pushchair, it's not a problem using it on public transport. We've been on buses with it many times and it fits well in the allocated pram area of the bus.
Likewise, there's no problem at all bumping it up and down stairs which is something I do quite a lot. The back wheels are big enough to make it easy.
Folding & Storing     
It's very simple to fold and unfold the Quantum too. You can do most of it one-handed but I like to use two hands as it makes it easier to do. You twist the handle in the middle to start the folding process then push downwards and it all clicks together nicely. You can see this well in my video demonstration below.
If you have the seat facing forward, you can leave it on as you fold. If it's parent facing, you have to take it off or turn it forward first. We mainly use the seat in parent facing mode so that I can see my toddler and she can see me and her sister. I just take the seat off before folding and then take it into the house in two parts. I usually lean the seat against our house but I don't recommend doing this as the bricks have scratched the silver finish of the frame.
I like that you can fold it all together if you have the seat on forward facing as this saves some room when storing the pushchair in the house.
The Quantum takes up quite a lot of room when folded in two parts and I think it has to be in two parts to fit in our car's boot. It wouldn't be our choice of pushchair if we were travelling by car and needed to fit a lot of luggage too but it's fine for everyday use and we can easily fit 2-3 large bags of shopping along with the Quantum in our boot. We have a very small travel pram that we use for trips when we need luggage and the rest of the time we use the Quantum.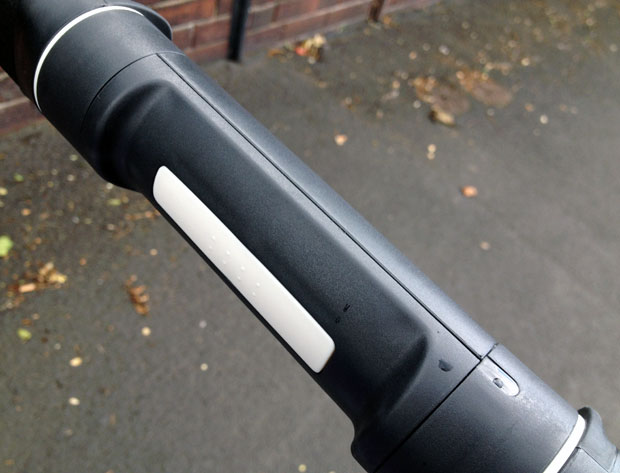 All the touch points are colour co-ordinated to make any adjustments and functions really easy. All the buttons and handles you might need to use to adjust things and fold the pushchair are the same colour (white on our one) so you can easily see where you need to press, push or pull. This makes it really easy to learn how to use the pushchair and for other carers to figure it out too.
Price
The Quantum costs £500 which sounds like a lot but considering the fact that you can use it from birth to the end of using pushchairs, I think it's quite a good price. It's definitely good value for money as you'll use it for about three years, maybe more. You get infant car seat adaptors included too so if you choose a compatible car seat like Maxi Cosi, Cybex and Nuna, you can just attach it to the chassis too when needed. This is great when you have a sleeping newborn that you need to move but don't want to wake.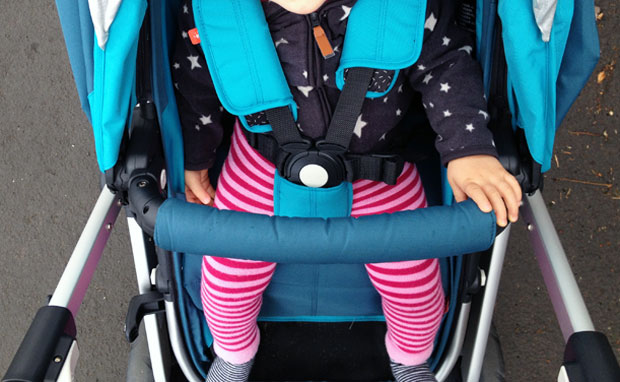 Extras
You don't need to buy any extras for your Quantum as you get everything you need. Included are all parts (chassis, convertible seat, basket, hood and bumper bar), a rain cover, carriage liner and mattress, apron, reversible seat liner and infant car seat adaptors.
There are a few accessories available to buy separately and they are:
All Weather Footmuff
Quantum Cup Holder
Cool Mesh Comfort Line
Advantages
Brilliant hood that offers great protection from all weathers!
Large, comfortable seat.
Huge shopping basket.
Removable, easy clean wheels.
The seat position is easy to change.
One-step brake.
Strong and sturdy!
Smooth to push with two hands.
Comfortable handle with different height settings.
Co-ordinated touch points.
Easy to reverse the seat.
Easy to transform the seat from carry cot to toddler seat and vice versa.
Lots of things included!
The carry cot and the toddler seat is the same part so there's not much to store.
Disadvantages
Bulkier than other pushchairs we've used but it's also much sturdier and has the amazing shopping basket so it's only when folded that it's a disadvantage in my opinion. I love the generous size!
The touch points could perhaps have been another colour that's not as sensitive to dirt as white.
The front wheels could be a bit bigger to make it easier to get up onto raised pavements.
Other Features
Reflective accents
Hard wearing easy clean footrest
Handle guard to protect handle when folding
Symmetrical frame design eliminates kicks
You also get a looped strap to put on the handle and then around your wrist for extra safety
The Quantum is available in three other colours: Blue, Black and Red.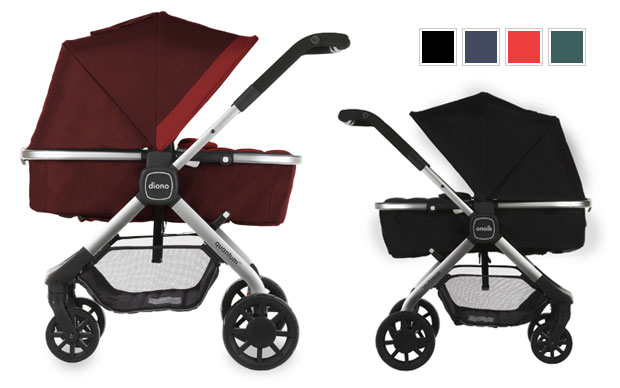 Overall / Conclusion
You can probably tell that we've tested this pushchair thoroughly and that we really love it! It's got so many handy features that make my life as a mum easier and more smooth running. I love using the Quantum for all my everyday outings with the girls — the school run, food shopping, days out in town or at a shopping centre, visits to the park, etc. It ticks more boxes for me than other travel systems, prams and pushchairs that I've used so I'm very pleased with it. My toddler loves it too which is important, of course.
Read more about the Diono Quantum here.
We were sent this pushchair for review. As always, all my reviews are 100% honest and all thoughts and opinions are my own.