The Micro Trike Review – The New Trike from Micro Scooters
My youngest daughter, who is two years old, is at that stage where she is quite independent and wants to do things by herself. She wants to walk places and do everything her big sister does. She still goes in the pushchair without too much resistance most days but some days she doesn't want to go in it at all and that's not very practical for me when we need to get somewhere on time. She's also obsessed with bikes and has been for about a year. She can't pedal yet though so has only used ones where she can move forward with her feet on the ground or by me pushing her.
When I spotted the Micro Trike from Micro Scooters I thought it looked great! It's incredibly compact and lightweight (it weighs under 5lbs!), folds up really small and provides an easy way to get around with a toddler on days out. Of course, kids love it!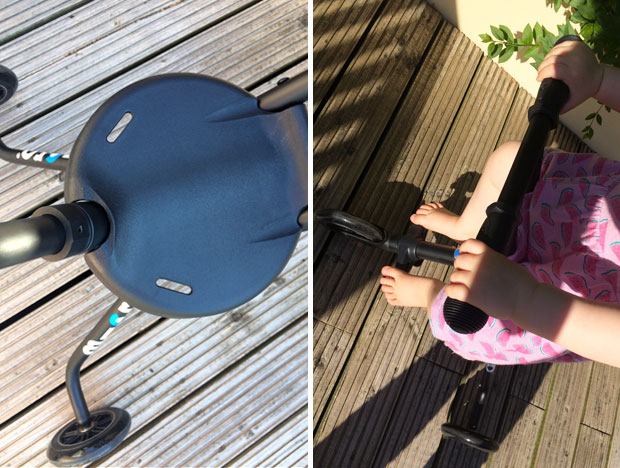 The Micro Trike is suitable from 18 months and up to a maximum weight of 20kg which is great. My 4,5-year-old weighs about 16kg so that means it can be used for a long time.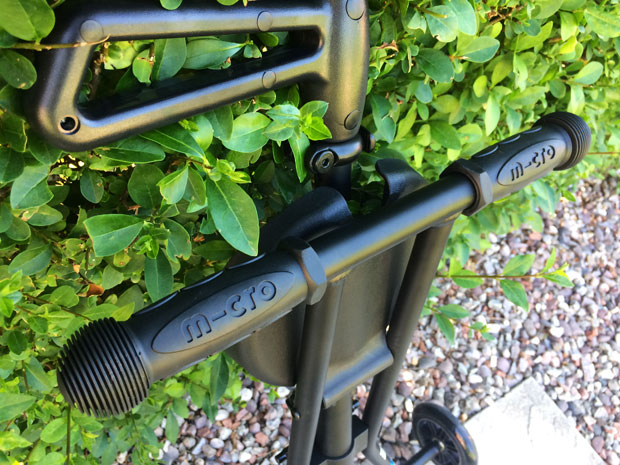 It's got a comfortable seat and comes with a removable safety belt to use with younger children. It's also recommended to use a helmet when riding the Micro Trike. There's a footrest for your little one's feet and this is adjustable too. The child's handles are chunky and easy to grip for a comfortable and secure ride.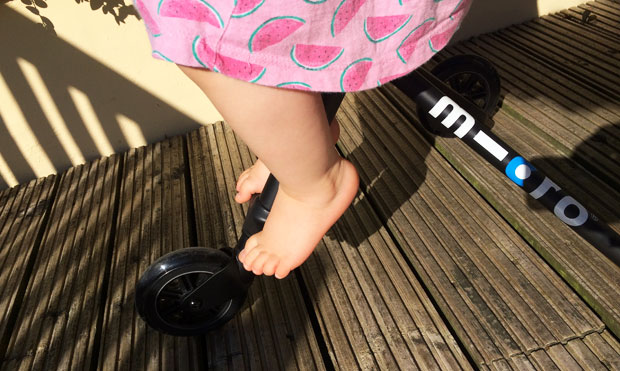 This trike is so easy to push and manoeuvre with just one hand! The wheels are smooth and quiet and it all feels very elegant thanks to this and the slimline design of the aluminum frame.
The handle is comfortable for the parent to hold and it's telescopic so you can adjust it to your own height. I'm 176cm tall so taller than average and the highest setting works perfectly for me and I find it really ergonomic and easy to push. If you are very tall, you might hurt your back bending forward a bit.
I think that the Micro Trike is a great little trike for days out when my toddler can't walk everywhere and needs a bit help. It's much more for fun for her than a pushchair and she absolutely loves it.
We've been using it when visiting caravan sites this summer as it's a great mode of transport for on site. Any smooth surface works really well, but it's difficult to get up and down the pavement.
My four-year-old loves going on it too as you can see in this photo above. We've also been using it on our decking to go round and round just like big sis doe on her trike. My toddler is so happy to join in with her own!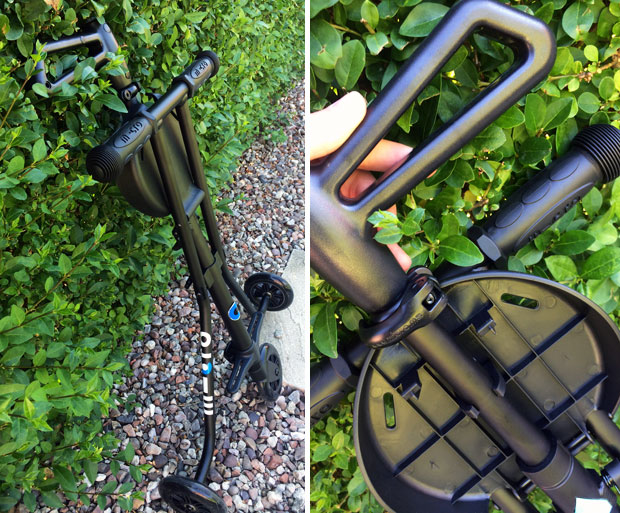 I absolutely love how compactly it folds down as it makes it so easy to store at home and when travelling. It barely takes up any room at all! Folding and unfolding it is easy and only takes a few seconds which is great.
The Micro Trike doesn't replace a pushchair but makes a great addition for simple days out. It doesn't have any weather protection so you can only use it when the weather is decent and it also doesn't have any storage like a pushchair would so you can't really take it to the shops unless you have someone else to help you or a car too.
Something that I miss is a brake function. There's no option to stop the trike from moving when it's in use or when folded up, stood up leaning against a wall, for example.
Overall, I'm very happy that we have a Micro Trike as it's very useful for us in many situations. It's great quality and well-made so I'm sure it will last many years to come too.
The Micro Trike is available in Black, White, Blue and Pink and has an RRP of £79.95. They're available to buy from the Micro Scooters website or other retailers like Amazon.co.uk.
This product was sent to us for this review. As always, all my reviews are 100% honest and all thoughts and opinions are my own.