Koo-di Pack-It Rain Cover Review
|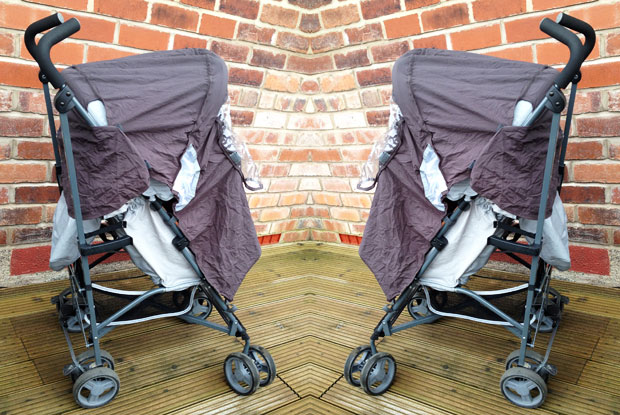 Koo-di Pack-It Rain Cover Review
I absolutely hate rain covers for prams as they are usually more annoying than they're helpful. I've had two rain covers in my life and both came with prams/push chairs but still never fitted nicely. The all-over plastic is never flexible enough, always creases and always looks sweaty for the baby or child sat under it. I've binned both my rain covers because I never used them due to these reasons.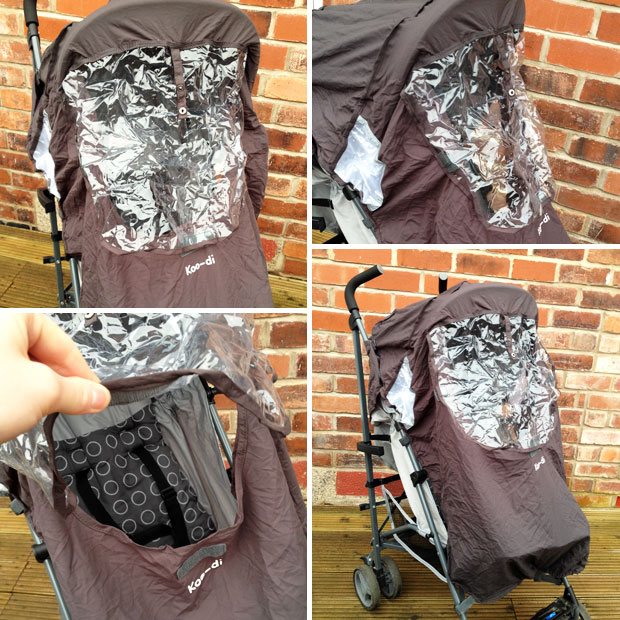 The Koo-di Pack-It Rain Cover caught my eye because it looks very different compared to most rain covers. The main and most important difference is that it's not all plastic! It's mainly not plastic actually and that's what appealed to me as it's the plastic that I don't like.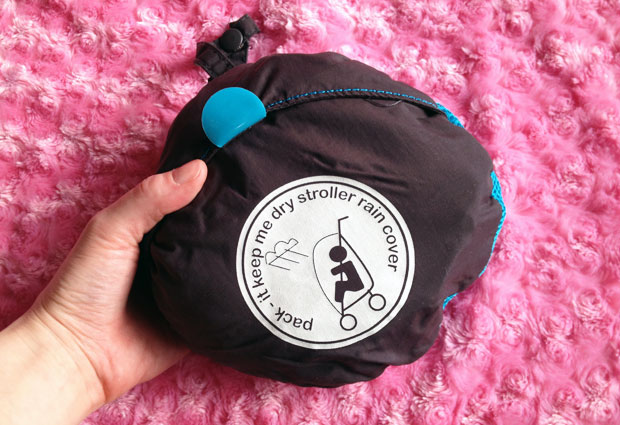 The Koo-di Pack-It Rain Cover is part of Koo-di's handy Pack-It! range that consists or useful baby products that pack up neatly into a handy integrated pocket to be easy to take with you wherever you go. The neat little packages can be hung on your pram or put in your pram shopping basket or in your changing bag for example. They all have the same shape but are different colours on the back to be easy to distinguish from each other.
I've previously reviewed two other items from this range:
The Koo-di Pack-It Rain Cover is meant to fit most strollers including three wheelers and it fits our Little Tikes Stroll 'n Go Stroller very well. It's a very classic buggy shape and size so I believe it would fit many strollers that are a similar style. It does not fit our Greentom Upp pushchair but that one is quite a unique shape that is not as common in the UK.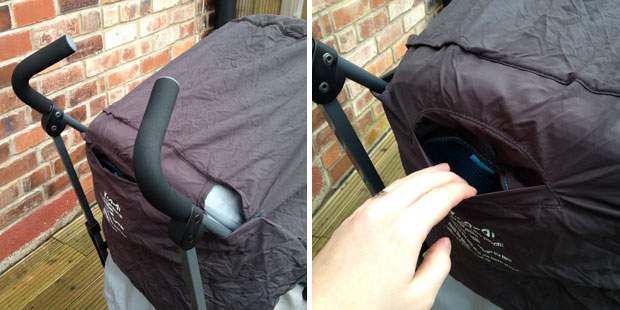 The rain cover is quite easy to fit and adjust thanks to the Velcro fasteners. The back fits over the handles and the pocket for storing the cover turns into an actual pocket which is handy for snacks, a drink or gloves for example. I recommend practicing fitting the cover once before you're in a situation where you're stuck in the rain trying to get it on so that you know what you're doing and where things go.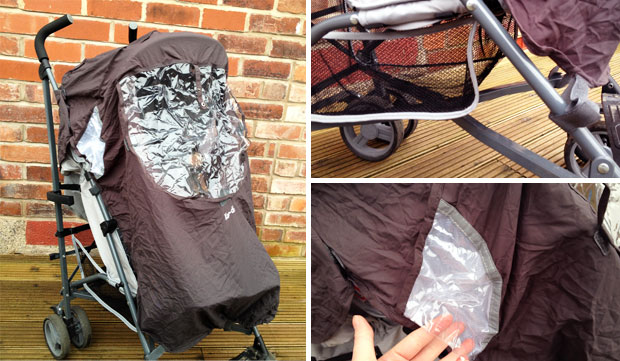 Most of the cover is a water resistant fabric and then there's a window made of plastic that you can keep closed with Velcro and open when needed or roll up when you need to. There's a strap that will keep it rolled up for you. There are extra air vents on the side to ensure good air flow.
The plastic is quite stiff so creases like all rain covers do but you can still see your child underneath and he or she can see out and that's what it's for. You can do your bit to keep the plastic as crease-free as possible by folding it neatly when putting it away in the pouch which I'm sure will help make it last longer and look nice for a longer time too.
Overall, I think it's a good rain cover for these types of strollers and I love that it packs away so neatly. It's nice to see a rain cover that's not all plastic and that you can easily fit on your pram unlike the ones I've come across before. It keeps my little one dry when we have to go out even though it's raining!
Buy your Koo-di Pack-It Rain Cover from the Koo-di website for £17.99.
We were sent this item for this review. As always, all my reviews are 100% honest and all thoughts and opinions are my own.