Little Tikes Stroll 'n Go Stroller Review + Giveaway
|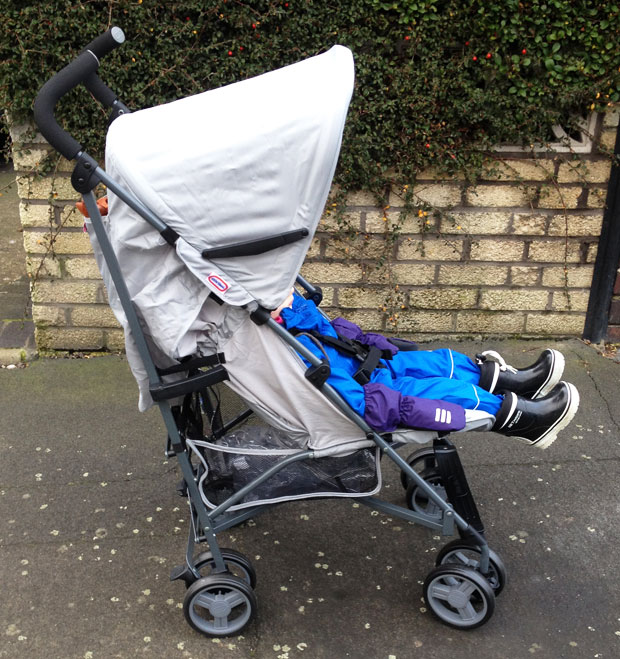 Little Tikes Stroll 'n Go Stroller Review + Giveaway

Introducing the Little Tikes Stroll 'n Go stroller — a lightweight, easy to use stroller that folds up quickly and is perfect for travelling or trips to town, the shops or the park.
This stroller has lots of great features that make it a great way to transport your baby or your toddler when you're out and about on adventures.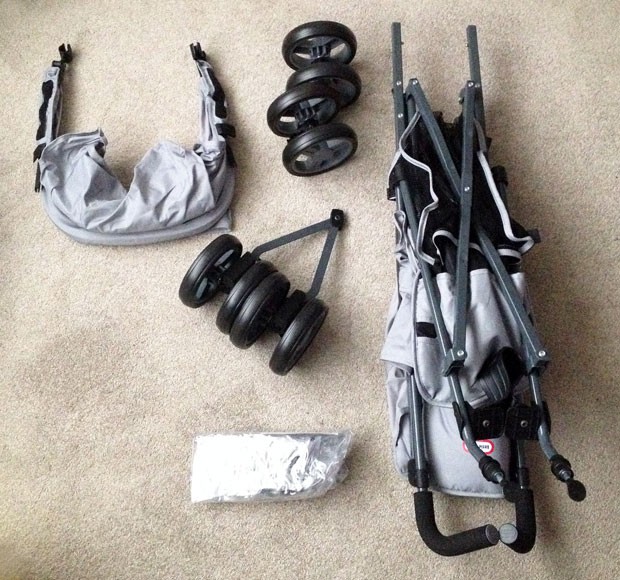 Unboxing
The pushchair came delivered in a box with six pieces — the main body of the pram, 2 separate front wheels, the back wheels, the hood and the rain cover. There were no instructions but the stroller was still easy to assemble. The only thing that was confusing was the black plastic bit where the front wheels fit (see lower, right corner in the photo above) — I wasn't sure whether these were supposed to stay on or be removed. I couldn't get the wheels on with them on so I took them off and that worked. I would prefer to have received some short instructions.
First impressions
Our first impressions were great — the stroller looked lovely and my two-year-old daughter instantly wanted to sit in it while it was stood in our living room. She stayed sat in it for quite a while so it must be comfortable. Great start!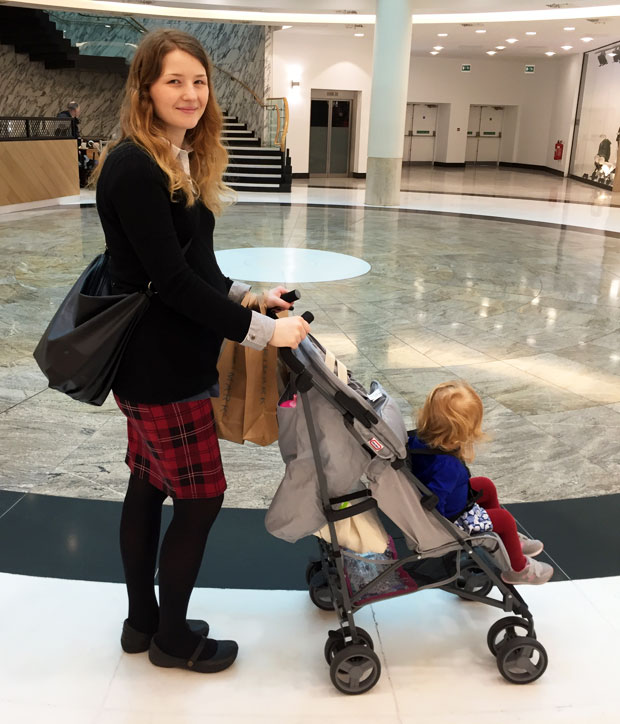 Ease of use & Comfort

This lightweight stroller has swivel wheels and extra high, soft foam handles that together make it a breeze to steer. It's so comfortable to hold and push (even for a heavily pregnant woman!) and the high handles are great for me and my husband who are both around 176 cm (5 feet 9.5 inches) tall. We can both comfortably push the stroller with straight backs which is naturally the most ergonomic way to do it. When prams have lower handles, it can make you bend your back which is not great. Our previous travel stroller was quite low and the difference in comfort is amazing.
When our daughter is tired, she prefers to lean back and the backrest folds down completely into a flat position which is great for napping. When she's not tired, she wants to sit up straight which gives her a good view in all directions.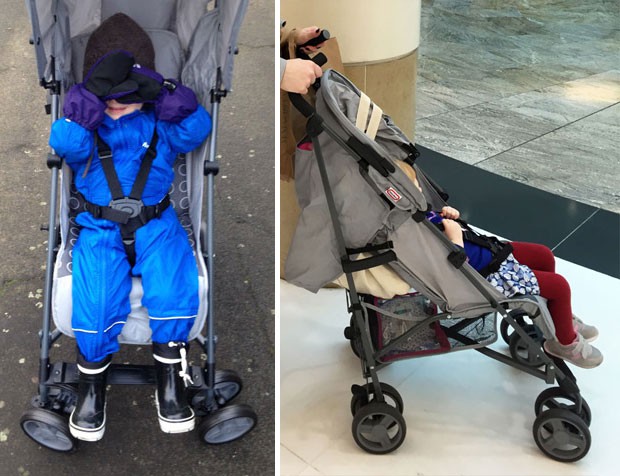 The seat is very well padded for extra comfort and has a 5 point harness and 3 shoulder strap positions so that you can easily adjust the straps to the size of your child. The padding is generous and makes the seat very comfortable for my toddler.
The extendable leg rest can be folded up or down and there's a fixed foot rest too which is at the perfect height for my daughter. The leg rest is nicely padded too which is something I've missed on other pushchairs. This adds extra comfort as the leg rest hugs the legs a bit with its cushioning.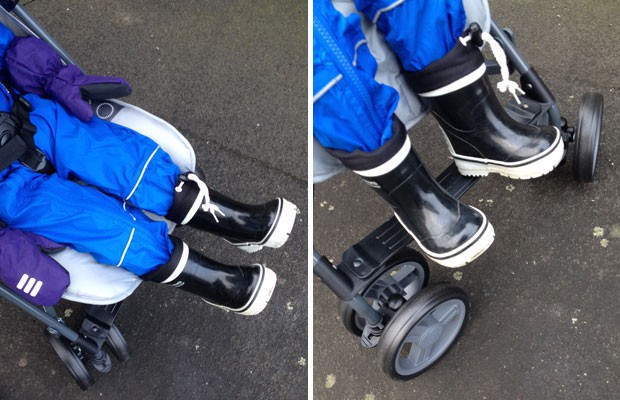 Wheels & Brakes
The all round suspension and front swivel wheels ensure easy maneuverability of the stroller. The wheels run smoothly and never get stuck. We have quite bumpy and lumpy, patched up pavements where we live and we've not had any problems at all. In town, where there are cobble stones, the wheels also run very smoothly.
The one touch linked brakes are easy to lock and unlock quickly with your foot.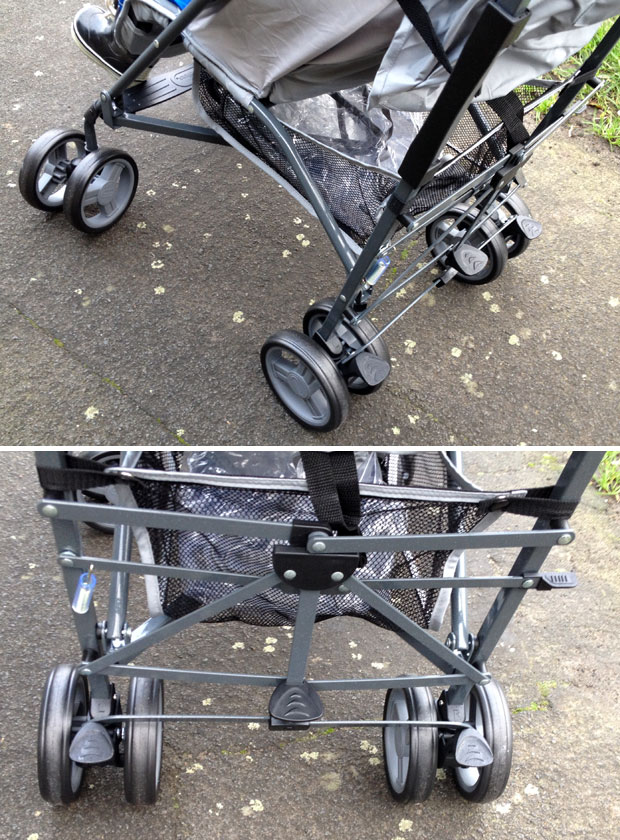 Weather Protection

The Little Tikes Stroll 'n Go stroller comes with a rain cover which is great. I'm personally not a fan of using rain covers and my toddler doesn't like being covered up but I know many parents like using them so it's nice that one that fits comes with the stroller.
The material that the stroller is made of is quite rain proof anyway and doesn't really absorb much water. We've been out in the rain quite a few times and it dries much faster than our travel system pushchair.
The hood is quite large and offers protection from rain and sunshine, too.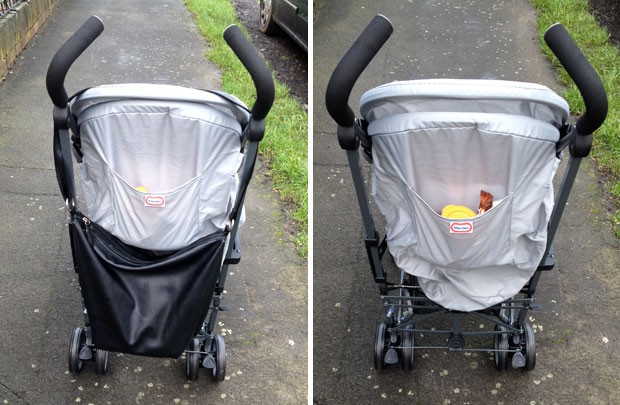 Storage & Shopping basket
The Little Tikes Stroll 'n Go stroller has a handy storage pocket at the back (perfect for snacks and a drink) and a decent sized shopping basket for a compact pushchair. I can fit a few small bags of shopping in the basket but not a full shop with bulkier items.
I do however use this little trick below to fit more shopping into pushchairs and hang my shopping bags on the handles of the stroller but on the inside of the stroller, behind the seat. This ensures I can fit a lot more shopping without making the stroller too heavy on the back and risking that it might tip over. This only works when your child is sat up.
The handles make a great place to hang my handbag or a light changing bag. I try to not wear my bag when out with a pushchair because it hurts my shoulder so hanging it like in the photo above is ideal for me. If your bag is on the heavier side like mine, just remember to take it off before helping your child out of their seat otherwise the stroller might tip over when you've lifted your child out because it's so light.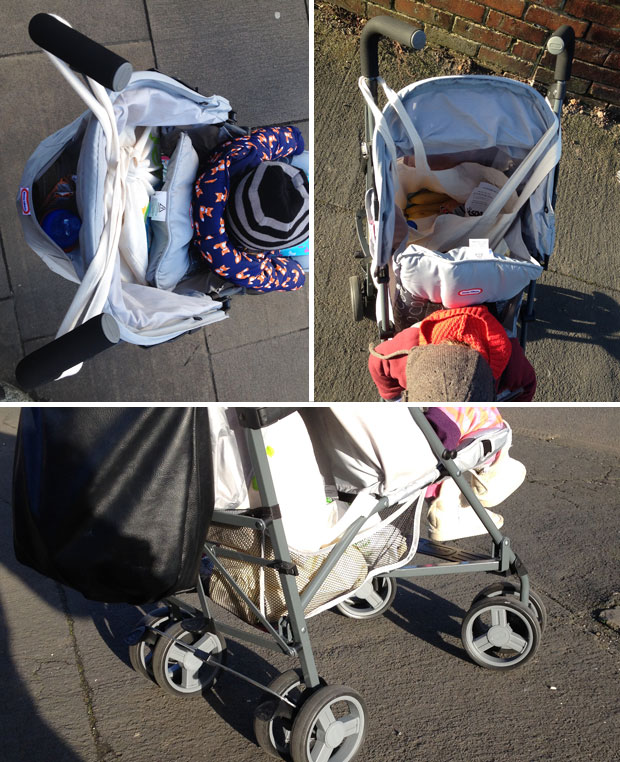 Public Transport and Stairs
This stroller is really easy to use on public transport. The wheels are big and high enough to make getting on and off buses and trains very smooth and effortless. Thanks to the small size of the stroller, it fits neatly onto buses and trains and can easily be folded up if needed.
The wheels are big enough to make it easy to bump down stairs with the pram which is important to me when I'm out and about without anybody who can help me lift the pram. The wheels don't catch at all when bumping down stairs which is perfect.
Folding & Storing
The Little Tikes Stroll 'n Go stroller is quite easy to fold down by clicking the small, black "handle" on the right side (see bottom photo above) and then lifting up the bigger "handle" in the middle on the back. Once you've done that, the stroller collapses really easy by pushing the top and handles forwards. The lock that keeps if folded up locks automatically which I appreciate because that's something I usually forget about.
I like that you don't have to fold the backrest down before folding it up — that was something that always annoyed us with our previous travel stroller.
It's an umbrella style stroller so it's not very wide at all when folded up which makes it easy to store. It's much narrower than other pushchairs we have used but the wheels stick out a bit further so it doesn't fold as flat as some pushchairs which can take up a bit more room in the boot of the car for example. It does however fit very neatly into the cupboard in our kitchen next to our Dyson which is not something I can say about other pushchairs and prams that we've used. We've always had to keep them out in the hallway by the front door or in outside storage. I'm happy that I can store the Stroll 'n Go away in a cupboard but still within easy reach for quick access when we're heading out.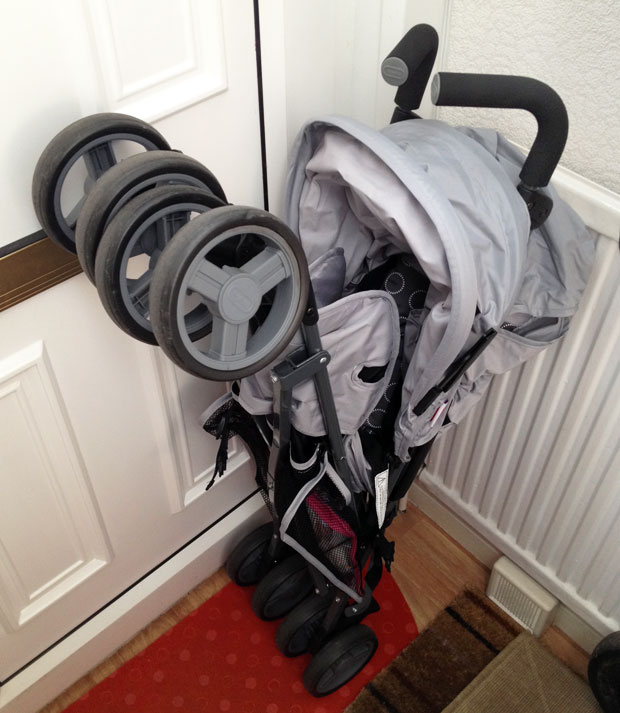 Price
The RRP is £99.99 which is a great price for this stroller. Our previous travel pushchair was just under £25 so much cheaper but the quality and the design of the Little Tikes Stroll 'n Go stroller is so much better. It's much more than just a travel stroller and can comfortably be used every day.
Advantages
Very lightweight
Comfortably padded for the child
Great height and easy to steer for parents
Easy to store
Comes with rain cover
Affordable
Easy to clean
Much more than just a travel stroller
Disadvantages
Could be easier to fold up with just one knob/handle
I struggle to get the backrest straight/even all the way across
If you are short, the handles might be too tall
Only available in one colour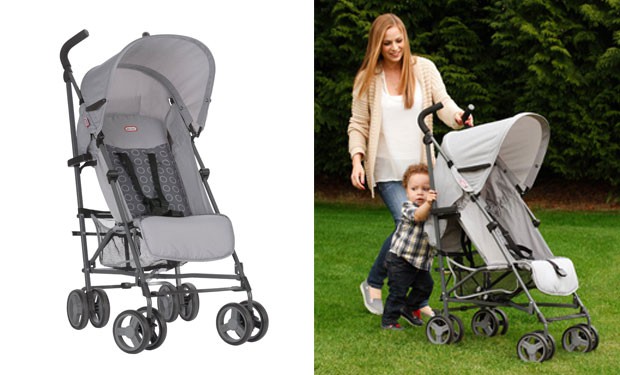 Features
Suitable from birth with a simple multi position recline
Padded seat with 5 point harness and 3 shoulder strap positions
Extendable leg rest and fixed foot rest
All round suspension and front swivel wheels for easy maneuverability
Soft foam handles
Large hood for extra coverage
One touch linked brakes
Angled frame to allow for easy walking
Rain cover included
Shopping basket and storage pocket
One hand compact umbrella fold and carry handle for easy portability
Lightweight, only weighs 7.1kg
Open Dimensions H 110 X W50 X D80cm
Folded Dimensions H110 X W25 X D37cm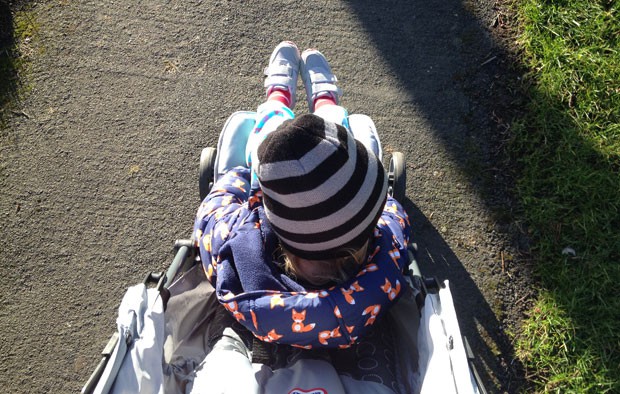 Overall / Conclusion
We love this stroller! It's so comfortable to use that I choose it over our travel system pushchair most days. I love our travel system with it's huge wheels and big shopping basket but the Little Tikes Stroll 'n Go stroller is much easier to push thanks to the ergonomic handles and the lightweight frame, especially now that I'm quite heavily pregnant. My daughter really loves this stroller too and wants to stay in it and explore the world comfortably from her seat. She sleeps really well in it too.
Buy your Little Tikes Stroll 'n Go stroller from Amazon.co.uk or enter my giveaway below and you could win one!
Giveaway — Win a Little Tikes Stroll 'n Go Stroller
For a chance to win your very own Little Tikes Stroll 'n Go stroller, enter my competition using the Rafflecopter below. Terms & Conditions apply. UK entrants only. The giveaway will end on the 3rd of March 2016.
We were sent this stroller for this review. As always, all my reviews are 100% honest and all thoughts and opinions are my own.