Earth Conscious Natural Organic Deodorant Review (Women's and Men's)
|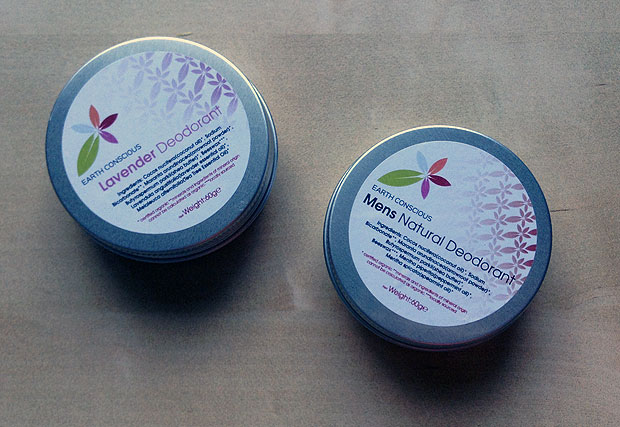 Earth Conscious Natural Deodorant Review
Earth Conscious Natural Deodorant is available for women and men. Both versions are handmade with all natural, organic ingredients and are free from parabens, alcohol, aluminium and synthetic fragrances. They are also suitable for dry skin. They are both made with coconut oil as the base ingredient.
The women's one contains lavender oil which is calming and together with tea tree oil creates a lovely natural scent. The deodorant promises to eliminate odours, be soothing and allow natural perspiration.
I've been testing this deodorant for about a month now and I'm very satisfied. I'd been looking for a new one for a while because I found my current ones didn't work as well any more. Earth Conscious Natural Organic Deodorant was just what I needed. It really works for me and keeps me dry and fresh.
You really don't need loads of chemicals in your deodorant. The full ingredients list for the ladies' deodorant is: organic coconut oil, organic arrowroot, sodium bicarbonate, organic shea butter, beeswax, organic lavender oil, organic tea tree oil. All good, lovely and natural ingredients.

The deodorant comes in a metal tin and is a firm paste (sometimes softer depending on the temperature — that's the coconut oil firming up in the cold and melting when it's warm). You dig a small amount out — I use enough to cover a finger nail and this is enough for both armpits — and warm it between the palms of your hands before rubbing on. The texture is a bit gritty but feels fine when it's on. Then you wash any extra amount off your hands, then you are ready to go.
I've tried this deodorant during some stressful times and it has not let me down. I used it when I was really stressed before Christmas, I used it while travelling for 20 hours (I actually applied it the night before travelling) and on Christmas which is always a long days with some amounts of stress. All fine! I find this more reliable than other deodorants that I have tried and I will keep using it as long as it works for me.
I've given my sister a sample by digging some out with a spoon and putting it in a small jar. She, too, had been looking for a natural deodorant that really works. Think we have both found what we were looking for!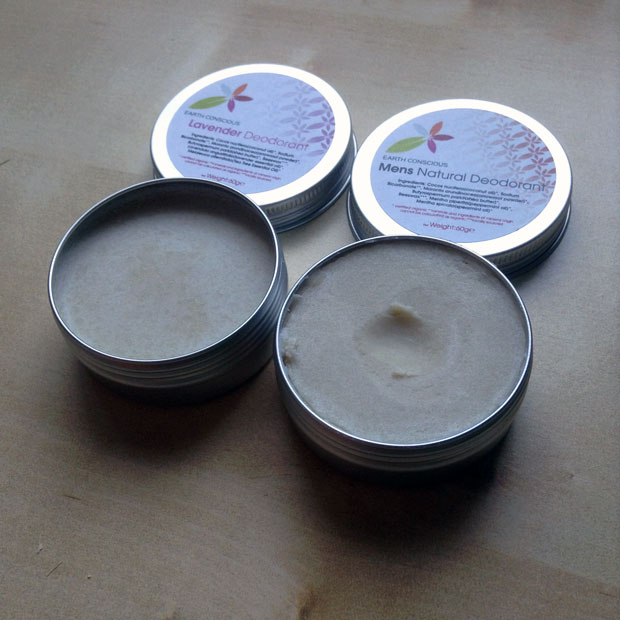 The men's one is very similar except for the scent — all other ingredients are the same and the texture and the application, too. Instead of lavender and tea tree oil it contains organic peppermint oil and organic spearmint oil for a fresh, minty scent.
Earth Conscious Natural Organic Deodorant for men is designed to fight and kill bacteria and be tough enough to last all day. At the same time it's very gentle and caring for your skin.
My husband is searching for a deodorant that always works for him; one that he can rely on. He's not found it yet and even though he is very impressed with how well an all natural deodorant can work, Earth Conscious Natural Organic Deodorant for men doesn't work for him every day. Some days it does. some days it doesn't. I think this has something to do with underarm hair. Most men have underarm hair and I think this gets in the way of the deodorant. My husband is not prepared to shave his armpits but I'm pretty sure this natural deodorant would always work for him if he did!
A 60g tin will last a long time and only costs £4.99. See the women's one here and the men's one here.

We were sent these for reviewing purposes. As always, my reviews are 100%  honest and all thoughts and opinions are my own.