Easter Gift Ideas for the Family to Enjoy | Treats, Books & Toys!
|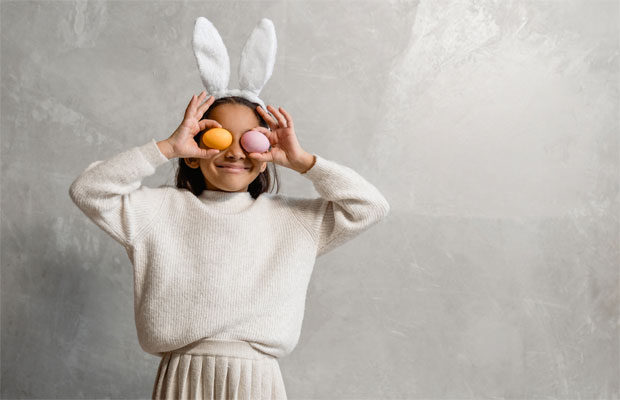 Easter Gift Ideas for the Family to Enjoy | AD
It's getting close to Easter! Easter is a lovely time of the year – spring is here and we all usually get some time off to enjoy with our families (and to eat treats!). In this article, I've gathered a few gift ideas for the family to enjoy.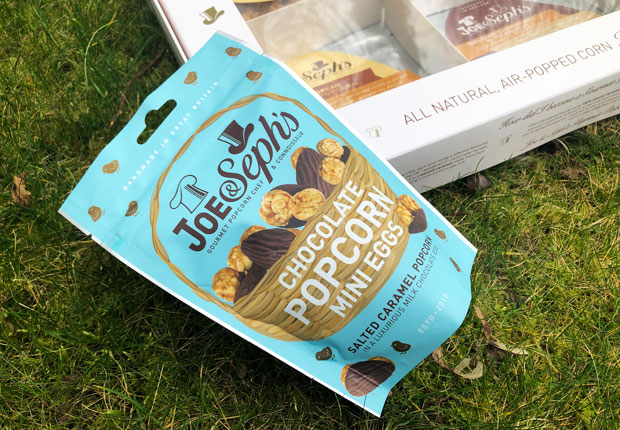 Easter Treats from Joe & Seph's
Let's broaden our horizons when it comes to Easter treats! It doesn't have to be all chocolate eggs and sweets. Check out the tasty selection of Easter treats from Joe & Seph's, maker of gourmet popcorn in a wide range of flavours. Their Easter collection includes lots of yummy things based around popcorn and some delicious caramel sauces too. Here, you can see the Chocolate Popcorn Mini Eggs and Easter Gourmet Popcorn Selection Box which are ideal to gift to loved ones this Easter (or to treat yourself to!).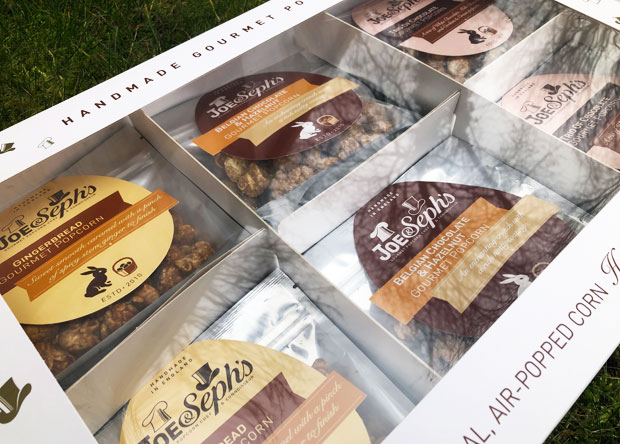 The Chocolate Popcorn Mini Eggs are so yummy! Each egg half features two pieces of Joe & Seph's Salted Caramel Chocolate. The mix between the popcorn and the silky milk chocolate is divine!
The Easter Gourmet Popcorn Selection Box is a stylish gift box filled with six packs of limited edition popcorn in the flavours Chocolate, Belgian Chocolate & Hazelnut, and Gingerbread to enjoy over Easter. Joe & Seph's products can also be ordered via Amazon.co.uk.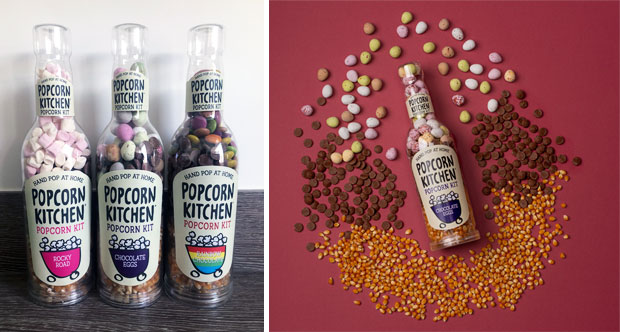 Popcorn Kitchen Gourmet Pop at Home Gifts
For at home popcorn popping, Popcorn Kitchen is the go-to brand. They make gourmet pop at home popcorn gifts and have three new fun and delicious popcorn immersion bottle kits that make perfect Easter gifts – Rocky Road, Chocolate Eggs & Rainbow Beans. They also make bags of hand-popped flavours like Cherry Bakewell, Lemon Drizzle, Chocolate Brownie, and Choc Mint to name a few.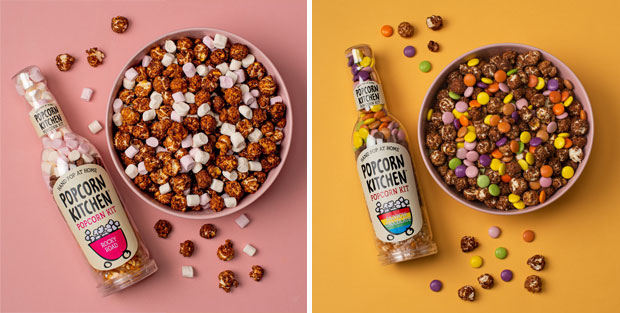 The bottle gift sets are packed with high quality mushroom popcorn kernels, lots of Belgian chocolate chips and the chosen guest ingredient. Follow the simple and easy-to-follow instructions to create indulgent, chocolate covered luxury popcorn at home with your favourite flavours. The Chocolate Eggs version is extra suitable for Easter of course! Popcorn Kitchen products can also be ordered via Amazon.co.uk.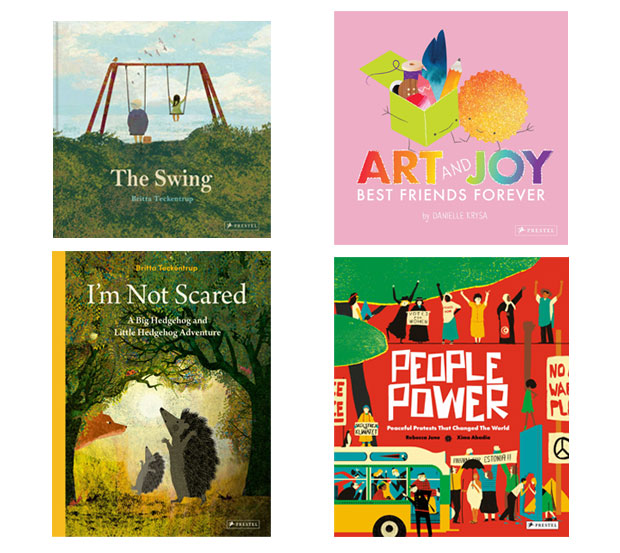 New Children's Books from Prestel
Books are brilliant gifts for all occasions in my opinion. For this Easter, check out these new children's book releases from Prestel. New books are a great way to keep children entertained over the holidays too.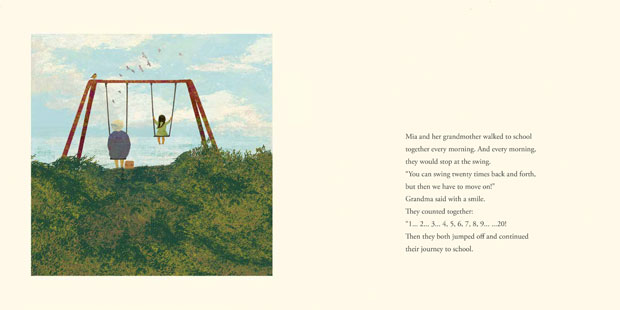 The Swing by Britta Teckentrup is a wonderful book for children aged 5+ about the passage of time. The book revolves around a swing set on a hill overlooking the water and throughout the pages, we see how even though the swing remains in the same place, things still change. As time passes, seasons change, years go by, the swing set grows creaky and the narrator gets older and wiser. The readers learn to understand about time and life and that the most important memories will always remain. It's a beautiful book and the illustrations are lovely too! Also available from Amazon.co.uk here.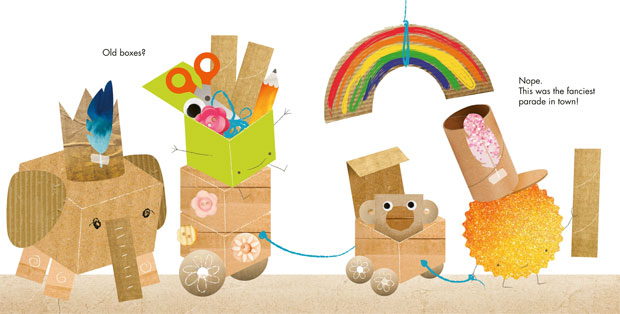 Art and Joy Best Friends Forever is a fun new book by Danielle Krysa who is also the creator of another book that we love called How to Spot an Artist. It's recommended from 5 years + but I think younger readers would enjoy this colourful book full of bright illustrations too. This new playful book helps young artists discover the the joy of artistic expression while silencing self-criticism. In the story we meet two best friends, Art and Joy, and follow them as they overcome the Art Bully who criticizes their creations, and instead enjoy coming up with new creative ideas. Also available from Amazon.co.uk here.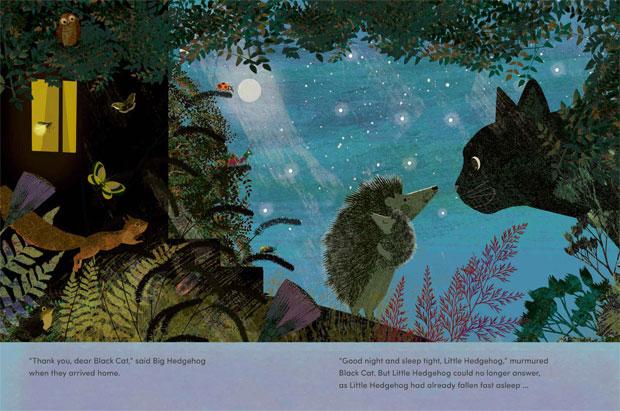 I'm Not Scared: A Big Hedgehog and Little Hedgehog Adventure (I'm Not Afraid) is another new book by Britta Teckentrup's. This one is a story recommended from age 4 years + about navigating childhood fears. The book is full of gorgeous illustrations and as the readers moves through the pages, they find out that everyone gets scared of things no matter how big or little they are. It's a charming book that's written in a way that's easy for young readers to understand. It's also a good conversation starter to chat to your children about fears. Also available here from Amazon.co.uk.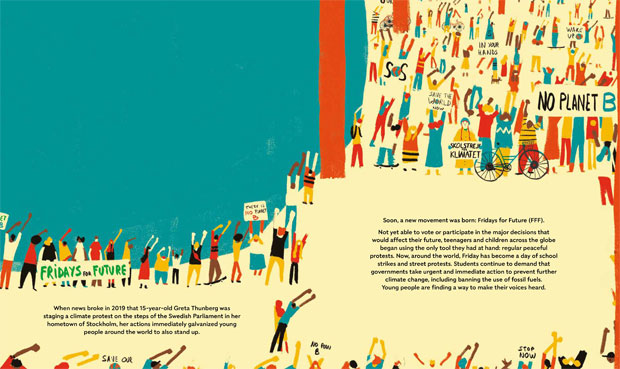 People Power. Peaceful Protests that Changed the World by Rebecca June, with illustrations by Ximo Abadía is a great book for curious children aged 8 years +. The book covers lots of important and peaceful revolutions from around the world and introduces readers to the power of protests and how we can make a difference as part of a movement. The book has bold, detailed and colourful illustrations throughout and engaging texts about interesting, world-changing movements. Also available from Amazon.co.uk here.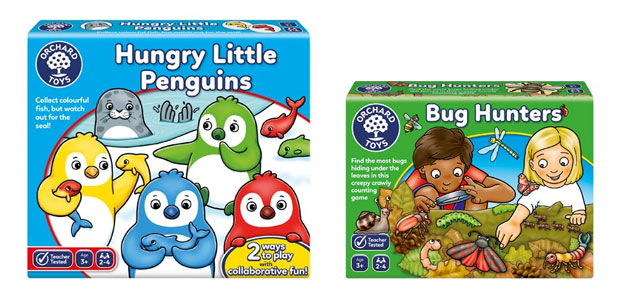 New Games from Orchard Toys
New games are always a good investment for your family as playing family games is a great way to enjoy quality time together. Orchard Toys has a new collection of fun educational games to play with little ones.
We have two of the new games – Hungry Little Penguins and Bug Hunters. Hungry Little Penguins is a game that can be played in two ways – in a collaborative way or against each other. I like that there's a collaborative option as that helps keep the peace at home! In the collaborative option, the players work together to fill the iceberg playing board with fishes of different colours. The aim is to do so before the seal gets to the middle if the iceberg.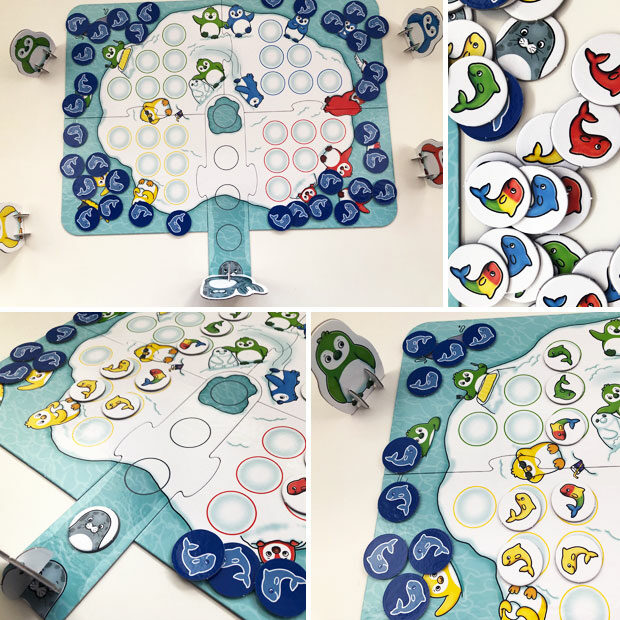 In the competitive gameplay option, the board pieces are used individually to create lotto boards and the goal is to be the first to fill their board with matching coloured fish. The rainbow fish can be any colour.
The game is suitable for children aged 3+ and a great game for introducing collaborative gameplay, to learn matching and memory skills, and social skills as you communicate with your team.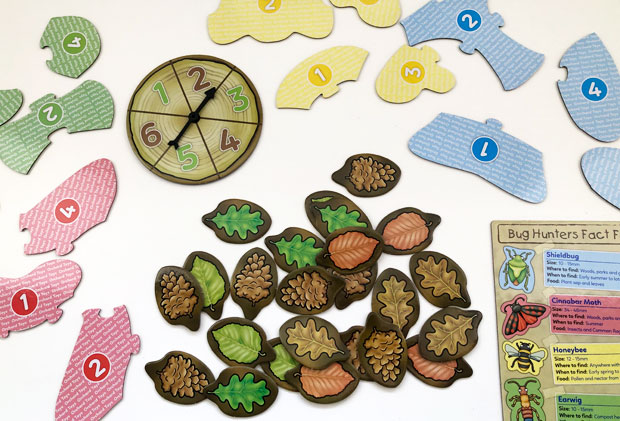 Next, Bug Hunters! This is a fun counting game for little ones with the aim to be the first to build your bug. Each player has the jigsaw pieces needed to build a chosen bug (Shield Bug, Cinnabar Moth, Honeybee or Earwig) and these go upside down at the start of the game. There are leaves with a number of bugs on the back and these are placed upside down too.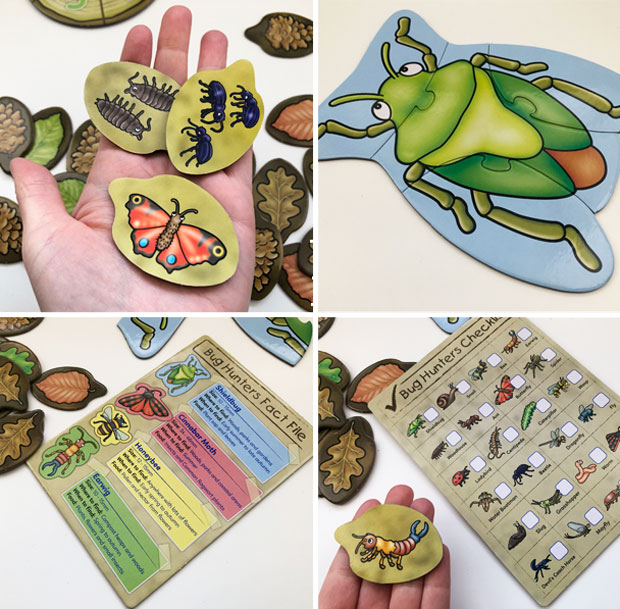 To play, use the spinner to see how many leaves to turn over. All players turn over the amount of leaves and count the bugs on the back – the player with the most gets to start building their bug jigsaw (one piece is added per round). The first player to complete their bug wins! It's a quick game to learn and a great way to practice your maths skills.
The game also comes with a fact file to learn more about the bugs you can build in the game and, on the back, there's a checklist of all the bugs featured in the game so that you can play a hide and seek game with the game pieces too.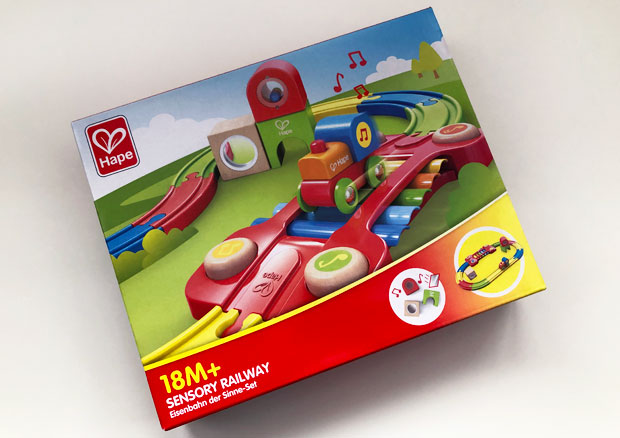 Next up we have a wonderful and beautifully colourful railway set from Hape. The Hape Sensory Railway makes the ideal starter railway set for toddlers or a lovely addition to a wooden railway collection.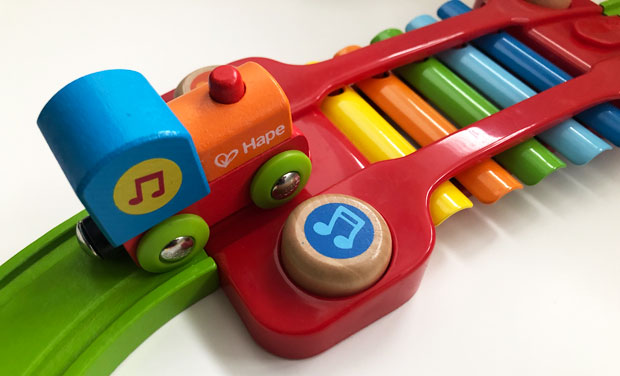 The colourful design with wooden train tracks in bright colours is perfect for Easter! The set is recommended from 18 months+ and includes 14 fun parts: 2 of each colour (blue, green, yellow and read) small curved tracks, 1 long yellow track piece, 1 xylophone melody track piece, 1 colourful train engine, a rattle, an arch and a mirror.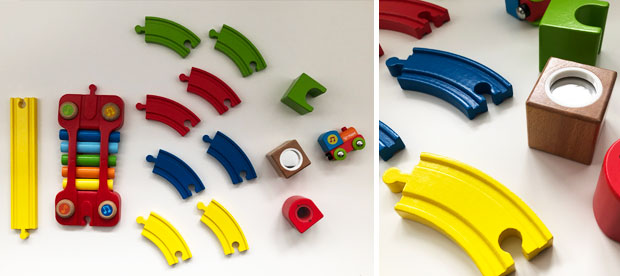 This is a brilliant train set for little ones to enjoy – they can start by trying to copy the build shown on the box, then experiment with their own designs.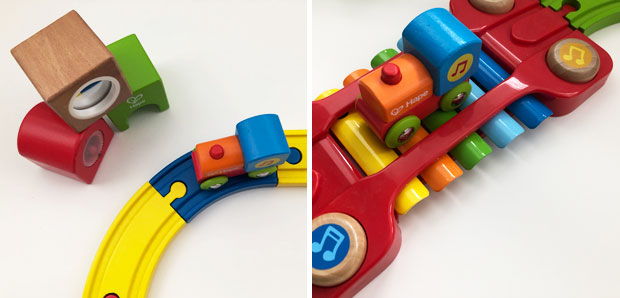 The melody track creates a little tune and you can make more music by shaking the rattle. The sensory pieces are fun for toddlers to explore and build a little tower with to go next to the track. You can buy this train set directly from Hape or via a toy retailer like Amazon.co.uk here.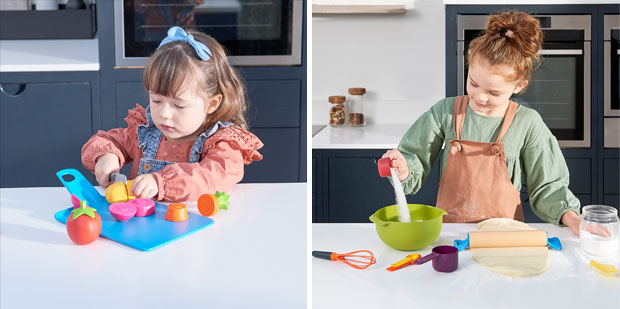 New Joseph Joseph Collection from Casdon
Easter is the perfect time to do some baking with the children and make some tasty treats that the family can enjoy together. Casdon has a fun collection of child sized versions of real Joseph Joseph kitchen products that children can use in the kitchen or simply to play with.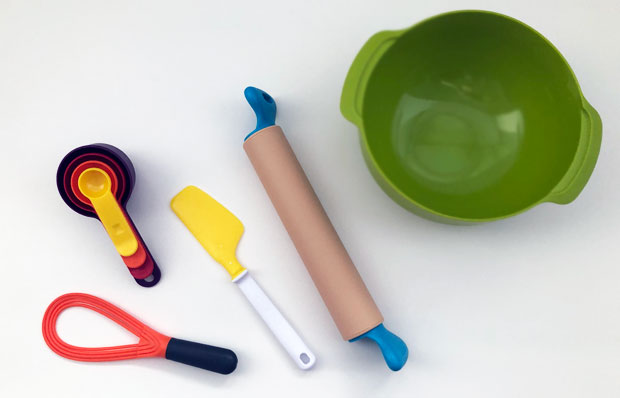 The Joseph Joseph Bake set contains everything you need to get baking! The set includes a large mixing bowl, a clever twist whist, an ergonomic rolling pin, four nest measuring cups and an egg spatula.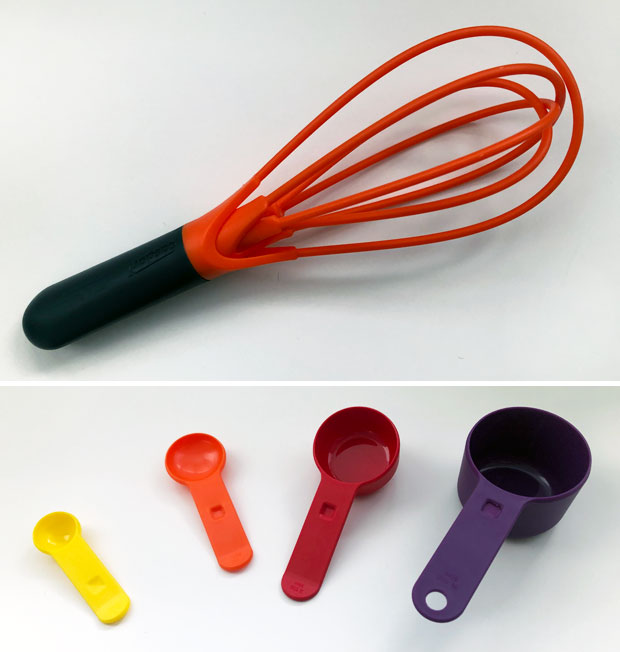 This baking set is a great way to introduce children to baking with tools that are the right size for them. Great for using in the kitchen when the kids want to get involved or for play baking and cooking.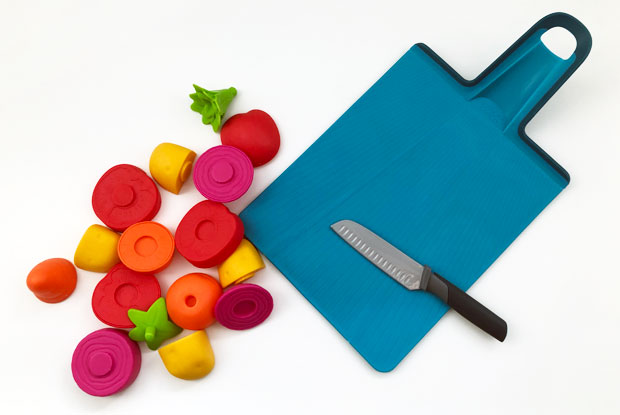 The Joseph Joseph Chop2Pot is a fun toy that lets children play that they're chopping and cooking. The set includes a chopping board which is bendy just like the real Chop2Pot board from Joseph Joseph. This makes it easy to transport the food from your board to your frying pan or saucepan.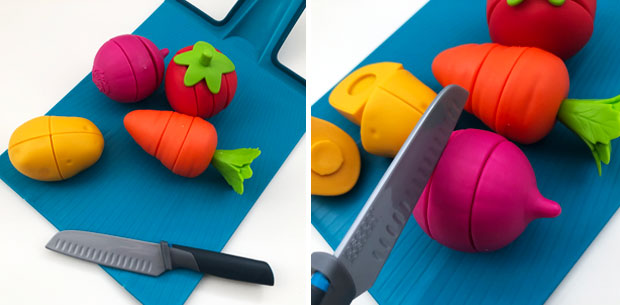 With your cutting mat, you get a knife, an onion, a tomato, a carrot and a potato that you can chop up and click back together again. There are no dangerous magnets or Velcro that sticks to everything and gets fluffy quickly – the pieces simply click together which is great! Both these sets are suitable for children aged 3+ and lots of fun for little chefs!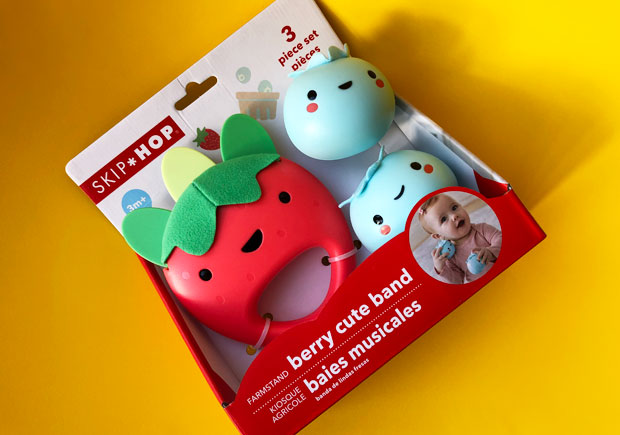 For any mini musicians out there, check out this adorable shaker set from Skip Hop. The set consists of a strawberry tambourine and two blueberry shakers with different sounds so that your baby can start jamming. The fruity instruments are easy to grab and hold for small hands.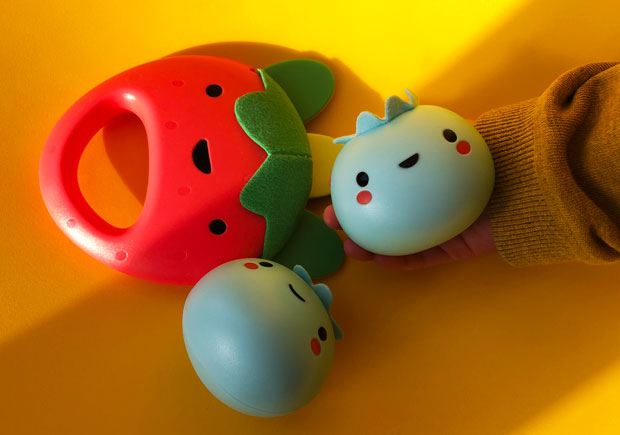 They are super cute and make pleasant sounds. This set is part of Skip Hop's Farmstand range that also includes other fruit & veg themed toys for babies and toddlers. They are all very cute!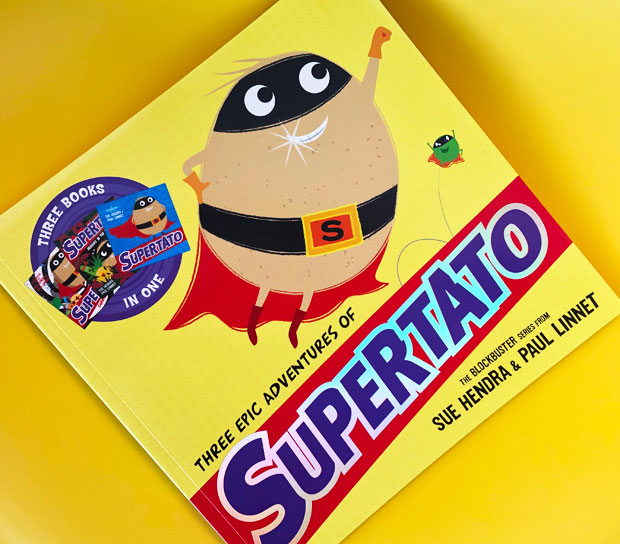 Last but not least, a new Supertato book by Sue Hendra and Paul Linnet which is a collection that contains three of the many epic adventures of Supertato all in one book! Great for existing Supertato fans and for new readers to discover too.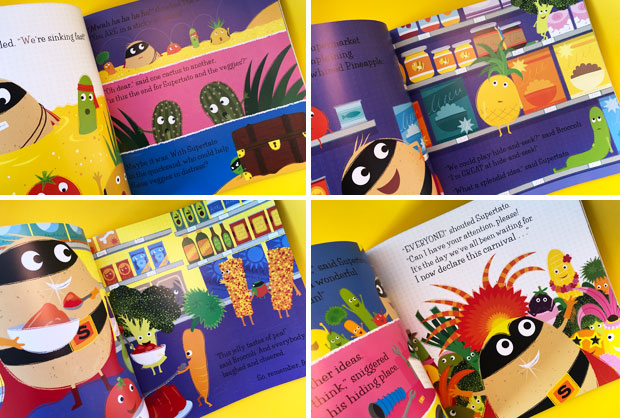 This book includes the original Supertato book where Supertato and the veggies chase the Evil Pea on the loose, the Veggies in the Valley of Doom book that features an epic treasure hunt, and Carnival Catastro-Pea which features the adventure of saving the festive carnival from disaster. These books are exciting, colourful, lots of fun and kids absolutely love them!
Collaboration. This gift guide features some gifted items.