Give an Alternative Sweet Treat This Easter With Carex
|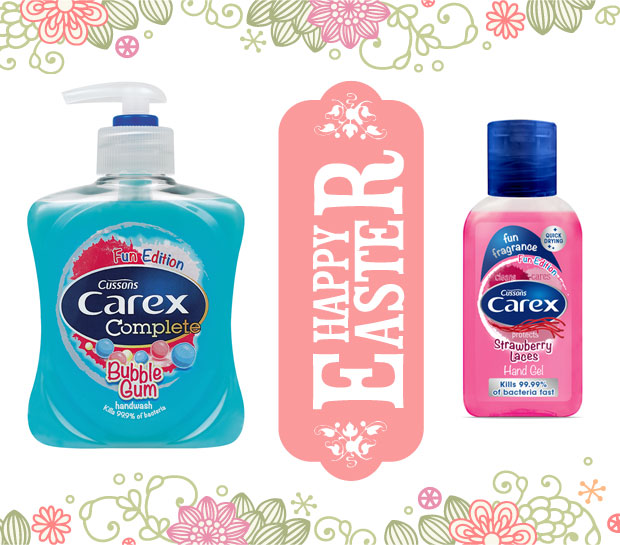 Give an Alternative Sweet Treat This Easter With Carex
Easter doesn't have to be all about chocolate and sugary sweets — for a sweet but 'good for you' alternative to chocolate and sugar this Easter, look no further than the Carex Fun Edition Hand Wash range, including variants such as Strawberry Laces and Bubblegum.
Available in family-friendly hand washes and hand gels, Carex's trusted and effective formula is combined with fun fragrances that both adults and children will love. All are dermatologically tested by experts and promise to kill 99.9% of bacteria.

The Fun Editions Hand Washes (RRP £1.80 for 250ml) have sweet scents that are sure to appeal to children and evoke nostalgic memories for adults.  The hand washes have been specially designed to encourage good hand hygiene in a format that's fun to use. The brightly coloured hand washes will also leave little one's skin feeling soft, clean and protected throughout the day. The scents are so delicious!
The Fun Editions Hand Gel (RRP £1.50 for 50ml) are fun-fragranced hand gels that are perfect for keeping sticky or grubby hands clean and protected on the go. Whether in the car or out on an Easter egg hunt, they're specially formulated to clean and refresh without soap and water, they are both kind to skin and powerful in protection. They're ideal for family days out this Easter holiday weekend. I love the Fun Editions Strawberry Laces Hand Wipes too!
Carex products are available to buy from ASDA, Morrisons, Tesco, Sainsbury's, Waitrose, Ocado, Savers, Wilko and Boots.