How to Decorate for an Eco-Friendly Birthday Party
|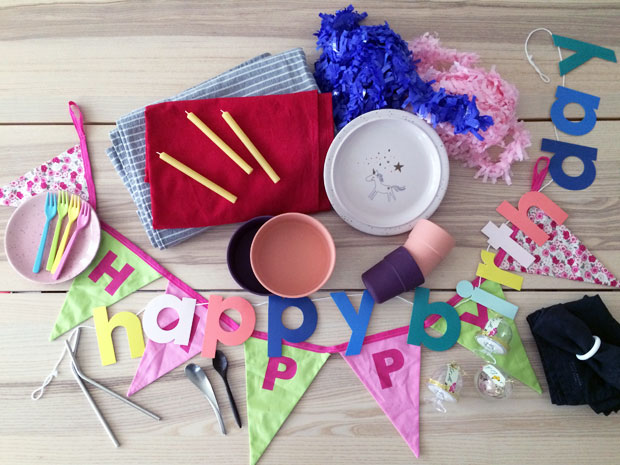 How to Decorate for an Eco-Friendly Birthday Party
Generally in life, I'm trying to reduce waste that my family and I create. It's not always easy and one thing that can be challenging is kids' birthday parties. It was recently my eldest daughter's birthday and we had a small party for the family. I wanted it to be special for her and I wanted the table and dining room to look pretty and festive for her but I wanted to do it in a low waste way.
I challenged myself to find more sustainable options and to use things we already have and the result was great — my daughter beamed with joy when she saw the table set for her party.
How to Decorate for an Eco-Friendly Birthday Party
Here are a few ideas for how to decorate for an eco-friendly birthday party for kids or adults: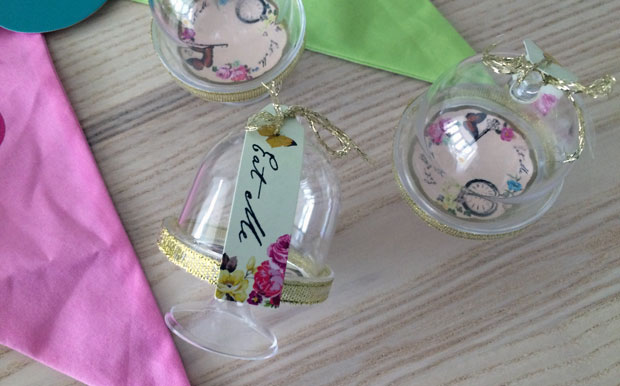 Use What You Have (and Reuse!)
We have had a few birthday parties before and I've always kept items that can be used again like these little cake stands. They're made of plastic but the really sturdy kind so can be used over and over. We also had the paper garlands (bright blue and pink, top photo) which we keep getting out every year. You are quite likely to have some things in the house that you can use and reuse for parties every year.
The Happy garland/bunting is made of fabric and a decoration we used in my eldest daughter's room in our old house. Now we get it out for parties! I bought the Happy Birthday paper bunting from Hema for a previous party and that now lives in our party box and comes out again and again when it's someone's birthday.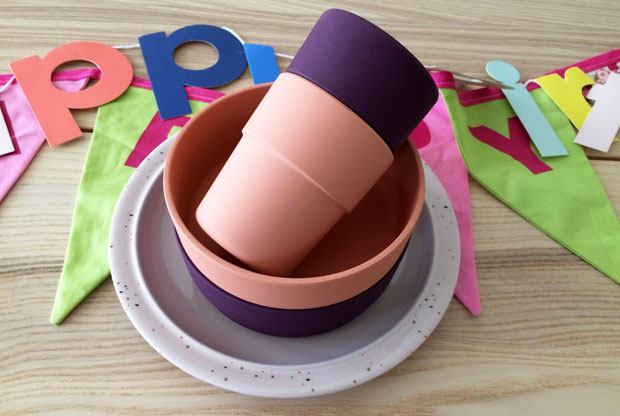 Use Reusable Plates & Cups
Single use tableware is such a big waste from birthday parties and an unnecessary one too. Use what you already have or why not build a set of party tableware that you get out for special occasions? You can even share this with friends and family. We have the speckled pink plate that you can see below which is a birthday plate in our house and we added a few new bits from LÄSSIG that we'll keep using for parties (and other meals too): a Kids Plate More Magic Horse (The big plate with a unicorn), a Peach & Plum mug set and matching bowl set.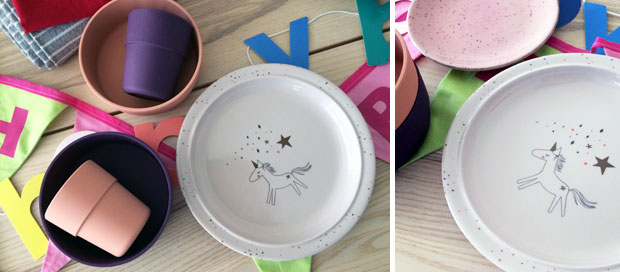 We only had a small party with the family but if you're having a bigger one, just get a few sets of plates and cups. I love these because they look pretty and fun and are made from good (unbreakable!) materials for kids. The unicorn plate is made from melamine and the rest are bamboo. All last a very long time if cared for properly by hand-washing. There are also matching spoons and plates in the bamboo range, as well as different colours.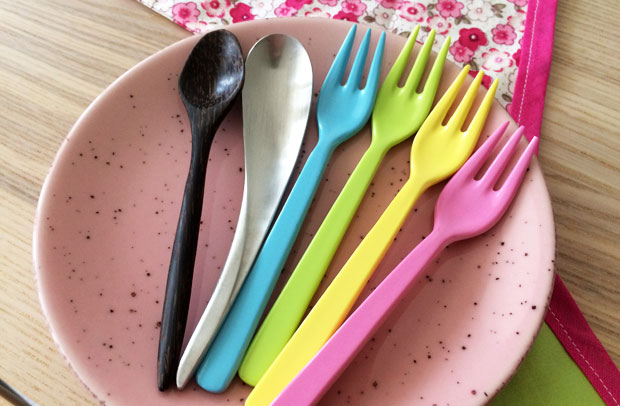 Reusable utensils also make sense of course! We use regular teaspoons for cake or these melamine forks that I've had for a decade or so. Wooden or bamboo spoons are also a great option for children. I love these colourful forks as they add another pop of colour to the table decor.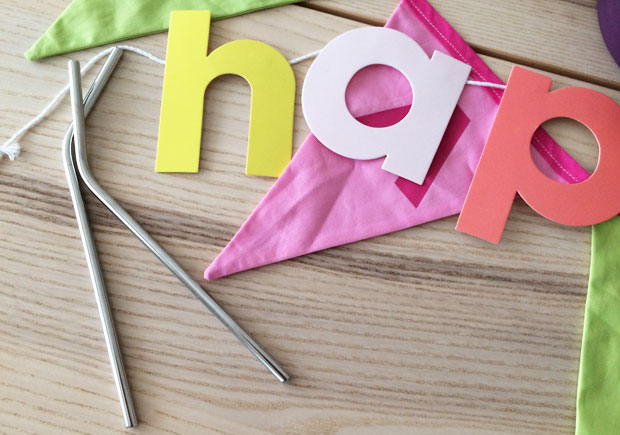 If you need or want to use straws, opt for stainless steel, silicone or bamboo ones. These can all be used over and over again without causing any waste.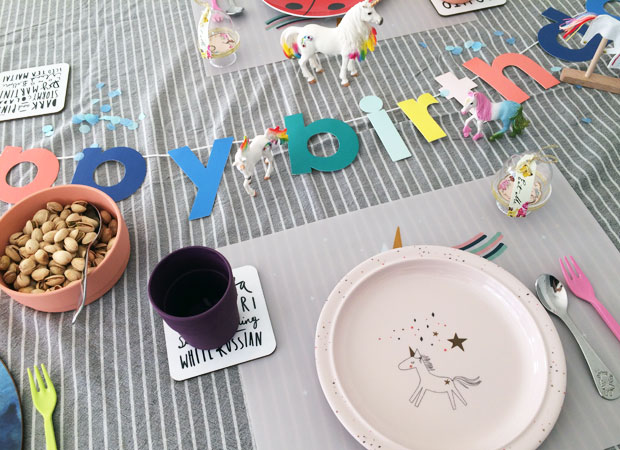 Be Creative with Decorations
You can use things that are not decorations to decorate too! My daughter wanted a unicorn theme for her party so we got her Schleich unicorns and some other unicorn toys that she had received for Christmas and used them to give the table a unicorn theme. Free and no waste! They look great too.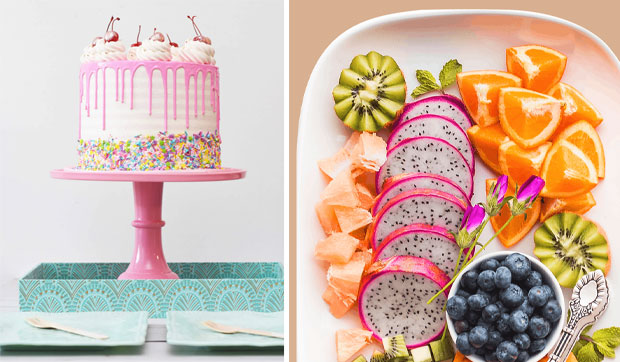 Make the Food Part of the Decor
Let the birthday cake and the rest of the food be part of the decor and have fun with edible decorations! Kids' cakes are usually really colourful and fun, so let yours be the centerpiece of the table. My daughter also requested a selection of apples with her party so we cut lots of apples into slices and the different colours looked beautiful.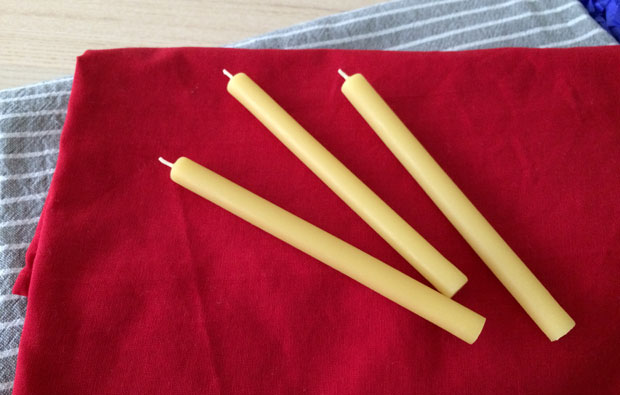 We don't usually have candles on our cakes but I know most families do. Skip the plastic wrapped candles with plastic bases and try something more natural like these gorgeous eco friendly, zero waste candles from Honey Bee Candles.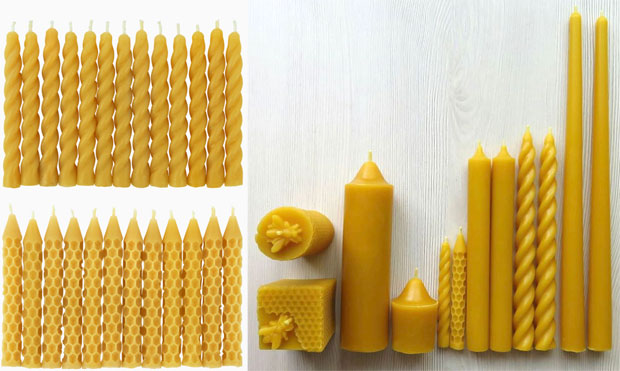 Honey Bee Candles is an eco-friendly, zero waste, plastic-free family business. They hand pour 100% pure beeswax candles and also make beeswax wraps in their home workshop in London. They make a wide range of candles that includes three different types of pure beeswax birthday candles.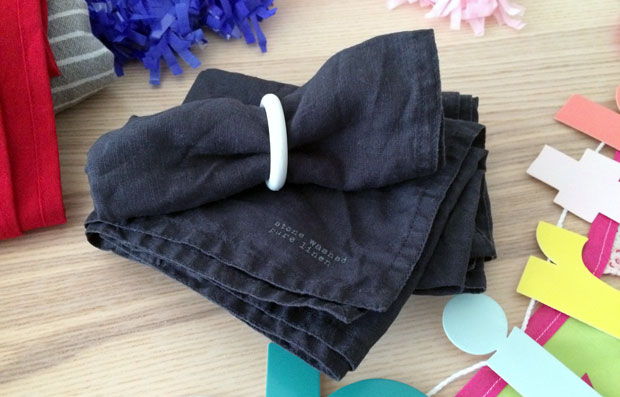 Decorate with Beautiful Fabrics
Plastic table cloths and single use napkins are another big common party waste that can easily be avoided. Invest is a few versatile fabric table cloth options instead to use for events throughout the year and get some linen napkins too. So much more pleasant to use and beautiful to look at too.
I hope this post has been useful and has shown that a low waste birthday table can still be colourful, fun and pretty. If you're planning an eco-friendly birthday party, I hope you've found some inspiration here!
Some of the items mentioned were gifted for this feature.