Top Trumps Review + Giveaway – Win Three Packs of your Choice!
|
Top Trumps Review + Giveaway – Win Three Packs of your Choice!
Winning Moves, the makers of Top Trumps, were founded in 1997 by four giants of the games industry with over 100 years of gaming experience between them. Together, they brought Top Trumps back into the mainstream, winning a Game of the Year award at the same time. Now Winning Moves produce millions of packs every year.
Top Trumps is a fun and simple game fondly remembered from its original heyday of the 70s and 80s. Now, the game is enjoyed by kids of all ages as their favourite subjects and characters are brought to life.
It's the UK's top selling card game with over 80 million packs sold over the past 10 years. Part of the success is through its role in education — Tom Trumps forms a part of teacher learning plans throughout the UK. The game improves children's literacy and numeracy skills and also enables them to practice their decision making skills. There are Top Trumps Tournaments in school across the UK every year and last year over 2,000 schools and over 500,000 children took part.
I first came across the game a few years ago when I was still working as a nanny. Since I'm from Sweden, I didn't grow up with the game unlike most of my generation here in the UK. The children I looked after, loved Top Trumps and introduced me to the game and showed me their favourite packs. They quickly taught me how to play and I really enjoyed it too. Straight away, I could see how it's a good game in an educational sense and it's a lot of fun too!
Now it's time to introduce the hugely popular game to my family too! We have a selection of Top Trumps packs from Winning Moves.
My daughter loves animals so the Baby Animals one was a natural choice and it's full of really cute animals. We also have the Who's The Most Lovable? Dogs pack which is perfect for dog lovers like my sister-in-law.
The Peppa Pig Activity Pack contains 5 great games and activities with a Peppa Pig theme. It's perfect for travelling as it doesn't take up much room but provides many hours of fun. The games help develop memory, observation, reading and counting skills. The pack includes the memory game Pairs, Take 5, Spot the Difference, an observation quiz and a mini version of Top Trumps plus instructions, a pencil and 28 Peppa Pig playing cards. Lots of fun in a small box!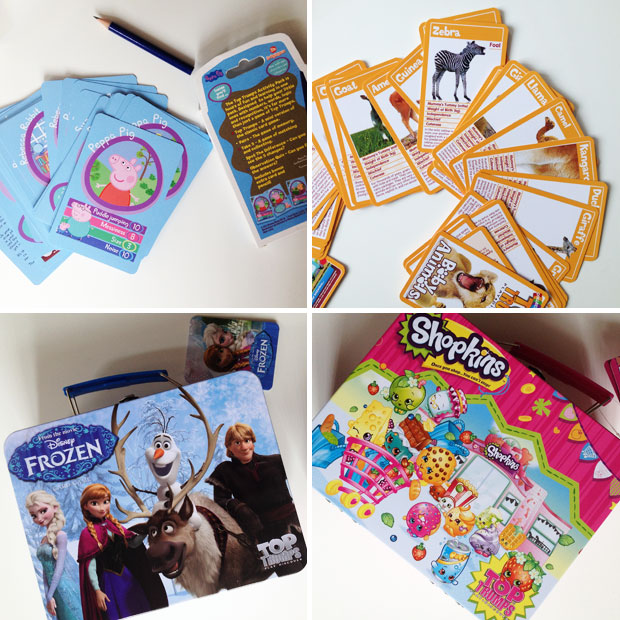 There are also some collector's tin editions of Top Trumps available on the Winning Moves website. The Shopkins Collector's Tin contains two packs of cards that let you learn more about the collectible mini, cute and colourful grocery store themed items and play the classic Top Trumps game. The Disney Frozen tin contains two sets of cards all about the citizens of Arendelle, featuring all the characters and highlights from the movie that all kids seem to love! The tins are really lovely and make a great storage box for all the family's Top Trumps cards or small toys.
Win Three Packs of your Choice
For a chance to win three packs of Top Trumps of your choice, enter via the Rafflecopter below. Terms & Conditions apply. UK Entrants only. The giveaway will end on the 20th of July 2016.
We were sent these packs for this review. As always, all my reviews are 100% honest and all thoughts and opinions are my own.