The World of Eric Carle – The Very Hungry Caterpillar Things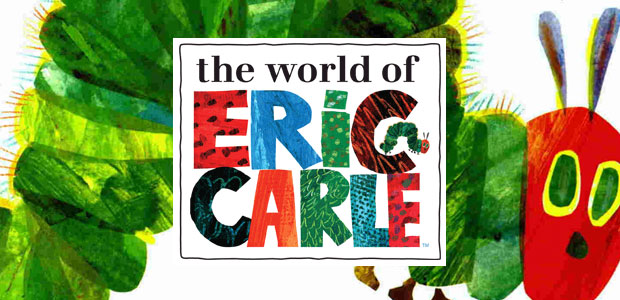 The World of Eric Carle – The Very Hungry Caterpillar Things
The Very Hungry Caterpillar by Eric Carle is one of my all-time favourite children's books. I remember reading it as a child and then to children I worked with and now I read it to my own children. It's a timeless book that has been around for many years and it's not going anywhere. Kids still love the book and the character.
I'd seen a few The Very Hungry Caterpillar toys in book shops but I didn't know that there's such a huge range of fun accessories, toys, games and activity books that you can get too that all feauture our favourite bug!
The World of Eric Carle is a new and expanding line of products based on Eric Carle's books and art work and the range includes loads of different types of products by a number of companies from all around the world. The items are available to buy in shops, department stores and online and also from the Museum Shop at The Eric Carle Museum of Picture Book Art.
We've had a closer look at a few of the available items.
Baby Things
Let's start with one of our favourites — The Very Hungry Caterpillar Developmental Caterpillar which is a large sensory baby toy with lots of things to play with, pull on and chew! My nearly five-month-old baby loves this and it keeps her busy and happy for ages. I lovet that you can attach it to the pram, the crib or the baby bouncer chair to keep it off the floor. It's available to buy online from Amazon.co.uk and from Argos. RRP £14.99.
For my baby girl, we also have a The Very Hungry Caterpillar Changing Mat. It's a large, soft and padded changing mat that seems comfortable to lay on and that is so easy to clean with a wipe. It's available from Amazon.co.uk and Kiddicare.com. RRP £10.99.
Party Things
A The Very Hungry Caterpillar party theme would be perfect for a child's birthday. There's a lovely birthday card range with cards for boys and girls available to buy from all good independent card shops and grocers. RRP £2.19 each.
You can also decorate your venue with a gorgeous The Very Hungry Caterpillar Garland and your table with The Very Hungry Caterpillar Napkins. Both have an RRP of £5.50 and are available from Talking Tables. The garland is so nice that we've decided to keep it as a permanent feature in the kids' room!
For the party nibbles, this The Very Hungry Caterpillar Shaped Party Plate from Portmeirion is perfect! It's divided to hold different snacks or dips and is very beautiful. It costs £23.50. Portmeirion also have lots of other ceramic The Very Hungry Caterpillar items available. 
Kids'  Room
This The Very Hungry Caterpillar Junior Duvet Cover Set looks lovely in my daughter's bed. She loves the fun design with lots of details. The fabric is soft and washes well. It's available to buy from Amazon.co.uk, Argos, John Lewis and Toys R Us. RRP £24.99.
Games & Activity Books
There are lots of fun activity packs and books feauturing The Very Hungry Caterpillar. Let's start with The World of Eric Carle Activity Book and 2-in-1 Jigsaw Puzzle.
It's a fun carry case with a beautifully illustrated activity pad to help improve your counting skills plus a 36-piece double-sided jigsaw puzzle. The jigsaw is large and lovely! One side is bright and colourful and the other is for the kids to colour in. It's a great little box to take with you on a trip away. It's available to buy from Amazon.co.uk, Sainsbury's, Tesco, TK Maxx, Toys R Us and WH Smith. RRP £7.99.
Next, we have The Very Hungry Caterpillar 4-in-1 Games Box. It's a sturdy cardboard cube with 4 fun games: 4 Shapes in a Row, Matching Bingo, Snap and Twisted Pairs. It's available from Amazon.co.uk. RRP £8.99.
These games are perfect for kids aged 3 and up. Again, the box would be great to take with you on a holiday as it doesn't take up much room but provides hours of fun and entertainment.
Next, we have an even more beautiful box! The World of Eric Carle Happy Tin is a metal tin that holds lots of activities.

Inside you can find two activity pads, one colouring pad, a double-sided poster to colour in, 50 animal stickers and four felt-tip pens. It's a great set and the tin is beautiful! It's available from Amazon.co.uk, Morrisons, Easons, Sainsbury's, Tesco and WH Smith Travel. The RRP is £16.99 but it's only £5 on Amazon and in some stores at the moment.
The tin can also hold all the contents from the two other boxes if you want to keep all the games together. The book below also fits!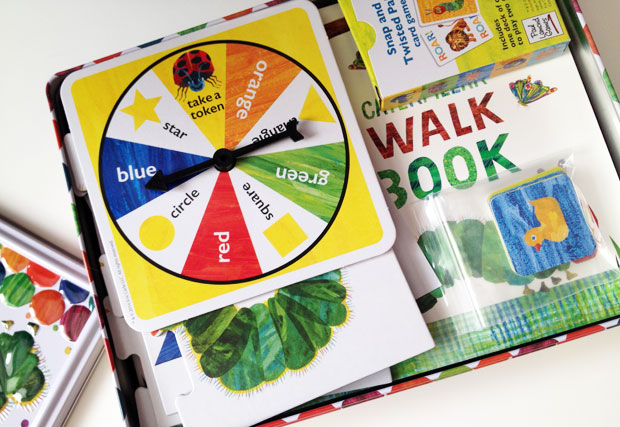 The last item is The Very Hungry Caterpillar Nature Walk Scrapbook which is a place to keep all the treasures you find on nature walks and also a place to draw pictures of things you've seen. It's full of activities too and ideas for things to find and bugs to look out for. It comes wiht two sticker sheets, too.
Its RRP is £7.99 and the book is available from all good book shops nationwide.
Find our more about The World of Eric Carle by visiting the website and Facebook page. Shop more items on Amazon.co.uk.
We were sent these items for this feature. As always, all thoughts and opinions are my own.