Tricks or Tips for your Halloween Photography
|
How to Take Spooky Snaps: Tricks or Tips for your Halloween Photography
Whether you're hosting a spooky party, or taking to the streets for a spot of 'trick or treating' with the family, these top tips from the Jessops Academy will help you capture Halloween with an arty twist.
Here are a bunch of helpful top tips from Ian Savage, Head of the Jessops Academy, for taking Halloween photos:
Although glowing red eyes might be Halloween-appropriate, you don't want this effect distracting from your make-up or ruining the detail of any portraits taken after dark. Use your camera's built-in Red-Eye flash setting for a mini pop of light before the main picture that stops red-eye in its tracks.
Keep it steady (or try a high ISO)
If you're wandering the streets after dark in search of sugar, it's important to give your camera a helping hand to get those edges pin-sharp: try bumping up your ISO or using a camera tripod or monopod to make a stable base for your camera, so you can be sure those late-night portraits will work out.
It's not just about the full-length portrait. If someone's gone to exceptional effort to create a detail-filled outfit, make sure you do justice to their hard work and capture the shoes, make-up and hair – these shots will work as great extra pictures if you're planning to make a photobook of your spooky celebrations.
Remember the Blair Witch project? A torch from below the chin is the spookiest of all the lighting: grab a torch that gives off white light, hand it to your subject and get them to experiment with angles until you're happy with the scary effect.
If you're taking pictures after dark or during twilight, make sure you turn off your camera's flash if you want to capture the entirety of a scene. You could try working with a wireless flashgun or a secondary LED light to bring a bit of illumination in from the side – or experiment with first curtain/second curtain flash and some longer exposures if you're feeling more creative.
It's more than likely that your camera has some advanced automatic modes that change your settings depending on the situation you can find yourself in. Try seeking out a mode called Night Portrait: this will automatically adjust your camera so you capture the whole of a background as well as the person in shot.
A general piece of portrait advice is to get yourself on the eye-level of anyone you're taking pictures of, so you're seeing the world from their point of view – but if your subject's dressed in a scary costume, dropping even lower than their eyeline and shooting upwards will make them look powerful and super-spooky.
Got a doorstep packed with pumpkins? Make sure you capture them for posterity: try capturing a photo when they're lit up from within by candles, and adjust your exposure settings so the pumpkins themselves go completely dark.
Sometimes a little in-camera editing can go a long way. Transforming a photo into black & white can be a great way to add drama and spookiness to a photo – particularly if you've captured a great expression, but the colours in the shot are distracting. You can also bump up the contrast a little and add a 'vignette' for even more mystery.
Grab a gruesome group photo
Use your camera's built-in Wifi and your phone as a remote viewfinder or trigger to capture a perfectly-composed group photo of your squad at its spookiest. Get everyone to jump at the right moment for an unsettling levitation-style group photo that'll make a terrific (and terrifying) header photo for your social profiles…
It's not just kids that get dressed up at Halloween – people love getting their dogs into the spirit of the night as well. Keep a look out for any costume-wearing canines and take their paw-traits as seriously as you would for a human Halloweener: this could even become a new photo project for you…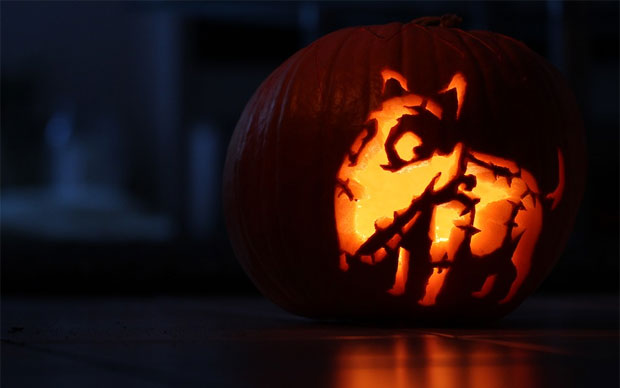 Article by Jessops. Contains a sponsored link.