Eloquence Pure Luxury Skincare Collection Review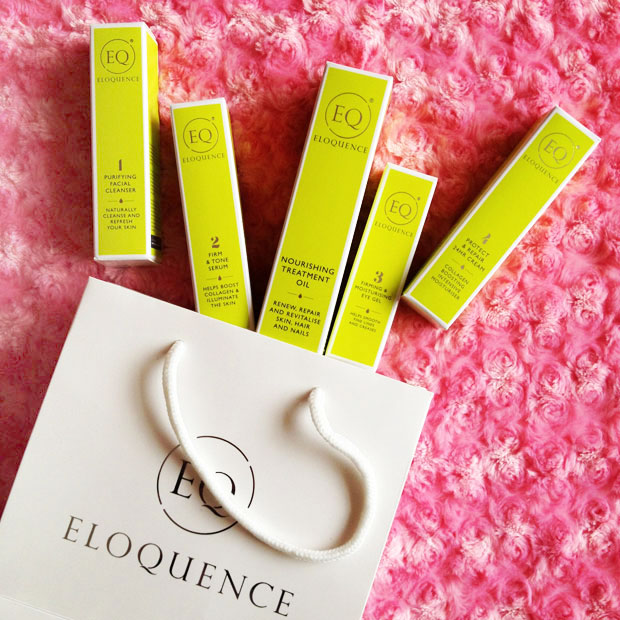 Eloquence Pure Luxury Skincare Collection Review
Eloquence is a natural, premium skincare range that helps improve your skin's health, focussing on anti-ageing and skin hydration. The brand is a new UK skincare brand that's passionate about using the very finest and best ingredients and at the same time also offering customers value for money.
One of these ingredients is Sachi Inchi Oil which is known for its high levels of vitamins. Oils are great for skin, hair and nails and this oil has a unique combination of Omega 3, 6 and 9. Omega 3 helps restore the skin's elasticity, Omega 6 helps to combat dehydration and Omega 9 helps fight premature ageing by nourishing the skin deeply and protecting it from environmental stress. The super oil Sachi Inchi comes from Peru where it is extremely popular as a health food supplement and as a premium beauty skin food. All skin types will benefit from its properties.
Another important ingredient in some of Eloquence's skincare products is Hyaluronic Acid which is a brilliant skin hydrator. It makes skin look plump, young, fresh and supple and is a great ingredient to have in anti-ageing skincare products. When we're born, we have lots of Hyaluronic Acid in our skin and that's why babies' skin is so soft and plump. Over the years, our bodies run low on Hyaluronic Acid which leads to skin going slack and wrinkly. Adding Hyaluronic Acid to your skincare regime will help skin look and feel more smooth, plump and hydrated.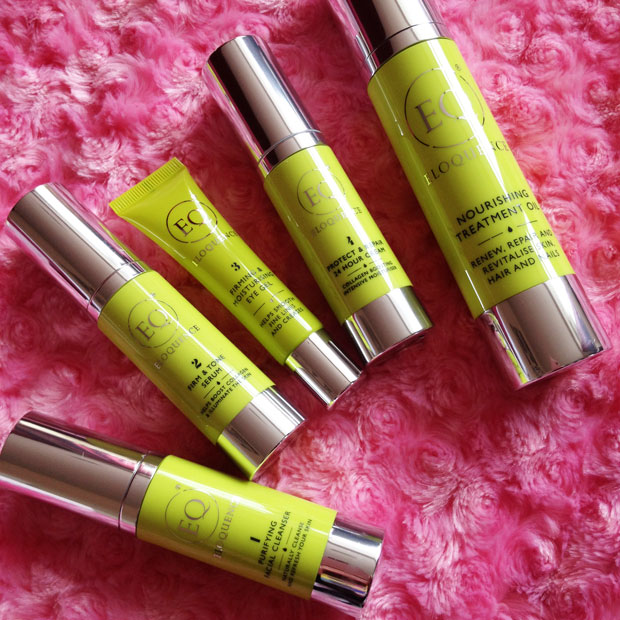 The Eloquence Pure Luxury Collection contains everything you need for you skincare in one beautiful collection.
The collection includes all of Eloquence's current products:
Step 1 Purifying Facial Cleanser 20ml
Step 2 Firm and Tone Serum 20ml
Step 3 Moisturising Eye Gel 15ml
Step 4 Protect & Repair 24 Hour Cream 20ml
Nourishing Treatment Oil 50ml, which is a versatile oil for skin, hair and nails.
Sacha Inchi Oil is included in all the products because of its powerful, natural, antioxidant boosting qualities and all products are fragranced with a blend of essential oils. They do not contain any artificial perfumes, colours, parabens or other harsh chemicals and the products are all cruelty free and suitable for all skin types — even dry and sensitive.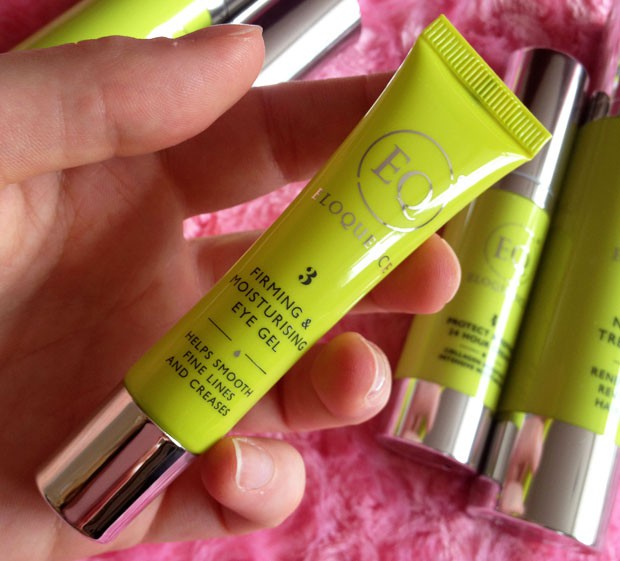 The first step of this regime is using the Eloquence Purifying Cleanser to cleanse your skin. It's a creamy, pearlescent cleanser with cucumber and coconut extract. It's purifying and refreshing and leaves skin feeling fresh and clean but never tight, pulled or dry. I really enjoy using this nourishing cleanser and my skin feels very soft after using it.
The second step is the Eloquence Firm & Tone Serum. I love a good serum and this one contains glycerine and coconut oil which hydrate and illuminate the skin. This product also contains Hyaluronic Acid which makes skin look more plump and flawless. The serum is silky and creamy and leaves my skin feeling supple, smooth and hydrated.
The third step is the Eloquence Firming & Moisturising Eye Gel. Eye cream is such an important step when it comes to anti-ageing skin care routines and, together with a serum, using an eye cream is my favourite way to look after my skin. This one is a clear, refreshing and hydrating gel that targets dark circles and puffiness. The added Hyaluronic Acid will also plump up the area and smooth out any fine lines. This also helps to minimise under eye bags. It's a lovely eye gel that is especially nice to use in the morning when my eyes tend to be puffy and need some help waking up!
The final step is the Eloquence Protect & Repair 24HR Cream which with its added Hyaluronic Acid makes a brilliant, intensive moisturiser. It's suitable for daytime use and gives you UVA and UVB protection and at night it helps replenish and hydrate your skin while you rest. The pearl cream sinks in quickly and leaves my skin feeling fresh, protected and supple.
The four steps together give me great results and my skin feels so smooth, refreshed and moisturised after doing this skincare routine at night.
The fifth product in the collection is the organic Eloquence Nourishing Treatment Oil which you can use to renew, repair and revitalise your skin, hair or nails. It's a gorgeous oil that my skin absorbs quickly without any stickiness or residue. I love to use it as a body oil to massage my growing baby bump. It's lovely! After doing that, I massage the remaining oil into my hands and nails for a pampering treatment to help care for my dry hands and nails.
The Eloquence Pure Luxury Collection costs £75. I really recommend this wonderful, natural skincare range for anybody wishing to protect their skin and keep it looking young and fresh for as long as possible.
You can also buy all the products individually:
I was sent these products for this review. As always, all my reviews are 100% honest and all thoughts and opinions are my own.