Father's Day Gift Guide 2020
|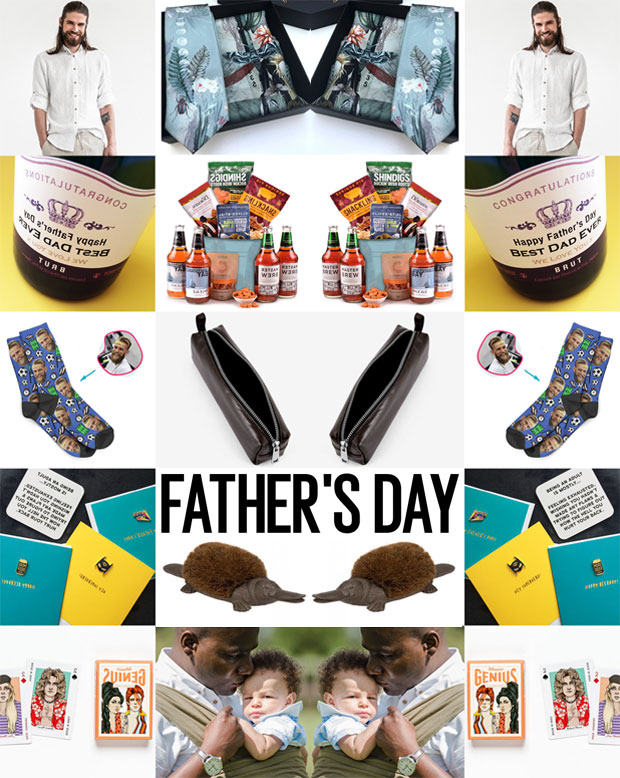 Father's Day Gift Guide 2020
It's Father's Day next month and this year we might have to celebrate a bit differently to usual but we can still treat the dads in our lives to some nice presents to show our appreciation.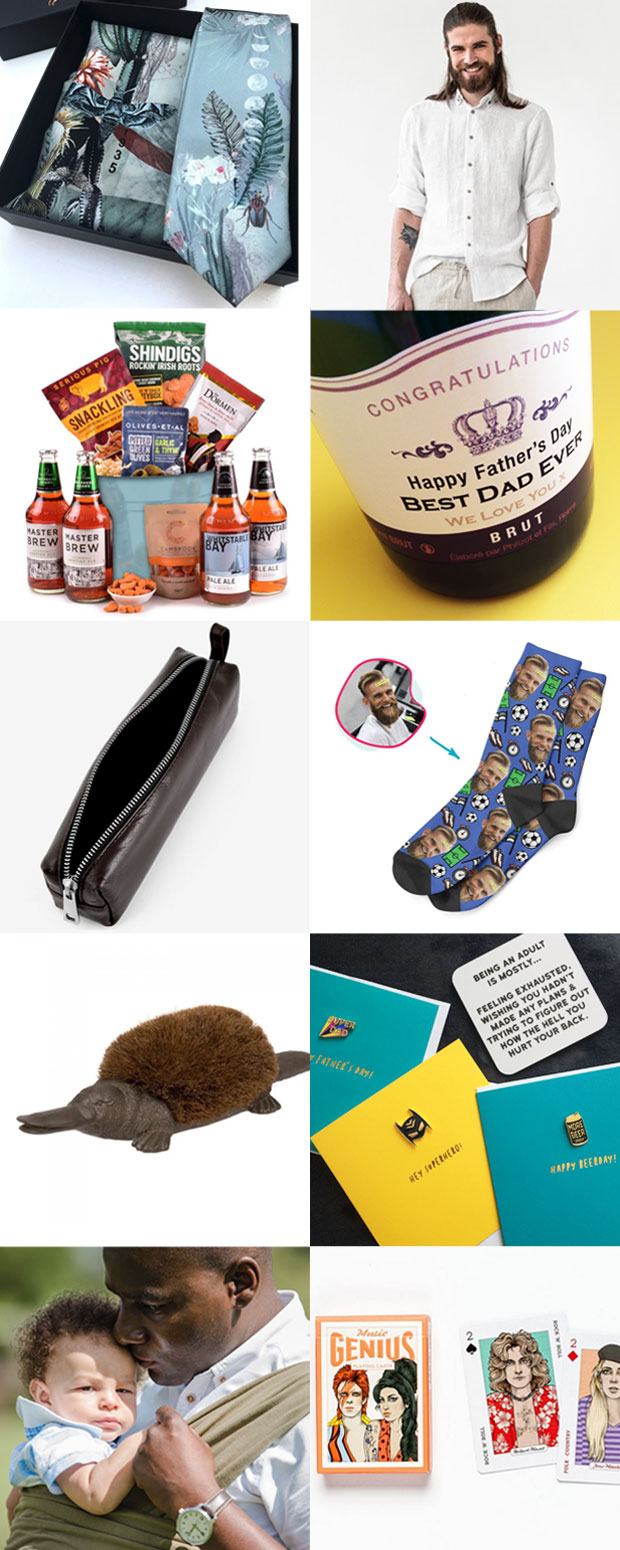 Gift Ideas for Dads – Father's Day Gift Guide 2020
In this Father's Day gift guide, I've gathered a few of my favourite gift ideas for dads this year: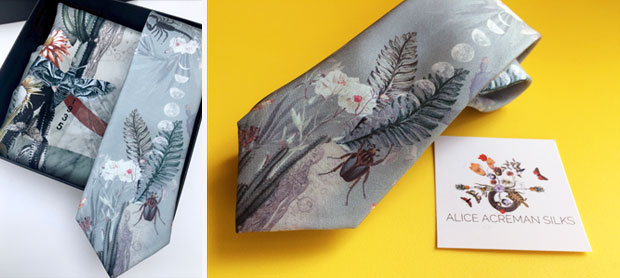 A Classic Father's Day Gift | a Beautiful Tie
A nice luxury tie makes a perfect traditional Father's Day gift. Alice Acreman Silks is run by Alice who designs and produces luxury accessories in line with slow fashion ethics. She creates the beautiful textile designs herself using watercolour, sketching and collage then digitally prints the Silk and use UK based companies to produce the final pieces. You can buy her truly special ties separately or in a gorgeous set with a matching pocket square.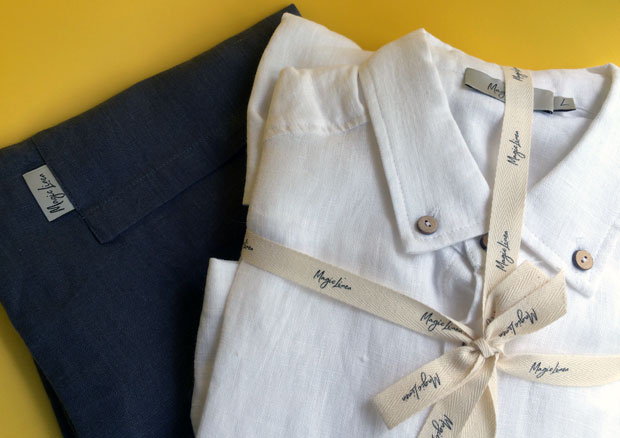 Another Classic | a Stylish Shirt 
Another classic gift for Father's Day is a stylish shirt. A good quality linen shirt is a great treat and ideal for the hot weather that we already have.
MagicLinen make linen products that are functional and beautiful. They make gorgeous items for the home, for men, women and children and the products are made in Lithuania. They are all Oeko-Tex certified meaning they are free from harmful substances and chemicals. Packaging is minimal and all posting material is eco-friendly too.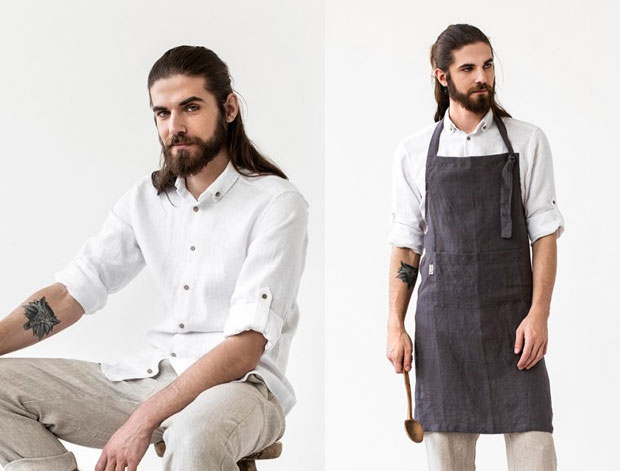 This stunning Men's Linen Shirt (the Bilbao style in white) would make a great gift for a stylish father — it's suitable for both casual and formal occasions. If the man you're buying for is into cooking or baking, why not treat him to a gorgeous linen apron? We have this charcoal grey one and it's lovely!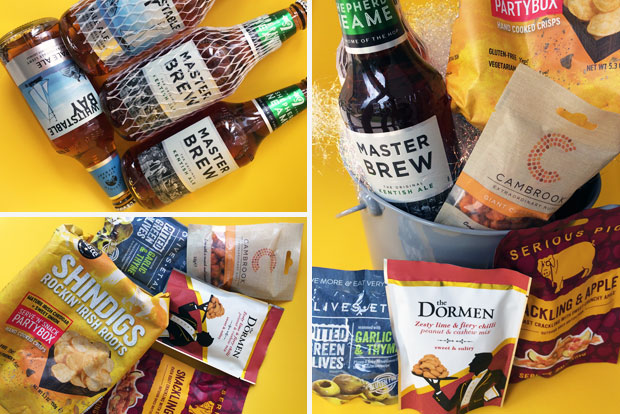 Dad's Favourite | Beer & Snacks
What dad doesn't enjoy a few cold beers and some yummy snacks? All the ones I know do, that's for sure. 
PrezzyBox sells a Bucket of Beer (even the name is perfect!) which is a bucket filled with beer and goodies for dad to enjoy! Any beer loving father will love this gift set! The galvanised bucket is packed with four 500ml bottles of beer (two Master Brew Bitters and two Whitstable Pale Ales) and a bunch of yummy luxury snacks that go perfectly with a cold beer:
Shindigs Cheddar & Sweet Onion Crisps

Cambrook Giant Chilli Corn

Dormen Zesty Lime & Fiery Chilli Peanut & Cashew Mix

Serious Pig Crackling with Apple and Garlic & Thyme Green Olives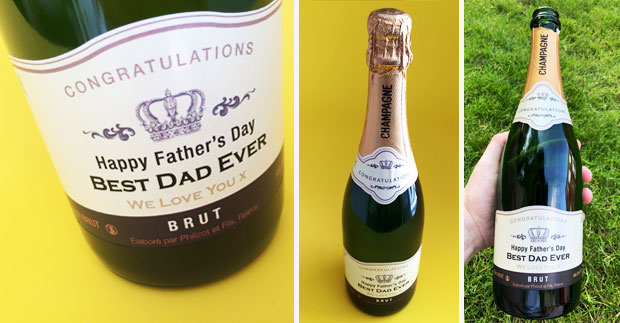 Something Special | a Personalised Bottle of Bubbly for Dad
If the dad you're gifting is more into wines and Champagne than beer, then he'd love a personalised bottle of Champagne for Father Day.
Say it with Champers specialises in personalised Champagne and have three different Father's Day options of delicious Champagne with fully personalised labels so that you can gift a completely unique bottle of Champagne with your own message this Father's Day.

For the Dad that Travels in Style
For the dad that loves to travel (and pack light!), this Compact Jasper Wash Bag from Trendhim makes a lovely gift. The luxurious and compact leather wash bag is ideal for men who keep their skincare and toiletries to a minimal and like to travel with small luggage.
It's made from soft, high-quality cow leather and has a strong, secure YKK zipper to keep contents safe. It's the perfect size for the essentials and is easy to fit in any bag. Trendhim is a great place to shop for good quality accessories for men.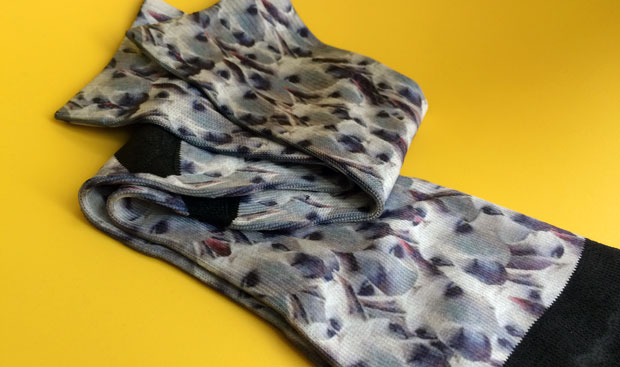 A Third Classic with a Fun Twist| Personalised Socks 
Socks are a must for Father's Day, aren't they? Make them a bit more fun and much more special by creating a personalised pair with your dad's face or his children's faces or even a pet! He'll love them! The company Printsfield will do it all for you — you just choose a design and upload your chosen photo. Easy peasy. It's a US company but shipping to the U.K. takes around 2 weeks.
For this pair of socks, I chose a photo of the family's favourite llama from a farm nearby that we visit regularly. A bit of an inside joke!
Apply the following discount code for 20% off your order: amumreviews20
Something Fun & Practical for the Outdoorsy Dad

For the dad that always returns home from long walks with muddy shoes — let me introduce you to Paxton the Platypus Boot Brush from Red Candy. It's a fun and practical gift that I'm sure an outdoorsy dad would love! The platypus body keeps the boot brush in place so that you can scrape off your muddy boots or dirty hiking shoes when you return home from an outing. The platypus has a back made from synthetic, hard-wearing bristles to give the soles of shoes and boots a really good clean and leave the dirt outside the home, instead of bringing it in. When not in use, Paxton the Platypus is also a decorative ornament.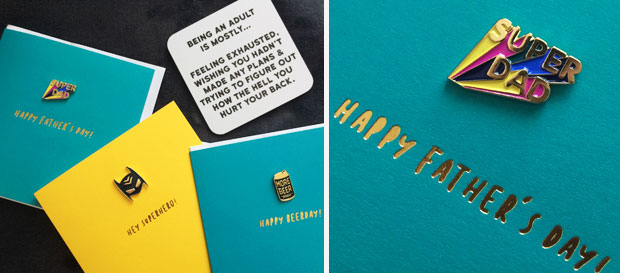 Don't Forget the Card!

A card is an important part of Father's Day and I prefer blank cards that you can add your own message to. Red Back Cards is a greeting card publisher that has lots of funny card options for Father's Day. I love these ones above that come with a high quality enamel pin each. A present and card in one! I also love their slightly mean but funny cards Happy Father's Day! From Your Least Disappointing Child. and Dad, You're One of My Favourite Parents. Brilliant cards for dads with a good sense of humour and you can still add a heartfelt message to the inside of the card. Red Back Cards also sells other small gifts like this coaster that's perfect for any exhausted dads!
For the New Dad | the Amawrap
For the dad that's recently had a baby, this amazing baby wrap would make a lovely gift. Baby wearing is so useful for both parents and baby — a great way to bond, help your baby to sleep and to free your hands up to get some things done.
The award-winning Amawrap baby slings are made from 100% natural cotton here in the UK and these baby wraps are a great way to hold your baby. They're ideal for newborns but also work well with older babies. They're available in a variety of colours and this Olive Green one is a striking unisex khaki colour that would suit both mums and dads.
I've been testing this wrap with my 15-month-old baby and I love it! It's very comfortable to wear, easy to tie and I love the material! It's light yet strong and keeps both my baby and I at a comfortable temperature. My baby loves being cuddled close to me in this.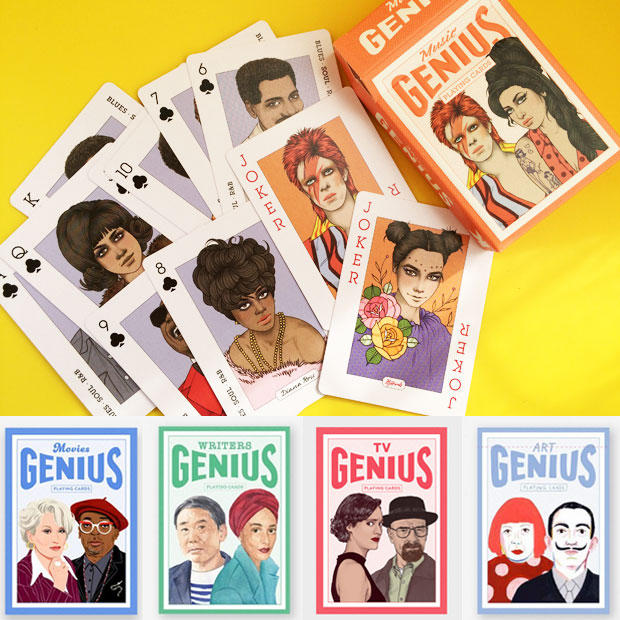 For the Music Lover (or Movie, TV, Art or Literature Lover)

Laurence King Publishing have an amazing selection of books and gifts and these fun Genius playing cards would make a great gift for Father's Day. Is the dad you're buying for into music, films, TV, literature or art? Pick the theme that suits him best. These playing cards feature illustrations of the big names from each industry (52 + 2 Jokers). We have the Music Genius Playing Cards and they are great quality and I love the style of illustrations. We love to play card games as a family and this set will help the kids learn about important people in music which I'm sure they're music loving father will appreciate too!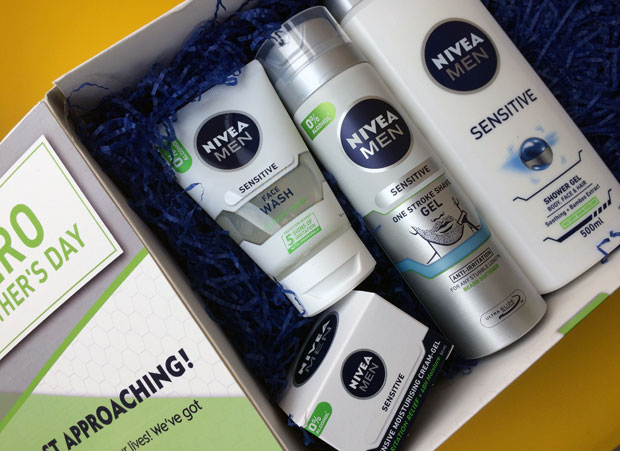 Pampering for Dad
If the man you're buying for enjoys looking after his skin, gift him some lovely skincare for men goodies from Nivea. There are a bunch of new products available for sensitive skin, especially formulated for men. These are available in shops like Boots, Wilko, Lloyds Pharmacy and supermarkets.
These include:
NIVEA MEN Sensitive One-Stroke Shaving Gel
NIVEA MEN Sensitive Intensive Cream-Gel
NIVEA Men Sensitive Face Wash
NIVEA MEN Sensitive Shower Gel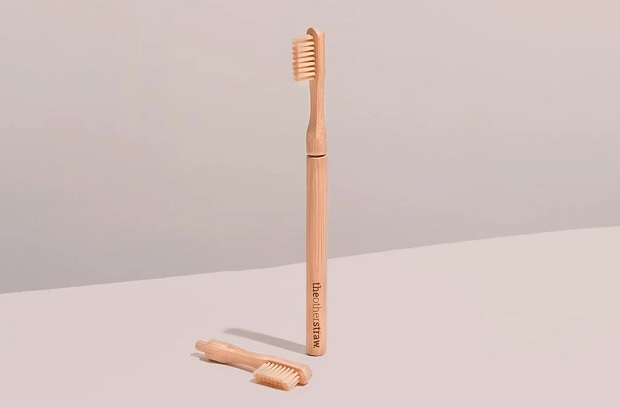 Bamboo Toothbrush by The Other Straw
The Other Straw, founded by Aussie couple, Jamie-Lee Kay and Lennart Meijer have released their one of a kind bamboo toothbrush.
They reinvented the everyday bamboo toothbrush. They wanted to make the design more sustainable, portable and longer-lasting. Their bamboo toothbrush comes with a detachable brush head to further reduce the waste and carbon footprint of ordinary bamboo toothbrushes.
You can keep the bamboo handle as long as you like. When it is time to replace the bristles, just swap the head for a new one. To take sustainability a step further, they also sell the brush heads separately. Replacing the brush heads as opposed to buying a new toothbrush can help save you money whilst helping you further reduce your waste footprint.
Their bamboo toothbrushes are FSC certified bamboo, equipped with medium bristles that are BPA free and vegan friendly.
You can feel good supporting The Other Straw knowing that they deliver worldwide, plastic-free and carbon-neutral.yed the Father's Day Gift Guide 2020 and have found some fun gift ideas!
Features gifted samples. All thoughts and opinions are my own.