Father's Day Gifts – 2021 Gift Guide
|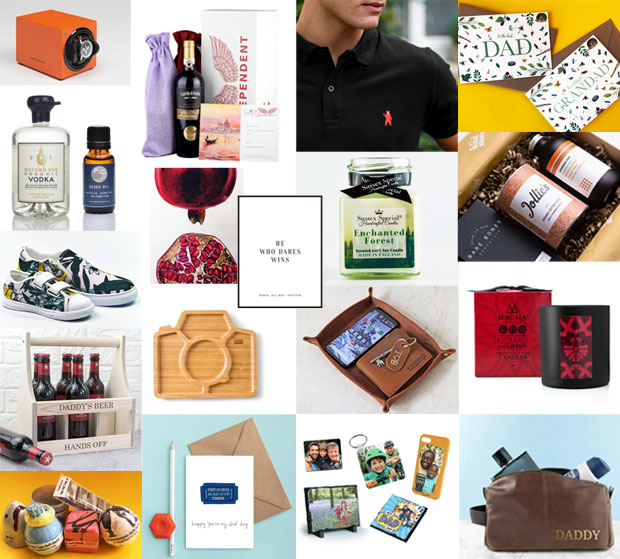 Father's Day Gifts – 2021 Gift Guide
If you're looking for some great gift ideas for Father's Day, you've come to the right place. In this article, I've collected some of my favourite gift ideas for dads and there are no socks or ties in sight this year! There's a bit of everything, so hopefully you'll find a few suitable gift options.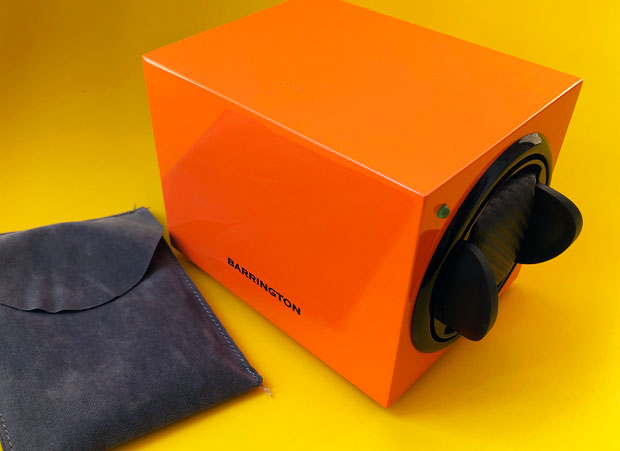 Let's start with a classy and stylish gift for a man who loves watches. Barrington creates a wide range of watch winders for automatic watches. The winders can be operated by either AC mains or batteries and feature an ultra-quiet Japanese motor, multiple rotation settings (clockwise, counterclockwise or alternating) and multiple turns per day (TPD) settings from 650, 750, 850, 1000 or 1950 to suit any weight of watch.
Not only are Barrington watch winders a great way to care for and store your watches but they also come in a stunning variety of sleek styles and colours so will look great in your home too. High quality watches are an investment and need to be protected and looked after. A good winder is an essential piece of equipment for watch enthusiast and these stylish ones from Barrington make a great gift for dads and grandads who are into watches.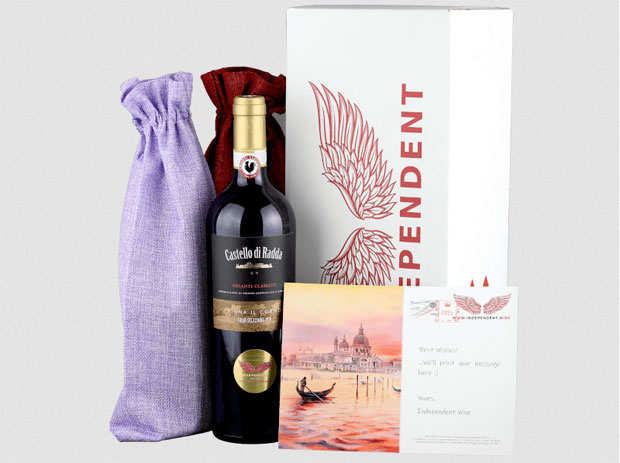 Wine Gifts from Independent Wine
Independent Wine have an amazing collection of award-winning Italian wines and is the perfect place to buy wine gifts to impress your dad this Father's Day. Available with free next day delivery and with gift wrap options too, making it easy to create a special wine gift for your dad.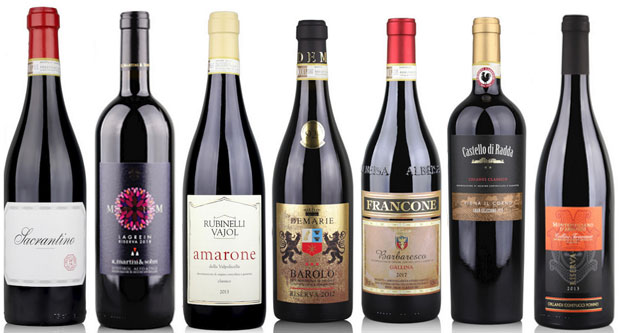 Here are some recommendations for award-winning wines to check out for this occasion: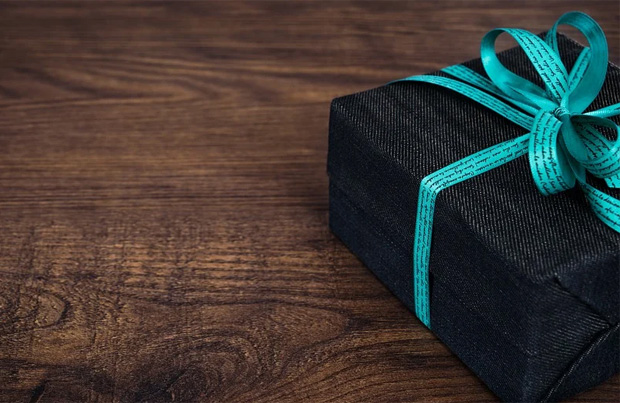 If you're looking for something really impressive to give to your dad, a pair of plaid socks and a gift card just won't do. For such cases there are many options for luxury gifts and one of them can be Cuban cigars. There are many different types and flavors of cigars like Montecristo No 4, Romeo y Julieta Churchills, Cohiba Siglo IV, etc. Cohiba Siglo IV is a great option for beginners as they have a medium body and subtle taste. For a real cigar lover, a good choice would be Montecristo No4 as it combines the richness of the amazing taste of a cigar with smooth and creamy notes.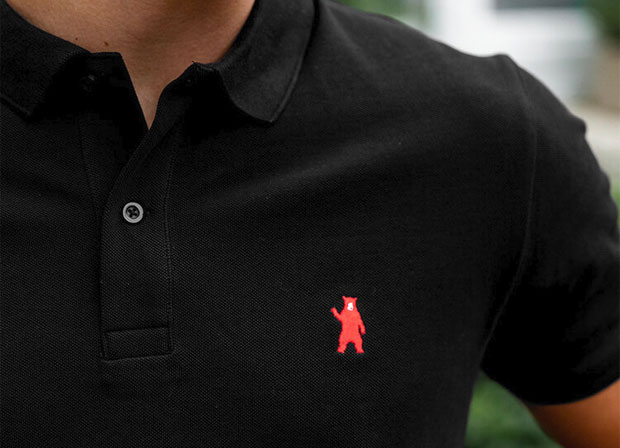 Absolutely Bear Organic Cotton Polo Shirt
A shirt is a classic Father's Day gift. For a modern twist, go for a high quality polo shirt instead. Suitable for dads of all ages and great for lots of occasions from everyday wear to events when you want to look a bit dressier wearing a smart outfit. Absolutely Bear have a range of great looking organic cotton polo shirts for men in stylish colours with a contrasting bear logo on the chest. The eco-friendly men's sustainable fashion brand also makes sweatshirts, t-shirts, shirts, hoodies, jumpers and accessories.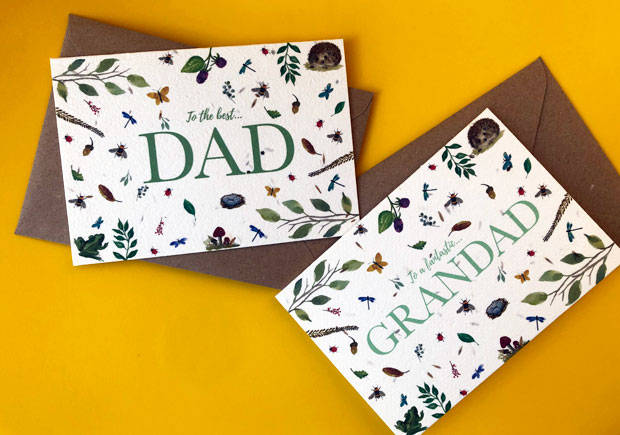 Plantable Father's Day Cards from Little Wild Co.
Little Wild Co. is a small eco-friendly company that makes beautiful gifts, muslin blankets, nursery decor and plantable cards. The amazing plantable cards are available for lots of different occasions and for Father's Day there's a dad one and a grandad one that you can see above (there's also a grandpa one!). The A6 cards are a wonderful eco-friendly alternative to standard celebration cards, and they are filled with British wildflower seeds. When you've finished with the card, you simply wet it, fill a pot with soil, add the car and cover with a shallow layer of soil or compost. Soon, you'll have some beautiful flowers growing in your pot. It's such a lovely idea! Each card comes with a recycled kraft envelope and for each card purchased, Little Wild Co. will donate one day of Business & Literacy Training to women in Uganda.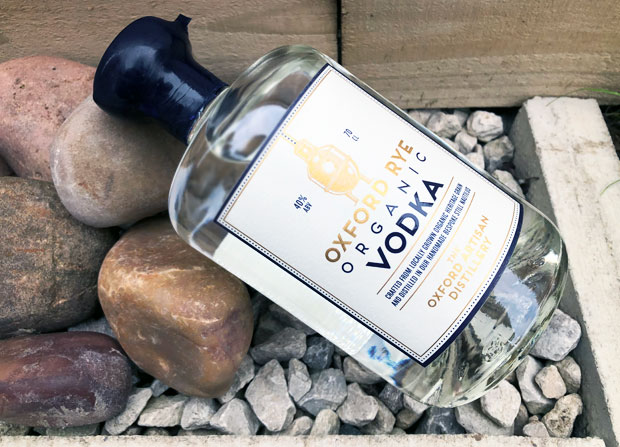 The Oxford Artisan Distillery Rye Vodka
A bottle of a favourite spirit or something new and a bit fancy to try is always a good gift for someone who enjoys a drink. The Oxford Artisan Distillery Rye Vodka is the first vodka released by The Oxford Artisan Distillery, made in handmade stills using an ancient population of heritage grain grown exclusively within a 50-mile radius of the site on organic farms. What a special spirit! It's a light and clear vodka with and ABV of 40%. With interesting tastes of black pepper, rye bread and vanilla. Available from Master of Malt.
A Selection of Irish Food and Drink Treats from Boyd Hampers
A food and drink hamper makes a brilliant gift, especially for foodies or people who love to try new things. Boyd Hampers make hampers filled with Irish food and drink treats as the theme. This would be especially well suited to someone with a connection to Ireland but great anyone else who enjoys a spread of delicious drinks, snacks, and treats. Above, you can see the The Classic Irish Hamper.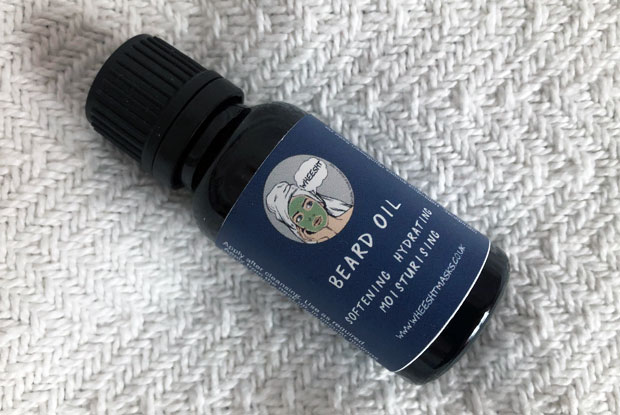 Wheesht Softening Beard Oil
For a man who is proud of his beard, treat him to a bottle of Wheesht Softening Beard Oil. It is packed with hydrating and nourishing oils, including Argan oil which is rich in Vitamin E and avocado oil that helps with oily skin and tames frizz. The formula has anti-ageing properties and will soften and smoothen facial hair while hydrating the skin too and calming the scratchy feeling of growing a beard. The beard oil is scented with mandarin, lavender and patchouli essential oils which smell lovely.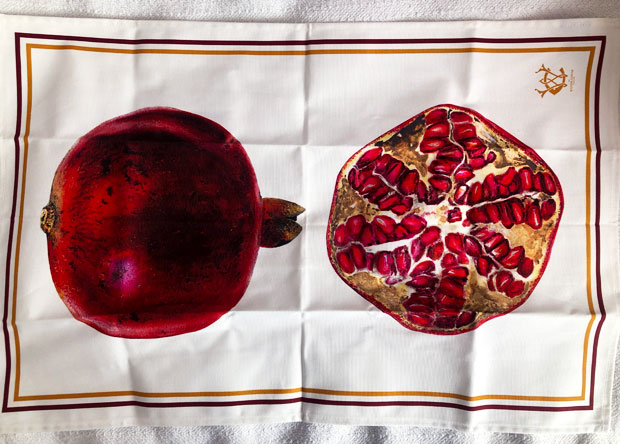 The Wanda Coyne Collection Tea Towels
Wanda Coyne worked in antiques dealing for a long time which gave her a desire to bring the many wonderful antique designs and prints back to life. So, she created her own range of beautiful and durable products in a range of lovely designs. The Wanda Coyne Collection includes beautiful tea towels, tote bags, kitchen linen and accessories made from different antique prints. Everything is printed and made in England using durable 100% cotton that is machine washable. They make great gifts for friends or family. This stunning Pomegranate Print tea towel is so vibrant and would make a lovely gift for someone who enjoys spending time in the kitchen.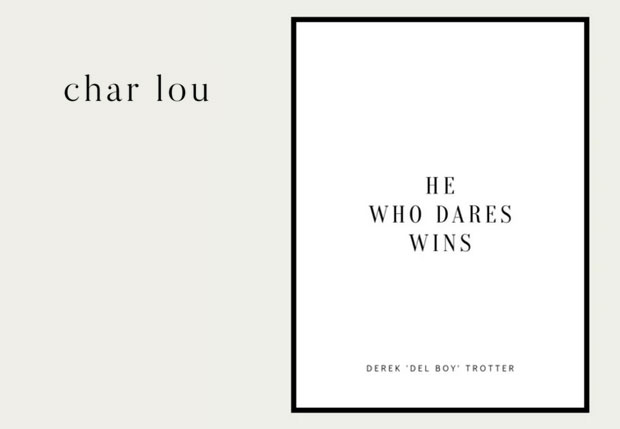 Char Lou Only Fools & Horses Quote Print
Char Lou is a small business that sells posters, greetings cards and planners. A best-selling print is the Only Fools & Horses Quote Print 'He Who Dares Wins.' It is a minimalist print with the famous Derek "Del Boy" Trotter quote. Perfect for any Only Fools & Horses fans for Father's Day.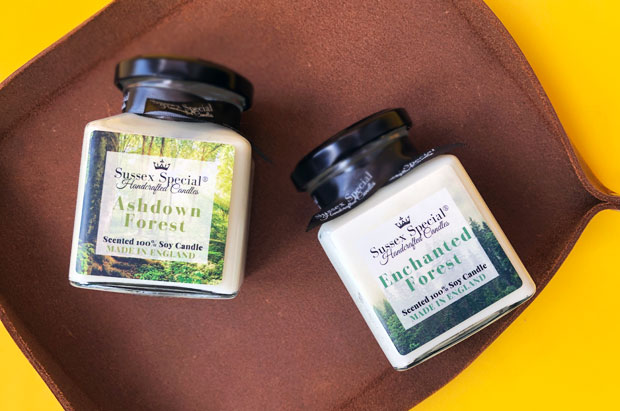 Sussex Special make one-of-a-kind highly scented boutique natural soy candles. Each fragrance has been created carefully to be unique and full of character. The candles come in these cute glass jars with lids that look great and are practical too.
I have chosen two different scents that I think are quite masculine or unisex at least. Ashdown Forest is a vigorous and simulating scent inspired by a fresh morning walk in the woods with scents of wild grown pungent peppermint, energising spearmint and pure and uplifting white tea. Enchanted Forest is Sussex Special's signature classical scent with strong and pungent bergamot, aromatic rosemary, peppermint, fresh lavender, and vitalising geranium. Woodsy and rich!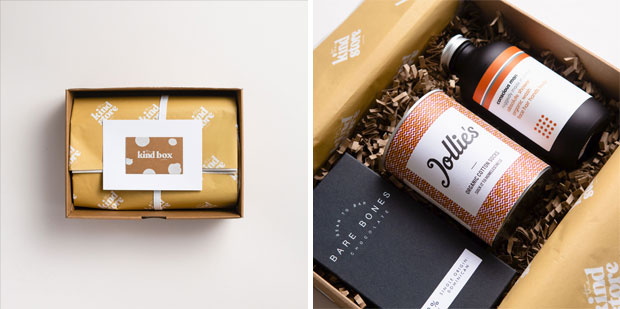 Surprise Father's Day Kind Box
The Kind Store sells a carefully chosen selection of vegan, natural and sustainable essentials for you and your home, making it easier for you to find sustainable and cruelty-free products. For Father's Day, their The Kind Father's Day Gift Box makes a brilliant gift. Choose between Small (£30), Medium (£40) or Large (£50) gift boxes. The eco-friendly gift box will be packed completely plastic-free and delivered to the door of your loved with a hand-written message inside. Inside there is a surprise selection of skincare, lifestyle and/or food items – all natural, independent, vegan and sustainable.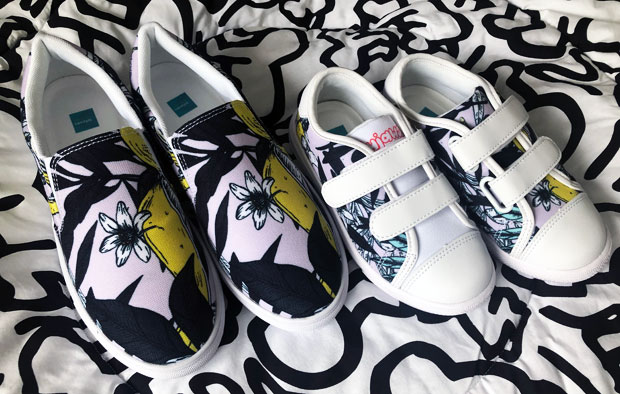 Jellyjaws Matching Men & Kids Sneakers
Jellyjaws is a small online business that creates unisex twinning sneakers for adults and children. The collections reflect their philosophy of "Style by Osmosis" – the way that we pass down or sense of style, creativity and experiences to our children. The designs are inspired by travel and adventure – something many of us have missed a lot during the pandemic. There are matching sets for adults and children in different styles. The matching men and kids set is ideal for Father's Day of course! There are a few different prints to choose from and different styles of sneakers for both adults and children.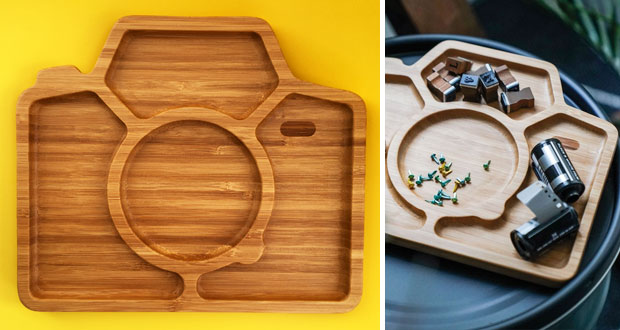 Snap & Snack Bamboo Plate
Red Candy is one of my favourite shops for fun homeware items and brilliant unique gifts for all occasions. Of course, they have a great range of Father's Day gifts too. This Snap & Snack Bamboo Plate would make a great gift for a dad who's into photography. It can be used as an actual plate for a selection of snacks and treats or it can be used as an organiser tray to keep bits and bobs looking tidy.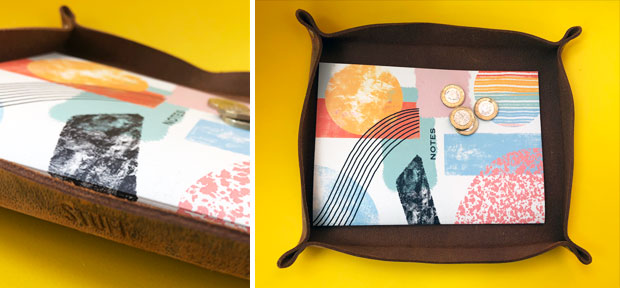 Scaramanga Large Leather Valet Tray
Scaramanga make gorgeous, handcrafted leather bags, accessories and also stock unique, vintage items for the home. This personalised Large Leather Valet Tray is ideal for keeping all your daily essentials together in the hallway or on the bedside table for example. Things like keys, wallet, coins, phone etc. The tray is a great size at 23cm x 19cm (there's a smaller version available if you prefer.) Leather Valet Tray is handmade with Scaramanga's exclusive vintage-style leather and looks very sophisticated. I've had this one personalised with the word "Stuff" – Scaramanga offers lots of options for personalisation.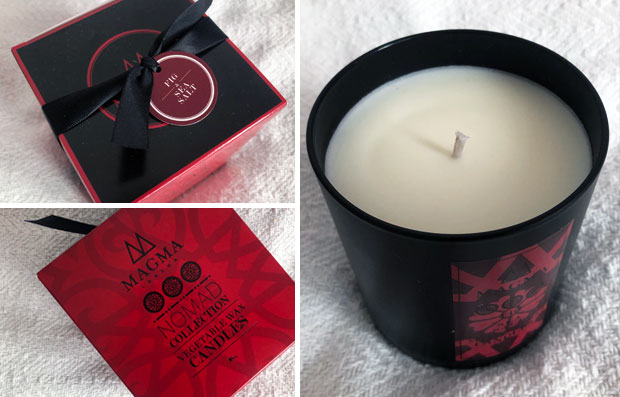 Magma London Fig Sea Salt Large Vegetable Wax Candle
Magma London creates innovative scented products that celebrate cultural histories and timeless designs. They make a range of interesting products like Magna Rocks, beautiful diffusers, and luxury scented candles. Their Fig Sea Salt Large Vegetable Wax Candle is refreshing and has a sharp scent of ocean freshness with notes of Mediterranean fruits – lemon, orange, and fig. The fruitiness combined with the sea salt is an amazing combination – invigorating and stimulating. The black and red design combined with the powerful scent makes this quite a masculine candle in my opinion so ideal for Father's Day.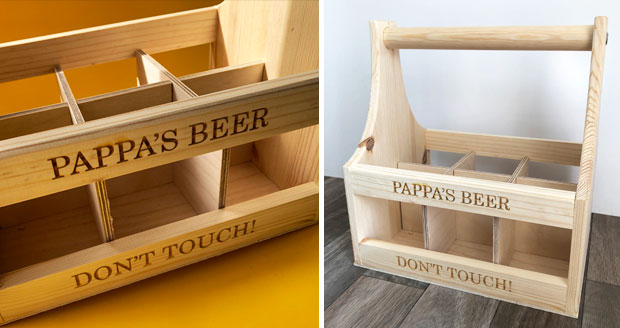 Personalised Garden Beer Trug from The Personal Shop
The Personal Shop sells a range of personalised gifts and they have an impressive range of brilliant personalised gifts for Father's Day. My favourite item is this Personalised Garden Beer Trug! Most dads like beer and this item would make such a good Father's Day gift. Fill it with a selection of favourite beers and add a few snacks perhaps for a lovely and fun gift. You can have it personalised as you wish with up to 30 characters on each of the two lines. We went for "Pappa's Beer" – "Don't Touch!". The trug is beautiful and well-made, and the internal dividers can be removed to make it suitable as a basket for other things too which is handy.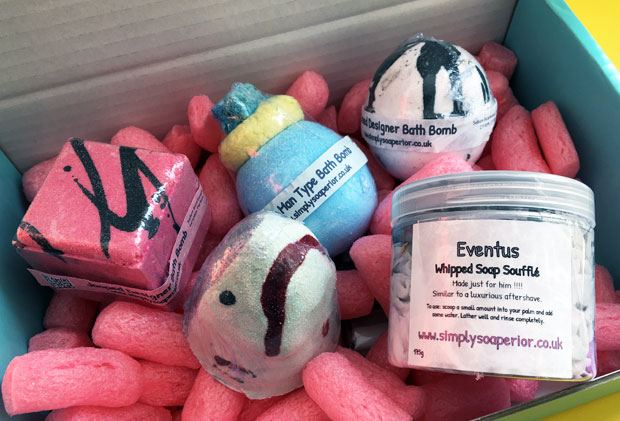 Artisanal Bath Products for Men from Simply Soaperior
Simply Soaperior make a wonderful range of bath bombs and other bath treats. They make a few items that are particularly well-suited to men and the best-selling Shark Attack bath bomb is sure to be a hit. The mouth of the shark starts creating red froth as soon as it reaches the water which creates a really cool effect! Perfect for fans of the film Jaws!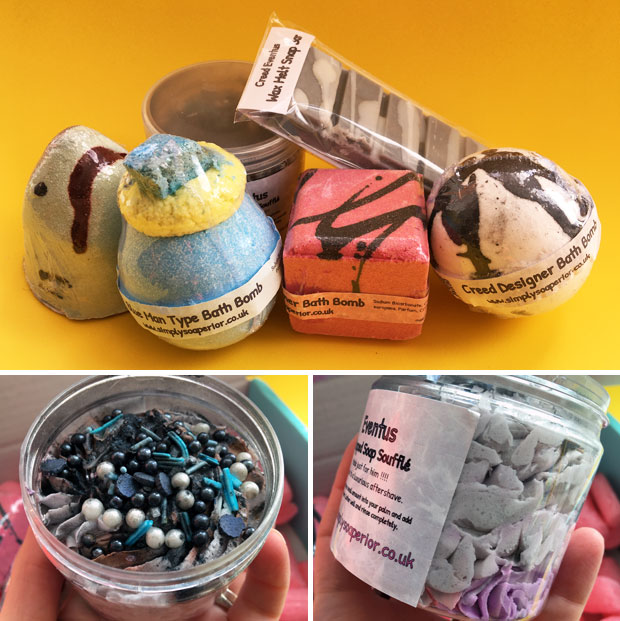 They also make a whipped soap with a manly scent – Creed Eventus Whipped Soap Soufflé inspired by the fragrance Eventus. All products are lovingly handmade in Cornwall using skin safe and hydrating ingredients. I've tried a range of the products and am really impressed with the quality and the scents.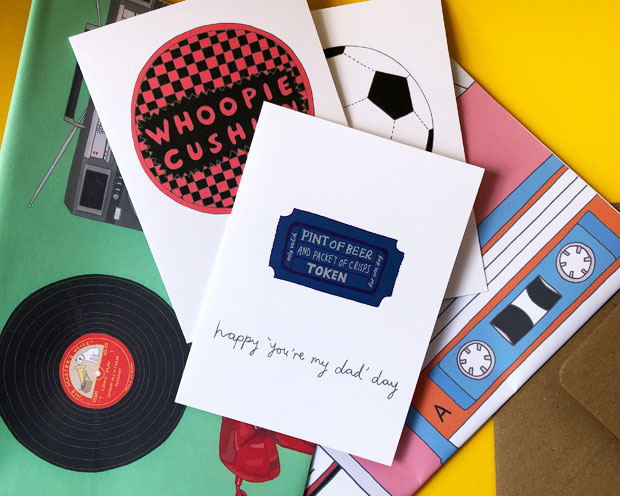 Funny Cards and Gift Wrap from You've Got Pen on Your Face
Illustrator Frankie Nicholas is the creator of You've Got Pen on Your Face that sells bold and funny prints, gift wrap and greeting cards for different occasions. Some designs are sentimental, but most are made to make you smile or laugh. I love the range of retro gift wrap and funny Father's Day cards!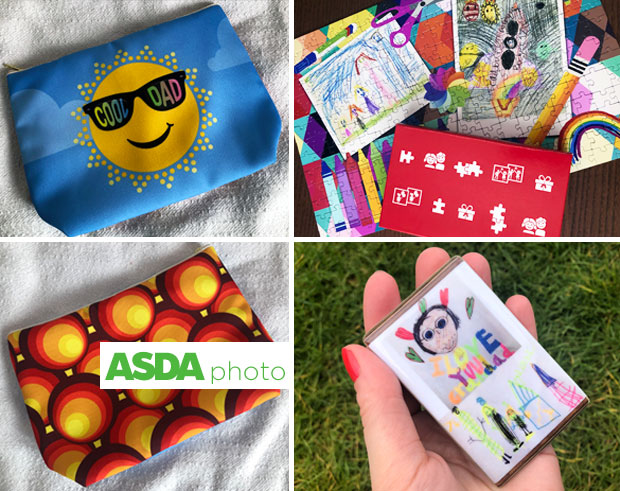 Personalised Father's Day Photo Gifts from Asda Photo
Personalised gifts are always special, and Asda Photo have a large range of personalised unique photo gifts suitable for all kinds of dads for you to create to show just how special they are to you. Choose from lots of fun items like mouse mats and desk art, wash bags and towels, mugs, coasters, homeware accessories and of course a big selection of photo art and much more. We created a personalised jigsaw puzzle with some drawings that the kids made, a Cool Dad wash bag with one of my retro print designs on the back and a fridge magnet with drawings that the kids made for grandad. We're really happy with the personalised Father's Day photo gifts that we created! The Asda Photo website is so easy to use too!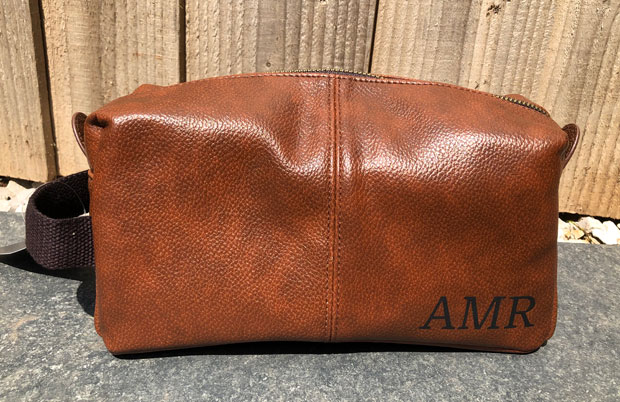 Personalised Vintage Style Wash Bag from Treat Republic
Treat Republic has an impressive selection of classy, extraordinary, personalised gifts for Father's Day. This Personalised Vintage Style Wash Bag is my top pick. It's a high-quality handmade washbag with a luxury vintage style. It looks great and is spacious to fit all grooming essentials for travelling or at home. Have in monogrammed for an extra personal and special touch.
Additional resources:
Collaborative Post. This article contains gifted items. Everything has been chosen by me to be included in this gift guide and all thoughts and opinions are my own. Contains sponsored links.