Frightfully Good Halloween Fun for the Whole Family | a Gift Guide
|
Halloween Gift Guide – Frightfully Good Halloween Fun for the Whole Family | AD
Halloween is nearly here! People are already starting to decorate the doorways for Halloween and getting ready for this event. Halloween is of course a great time for all things spooky but also for family fun – this blog post has the best combination of the two!
In this gift guide, we'll look at some frightfully good Halloween gifts for your friends and family with spook-tacular toys and gifts for all ages – plus some yummy treats too! Read on to find out more.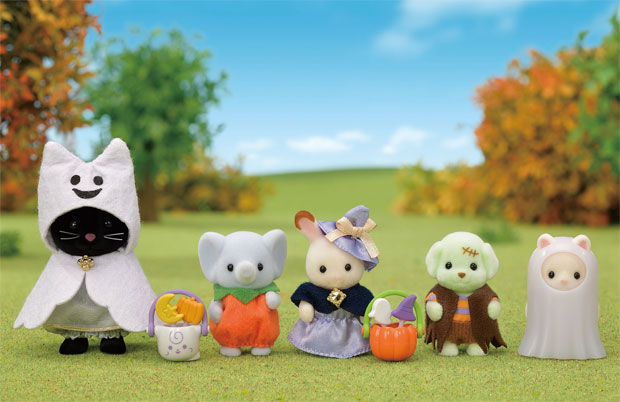 Sylvanian Families Halloween Sets
Let's start with some toys for younger children. Sylvanian Families have some adorable Halloween themed sets available, including the Trick or Treat Parade and the Trick or Treat Trio.
The Trick or Treat Parade set (RRP £29.99) includes Midnight Cat Girl Chantelle and four super cute baby figures, and they're all dressed up in fun Halloween costumes that are exclusive to this set. The set also includes colourful lollipops and Halloween baskets that the figures can hold. The ghost costume glows in the dark too!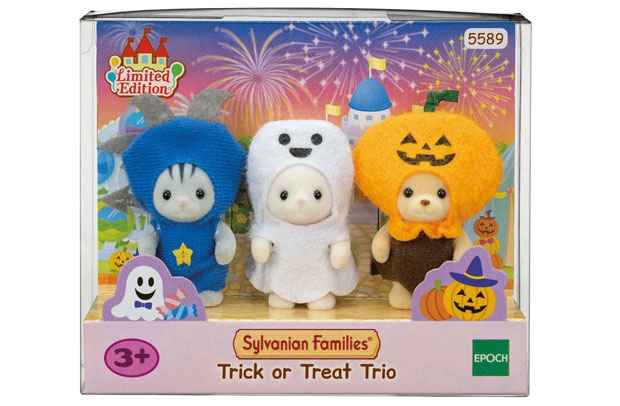 The limited-edition Trick or Treat Trio set (RRP £19.99) includes three frightfully cute baby Sylvanian Families figures wearing Halloween-themed outfits. In the set you get a Silk Cat baby dressed as a ghost, a Gray Cat baby dressed as a bat, and a Bear baby dressed as a pumpkin. Both these sets are available from www.sylvanianfamilies.co.uk.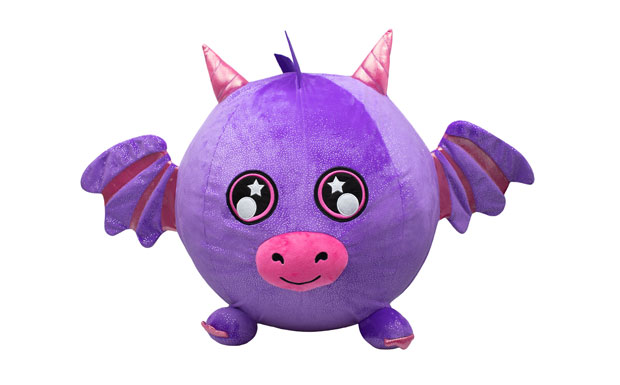 Biggies Inflatable Plush Dragon Soft Toy
Next up, the first-of-its-kind SUPER-SIZE mega plush! There are four cool animals to collect, and this purple dragon is perfect for Halloween. Biggies are delivered in a closed mystery box and, by using the foot pump that's inside the box, you inflate the character and watch it grow and grow until it turns into a giant plush ball, 10 times its original size!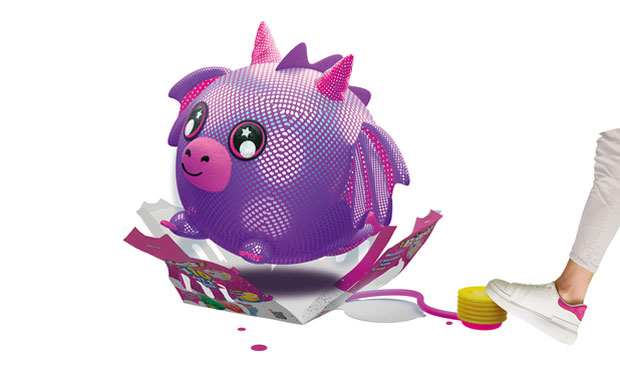 Biggies are covered in a super soft plush material so are perfectly huggable. The character is revealed with a cool pop effect, making the opening experience part of the playing process. You can reuse your Biggies over and over again – simply deflate and store away when not in use.
The RRP of Biggies is £19.99 and they're available to buy from Smyths, Amazon.co.uk, Argos, and The Entertainer.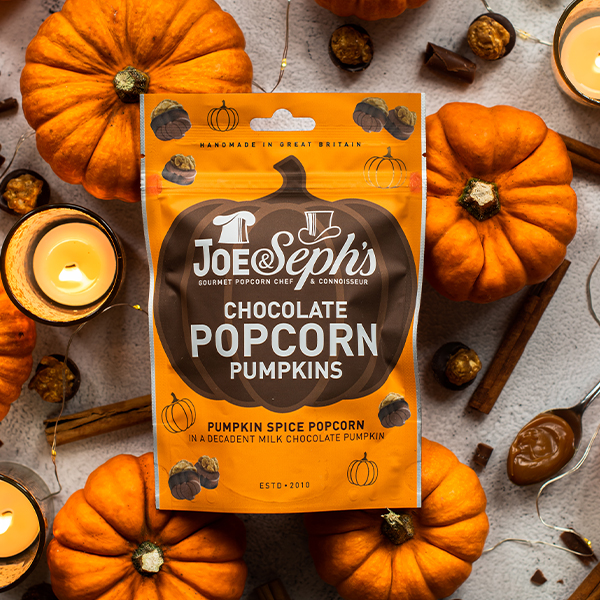 Trick or Treat with Joe & Seph's
Sweets and chocolate are not the only options for Halloween treats! There are lots of other delicious options that are perfect for the season too, like these yummy gourmet popcorn treats from Joe & Seph's.
These Chocolate Popcorn Pumpkins are perfect for Halloween! They are warming pumpkin spice popcorn placed in devilishly decadent milk chocolate pumpkins – what more could you wish for!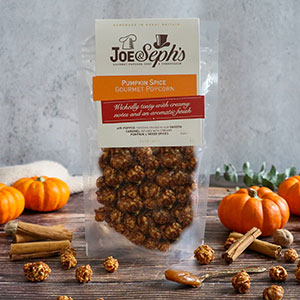 The Pumpkin Spice Popcorn are also available on their own and are the perfect nibble for Halloween celebrations or cosy nights in. These scrumptious popcorn feature Joe & Seph's smooth caramel sauce, creamy pumpkin and warming mixed spices. They are so tasty they won a 1-Star Gold 2020 Great Taste Award before even launching!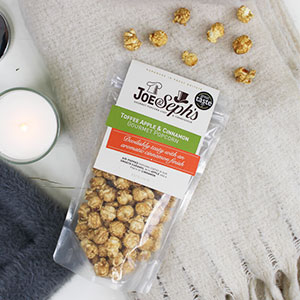 Another popcorn treat ideally suited for Halloween and autumn is the Toffee Apple & Cinnamon Popcorn. As the name suggests, these popcorn combine the classic and nostalgic autumn flavours of sweet toffee and crisp apple, with a warming kick of cinnamon.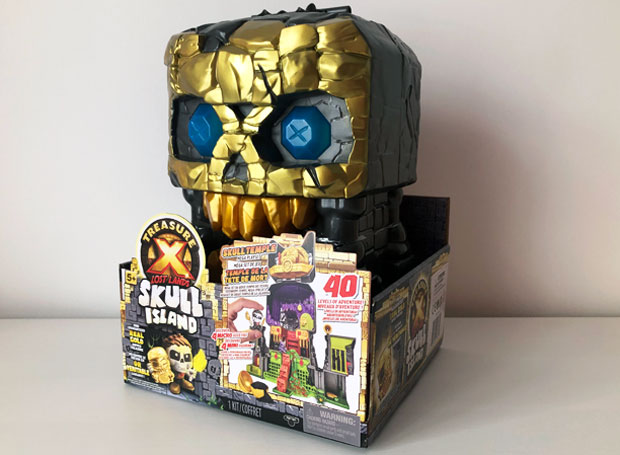 Treasure X Lost Lands Skull Island Golden Treasure Temple Mega Playset
It's time for a whole new world of mystery and treasure hunting! Head out on a big adventure on a micro-sized scale with Treasure X Lost Lands Skull Island. The new Treasure X Lost Lands Skull Island Golden Treasure Temple Mega Playset (RRP £39.99) provides many hours of fun and exploration for children on the hunt for real gold dipped treasure! This amazing set has an impressive 40 levels of adventure to discover. Throughout the hunt, children come across four exclusive micro sized figures (Hunta, Batboy, Aragog, and Venom) who will help escape the Temple.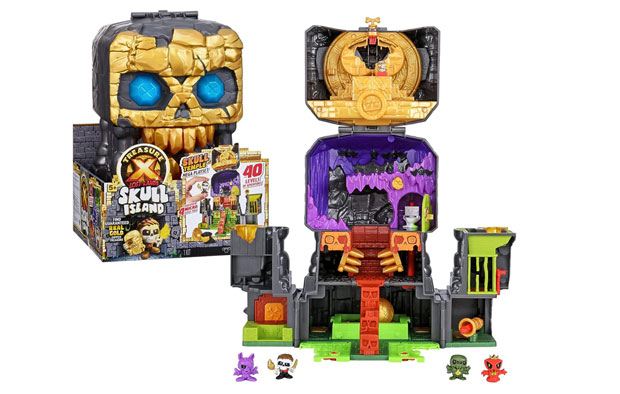 "Open the Temple and discover a world full of traps and tasks to perform in order to unlock the treasure! Find secrets in the ooze, watch out for the rolling boulders, and discover hidden keys. With a crystal to reveal and the GUARANTEE of finding Real Gold Dipped Treasure, children will be truly amazed as they crush and blast their way through the Temple and find secret doorways!"
Children will love this adventure of dodging traps and completing tasks to reveal the layers and hidden treasures. The playset packs away neatly too to be packed away until it's time for the next adventure. Treasure X is a collectible toy and there are many more packs and sets to collect. They are available from Smyths, Argos, and Amazon.co.uk.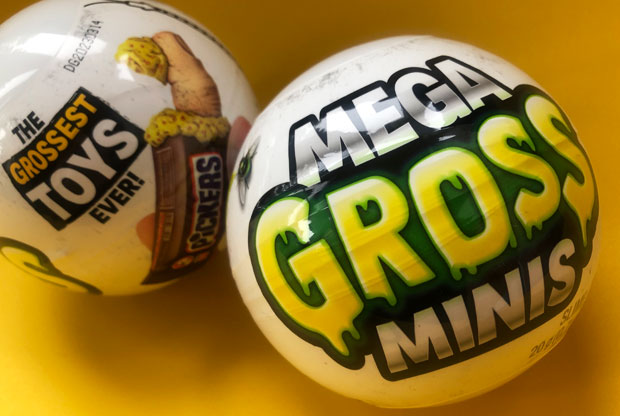 5 Surprise MEGA Gross Minis
Next up, the grossest toys ever! 5 Surprise MEGA Gross Minis (RRP £6.99) are capsules packed with 5 barf worthy surprises that are absolutely disgusting but also fun! The toys inside are parodies of favourite consumer products and brands, made into revolting versions… How about some McMagots Fries, a Bug King Burger or a Starbarf Coffee, anyone?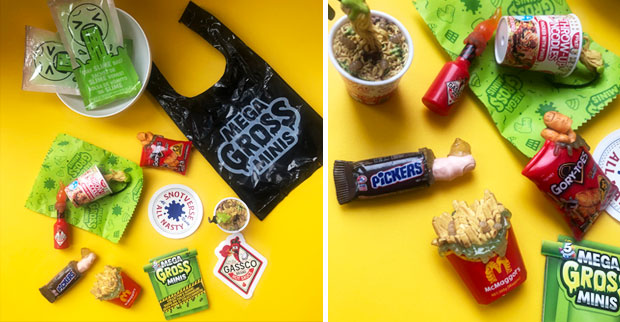 There are 36 Minis to collect. The capsules include 3 Minis each, a sachet of slime barf, a sticker, a garbage bag, and a collector's guide so that you can keep track of which ones you have. There are some rare toxic glow, scented or mouldy Minis to find too and they're extra disgusting! Perfect for Halloween fun! 5 Surprise MEGA Gross Minis are suitable from 3+ and available from Smyths and The Entertainer.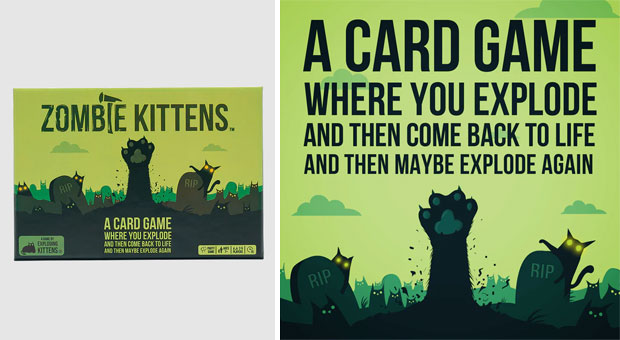 Let's move onto some games! Zombie Kittens is ideal for Halloween as you can see by the game's name! Zombie Kittens (RRP £19.99) is a card game where you play beyond the grave… It's the newest standalone expansion title from the Exploding Kittens team. This new game features a much-requested feature – Player Resurrection which means that players who have exploded can be resurrected to return back to the game thanks to the new Zombie Kitten card.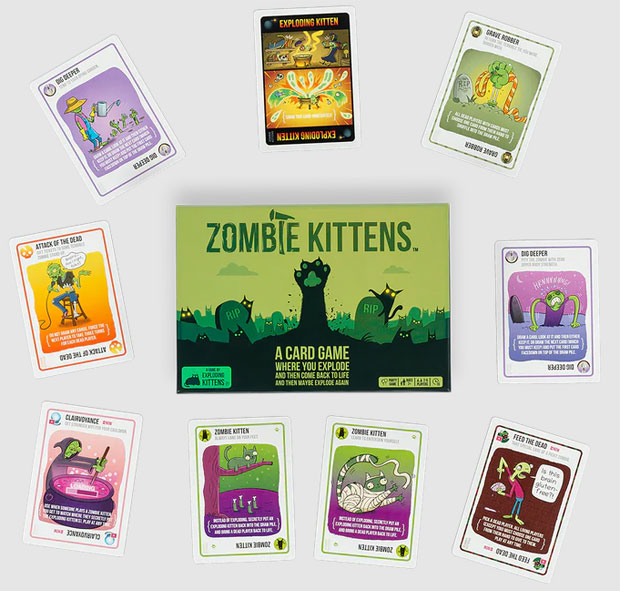 The game is suitable for both adults and children over 7 years old. It's quick to learn in under 5 minutes and takes about 15 minutes to play. You can be 2-5 players or up to 9 players if you combine Zombie Kittens with the original Exploding Kittens deck. Find out more on explodingkittens.com.
Exploding Kittens games are available to buy online and in stores that sell toys and games.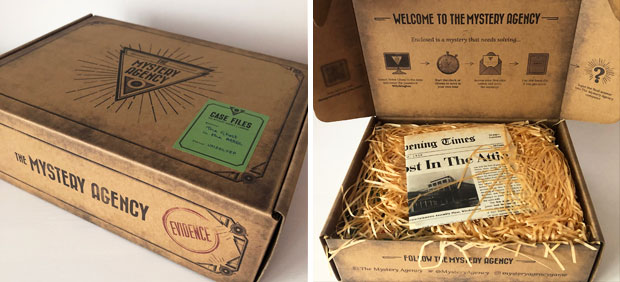 Now we're moving onto games for older teens and adults only. The Mystery Agency creates amazing escape room style mystery games. The Ghost In The Attic (RRP £46.99) is one of the three games that they currently have. It's an award-winning escape-room puzzle that you play in the comfort of your own home.
The game is themed around a haunted board game from the 1950s. The goal is to banish the ghost forever and, to do that, you'll need to use all your powers of deduction and logic to solve challenging sequences of clues to crack locks and piece together the information provided.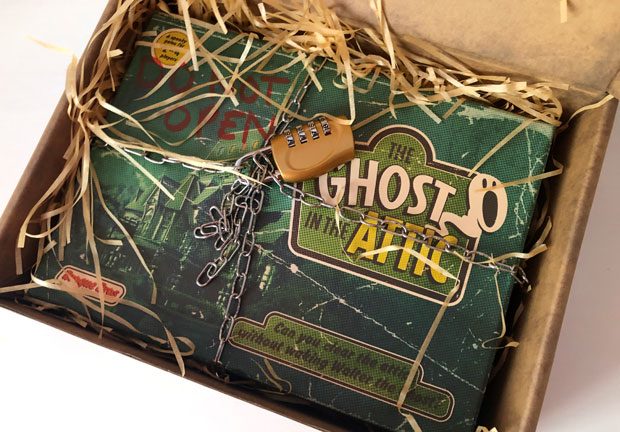 But to even start the game, you need to get into the box and that's easier said than done as the box itself has been chained up and padlocked. You need to figure out the combination to just get started before you can launch your investigation across the many pieces of evidence that you'll find inside. There are also secret websites to discover that are hiding important clues that you'll need to solve the mystery.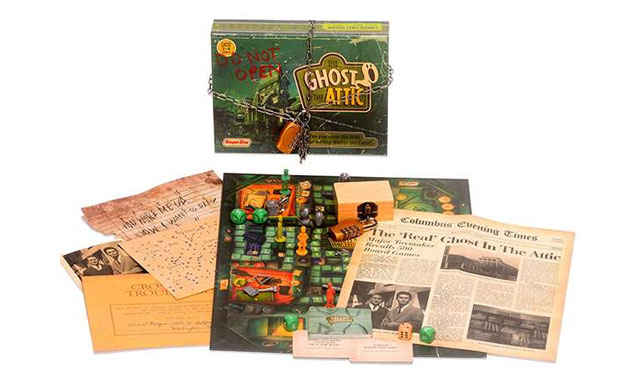 The Ghost In The Attic includes over 25 tactile pieces that have been created with close attention to detail, making the game extra compelling and immersive. The game should take around an hour to play (but could take longer too) and if you get stuck there are tiered hints available online to help you. You can play the game on your own or with friends and family. The game can be used again for new players – simply repack it and challenge a friend to solve it.
The Ghost In The Attic is suitable from 14+ and is available from www.happypuzzle.co.uk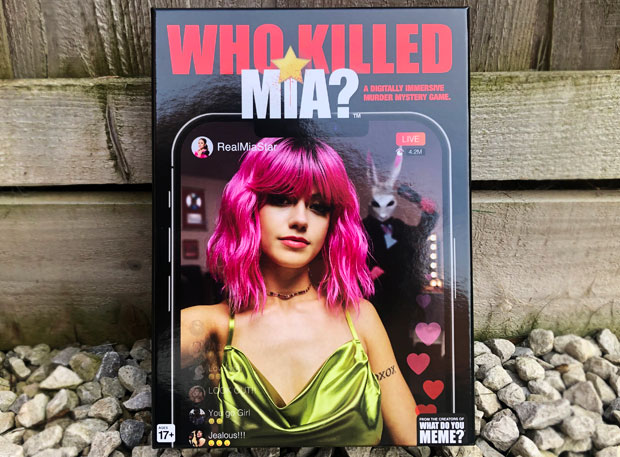 The final product in this gift guide is a murder mystery kit called Who Killed Mia? (RRP £29.99) – a game suitable from 17+. The digitally immersive game from the creators of What Do You Meme? is ideal for anyone who's into true crime and pop culture. It's the perfect game to play on Halloween with your friends or family!
The game can be played on your own or in a group (2-6 players is best) and it's quick and easy to get started. You need a smartphone or tablet that can scan QR codes and internet access – the rest is all available in the game pack.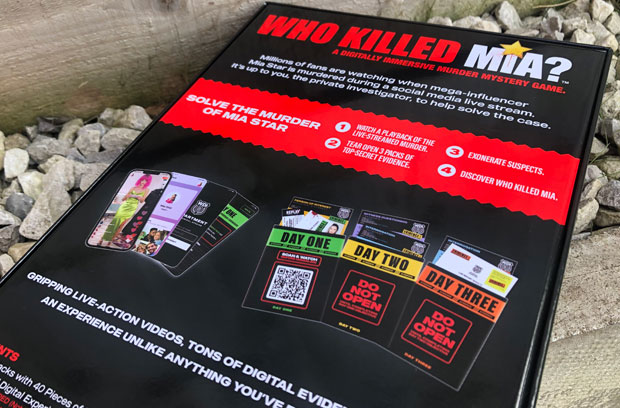 The murder mystery is that mega-influencer Mia Star is murdered during a social media live stream with millions of fans watching. The players act as the private investigator who is there to help solve the case.
The players receive three evidence packs, one at a time, each filled with clues that take you closer to finding out what happened. Some lead to digital experiences throughout the game – uncover secret websites, break into Mia's phone to read her messages and more. Each pack has a unique objective that you work towards to figure out who was the person Who Killed Mia.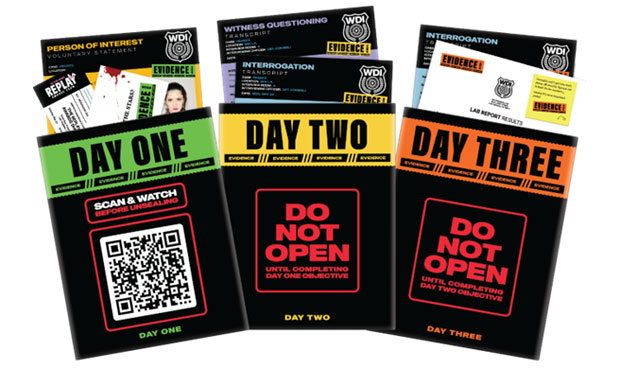 Who Killed Mia is a one-time-play game, but you can repack it to give to someone else after you've played it too. The game is available to buy from MenKind, GAME, HMV, Urban Outfitters, and Amazon.co.uk.
There you have it, a wonderful selection of spooky gift ideas for Halloween. Great toys and games for having fun at home and also for adding to Boo Baskets if you are making any for your children or friends.
Collaboration. This guide features gifted items.