Gifts for Her – Ladies' Christmas Gift Guide 2020
|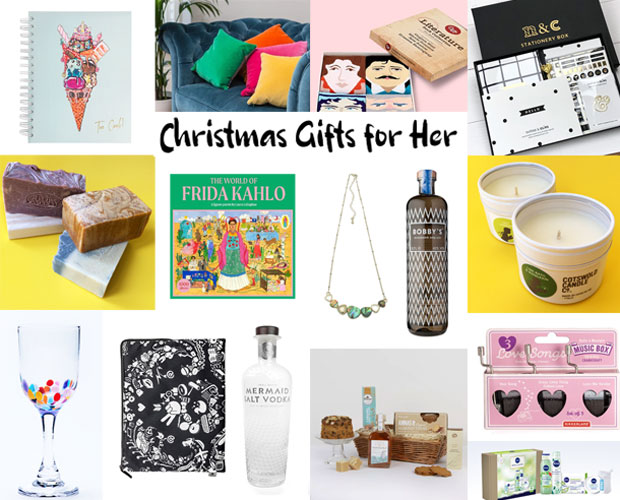 Gifts for Her – Ladies' Christmas Gift Guide 2020
Are you looking for Christmas gifts for a lady in your life? In this gift guide, I've gathered lots of lovely products that would make perfect Christmas presents this year. There's a bit of everything and I love all items featured.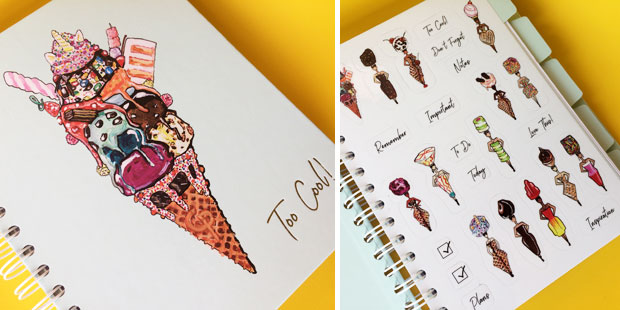 For the woman who likes to stay organised
Life is busy and a great gift for someone who likes to stay organised is a good notebook for jotting down important to-do lists, ideas and dreams. The Too Cool A5 Organiser by British contemporary artist Charlotte Posner would be a lovey gift. It features a delicious ice cream print by the artist on the cover and comes with a bunch of fun stickers featuring ice cream girls and labels for the 5 tabs of the sectioned, thick notebook with lined pages.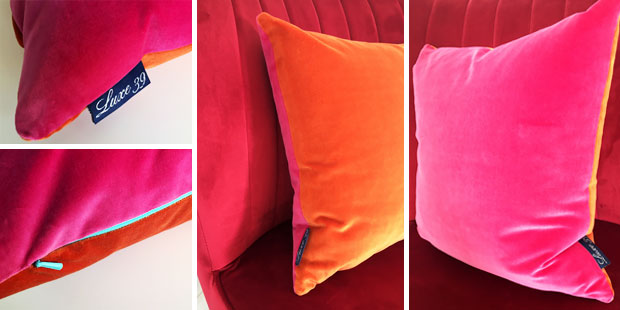 For the lady who loves bright interior details
Luxe 39 is a luxury velvet cushion company that makes bespoke velvet cushions in a choice of 75 colour ways and 9 cushion sizes. This means you can easily create the perfect cushion for any space and recipient. Choose the colours that your loved one likes the best. All the cushions are double sided velvet and you can choose between single colours or any two colours mixed for a unique double colour cushion. You can also have a contrasting zip if you wish.
The fabric used is upholstery grade British cotton velvet woven in the UK and all fabrics and packaging are UK sourced and recyclable/degradable. I have the gorgeous Bright Pink Velvet Cushion with Burnt Orange with a contrasting turquoise zip and it's so beautiful! It's a best-selling combination and I can see why — those colours work so well together. Create and order your cushion from Luxe 39.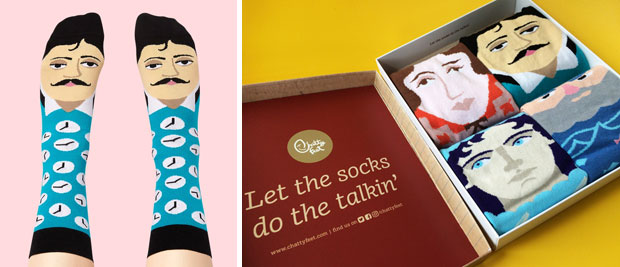 If you're looking for a gift for a book lover, then you have to check out the new Literature Sock Set from Chatty Feet. This gift pack of four funky socks features Virginia Wool, Marcel Proustoe, Jane Austoe and Ernestoe Hemingway inspired by famous authors. These socks are so much fun with the faces printed on both the tops of the foot and the soles to be visible from all angles. The quality is great too!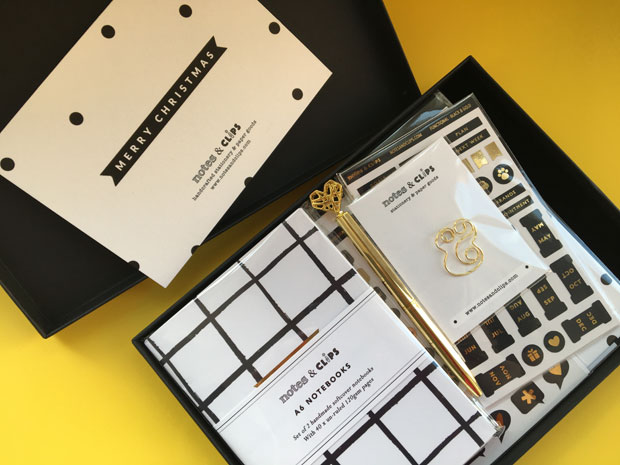 Notes & Clips is a new UK based stationery company that specialise in foiled stickers and notebooks. They have a new line of Stationery Boxes that would make a perfect gift for anyone who loves stationery. There are currently 8 different boxes in 4 different colour schemes and 2 sizes to choose from.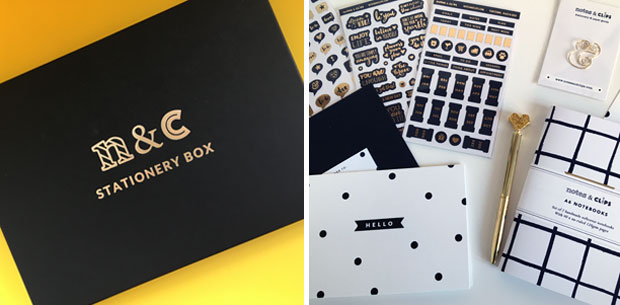 Here you can see the Black & Gold box which is full of stationery goodies that match the colour theme. The box is lined with a soft felt base and the eight products are presented beautifully! Most items are designed and made by Notes & Clips here in the UK too.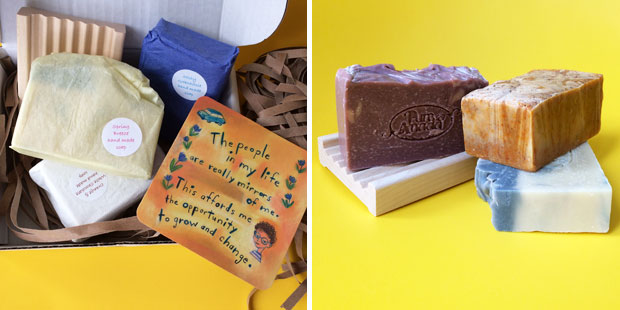 For the one who loves natural and sustainable skincare
Live in the Light is an online natural and organic lifestyle store that have lots of great products that would make great gifts for anyone who loves natural products. One of them is this 3 Handmade Soaps & Dish Gift Set which is a plastic-free and practical gift that encourages eco-friendly pampering. You choose three luxury soaps (there are 9 to choose from) and they come presented in a gift box together with a handmade wooden soap dish. Such a lovely gift and I love that you get to customise the soap scents!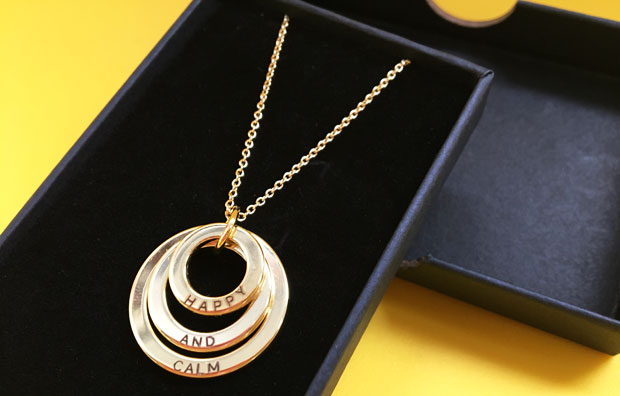 For someone who appreciates a personal touch
Personalised gifts are always extra special and show that you've put the effort into a gift, making it unique to suit the recipient. They are often very loved and treasured. Treat Republic have lots of personalised gifts, including personalised jewellery. I have the Personalised Rings of Love Necklace in a Gold finish (also available in Rose Gold and Silver). It has three rings of different sizes that you can personalise with names, a date or a positive affirmation, for example. I went for the latter and added the words "Happy and Calm" which is my goal mood. You can also choose between a Serif or a Sans Serif font. The necklace is beautiful and would make a lovely gift personalised for a loved one.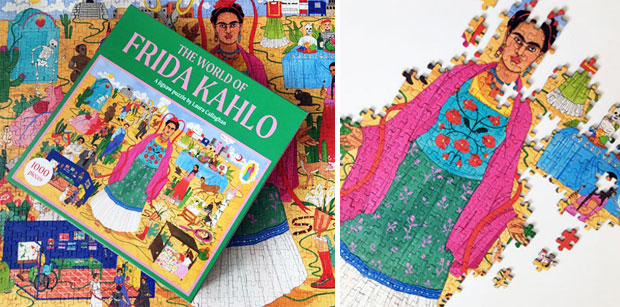 For the one who loves art and puzzling
If you know a jigsaw lover (like myself!), a big 1,000-piece jigsaw like this one would make the perfect gift — especially if they love art too. This The World of Frida Kahlo jigsaw puzzle from Laurence King Publishing is my favourite 1,000-piece jigsaw of the year so far. It's so colourful and fun and it was so enjoyable to build. It would make a brilliant gift! It's also available to buy from Amazon.co.uk.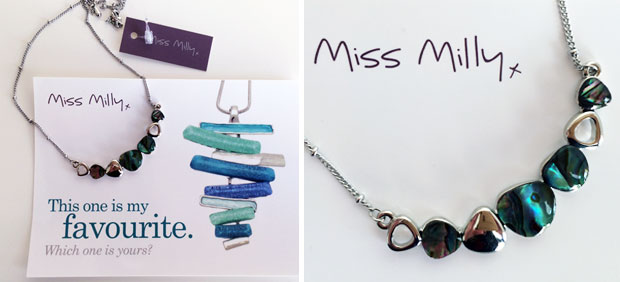 An accessory treat for a loved one far away
If you're looking to send a little treat to someone, check out Miss Milly's range of Letterbox Loveliness. They are postal surprises in hand decorated envelopes that contain things like colourful jewellery, key rings and magnetic brooches. They're perfect for anyone who loves colourful and unique accessories. The item I have here is the Paua Pebble Necklace which is a really pretty necklace. Perfect for sending to a loved one that you're not able to see in person this Christmas.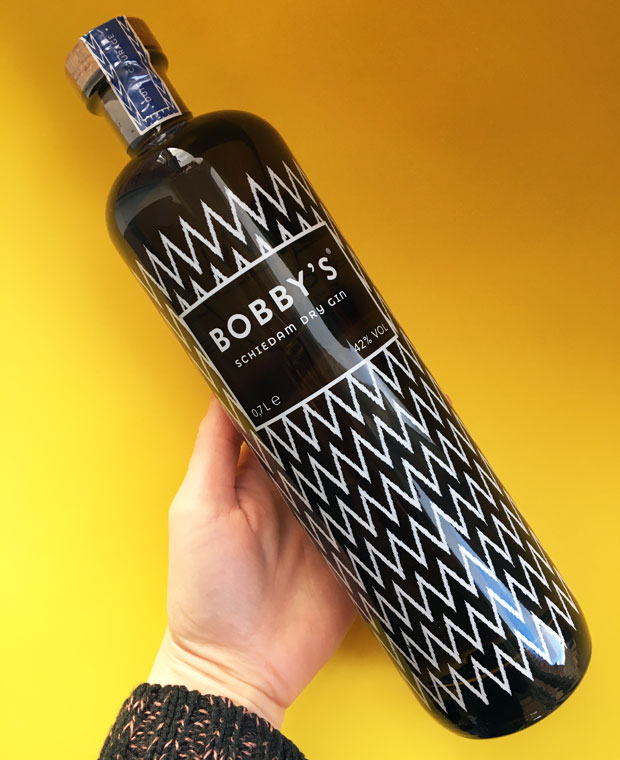 Gin is a really popular spirit and most gin lovers love to try new types of gin. Introduce them to something different with Bobby's Schiedam Dry Gin which is a Dutch-Indonesian hybrid with Christmassy flavours of cloves and cinnamon which is of course perfect for the season.
This gin celebrates the 150-year-old shared history of the Netherlands and Indonesia — "Dutch courage mixed with Indonesian spice". The recipe is a blend of a base of juniper and whole clove, cubeb pepper, cinnamon, lemongrass, rose hips, fennel and coriander. The result is a spicy and fragrant gin with a kick of citrus and pepper. It's recommended to be served with a slice of clove-studded orange which makes it even more Christmassy. What an interesting gin that manages to be both exotic and classic at the same time. Available via masterofmalt.com.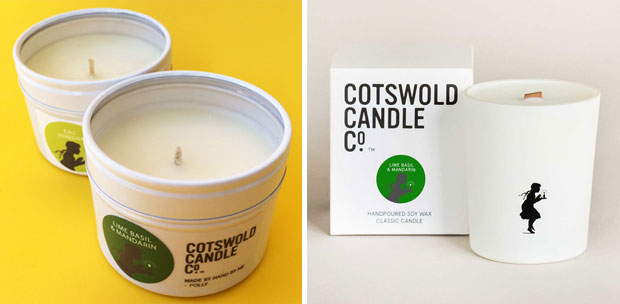 For the one who loves luxurious scents
If you're shopping for a candle lover, definitely check out Cotswold Candle Co that makes luxury candles made from a mixture of soy and mineral waxes to ensure the best scent throw possible whilst keeping carbon emissions to a minimum. The fragrance oils are all UK cosmetic grade and the candles are made here in the UK. There's a lovely range of woodwick classic candles as well as these practical travel tins that let you take your favourite scent with you wherever you go. The scents are amazing — I went for Lime Basil & Mandarin and Eau Verbena.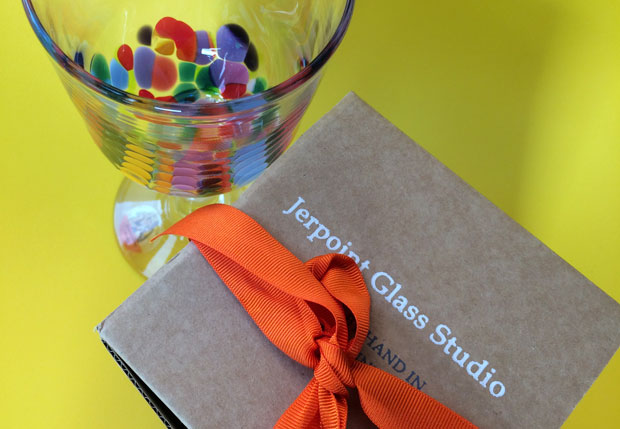 For the one who loves a glass of wine
This is one of my personal favourites from this gift guide because it's so unique. The Festival Wine Glass from Jerpoint Glass Studio would make a wonderful gift for someone who loves wine. Jerpoint Glass Studio is a family-run glassblowing studio in Stonyford, Co. Kilkenny, in Ireland that has been making beautiful glassware for over 40 years.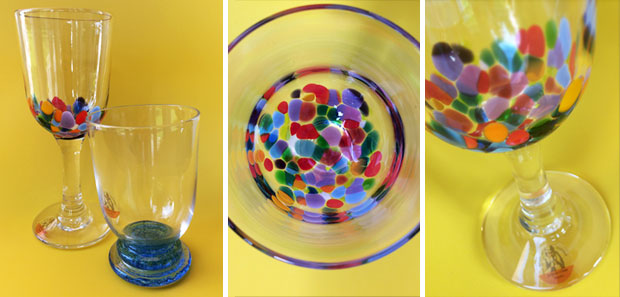 This hand-blown wine glass is elegant and contemporary and looks so amazing with its vivid splashes of colour. The 20cm tall glass is suitable for both red or white wine and is a pleasure to look at and to use. It really feels special to drink wine out of this gorgeous glass! There will be a few more Jerpoint Glass Studio products in a couple of my other gift guides that will be live soon too. You can see one of them next to the wine glass above.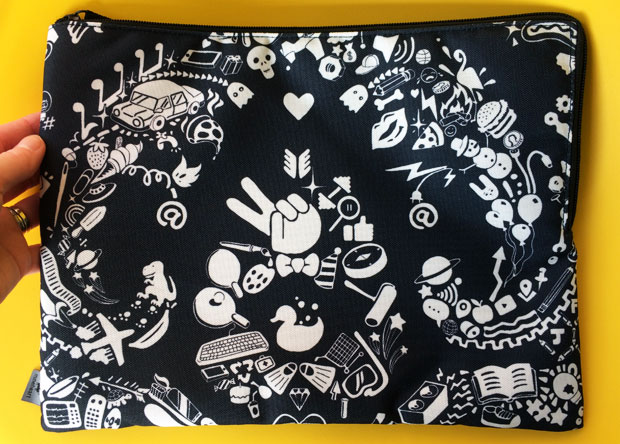 Mineheart is an art gallery and design store with lots of quirky art, home decor items and gifts. Here you can see the Black New World Damask Clutch which is a multi-purpose bag with an eco-friendly design. It's made from hard-wearing recycled PET fabric which is also great for protecting things like tech items. The clutch can be used for many things — as a travel bag, as a purse or for protecting iPads or MacBooks for example.
There are a few designs available and this one is inspired by doodles and symbols of modern life and 21st century icons — all arranged in a traditional damask wallpaper pattern.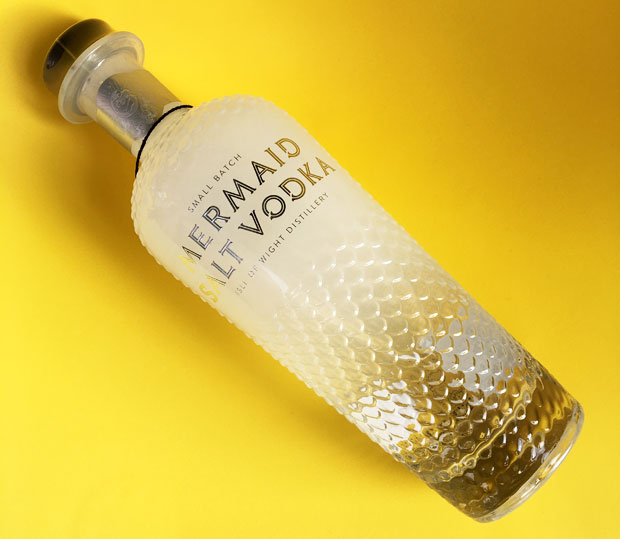 I'm sure you will have seen the beautiful Mermaid Gin from the Isle of Wight Distillery. Their Mermaid Salt Vodka would make an amazing gift for a vodka lover. It is a small batch spirit infused with locally sourced sea salt that enhances its smoothness and flavour.
The salt is from a local supplier and is harvested from water collected in the powerful flood tide of the southern coast which is prone to extreme storms that churn up the ocean floor which releases a large amount of flavour packed nutrients which creates the distinct flavour.
This vodka is perfect for enjoying over ice or in cocktails. Another thing that I love is that it's plastic-free — the cork is natural, and the seal is plant-based and biodegradable. Available via masterofmalt.com.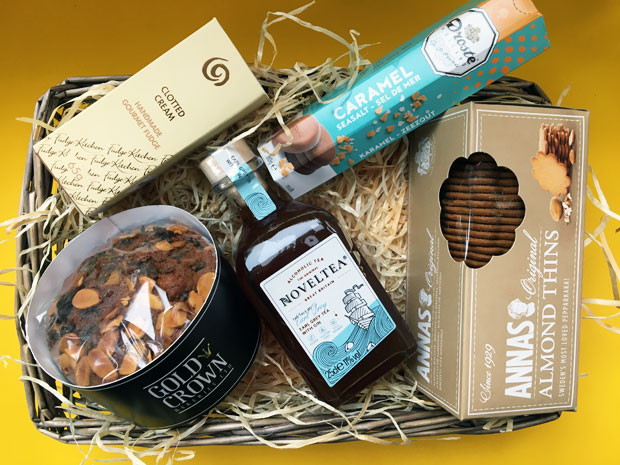 For the one with a sweet tooth
Hampers make brilliant gifts to spoil a loved one and they can be gifted from far away too if your order them to be delivered to the recipients house. This Boozy Afternoon Tea Hamper from Hampers.com contains a bottle of the amazing Noveltea Earl Grey Gin (that you might have seen on ITV's This Morning) along with some sweet goodies all presented in a small wicker hamper.
The goodies include a whisky cake, a box of clotted cream fudge, caramel sea salt chocolates and Swedish Annas Almond Thins which is a classic from my home country Sweden. This wonderful hamper is a perfect twist on the traditional afternoon tea. Everything is delicious and the selection of products is perfect. If you haven't tried Noveltea I highly recommend it!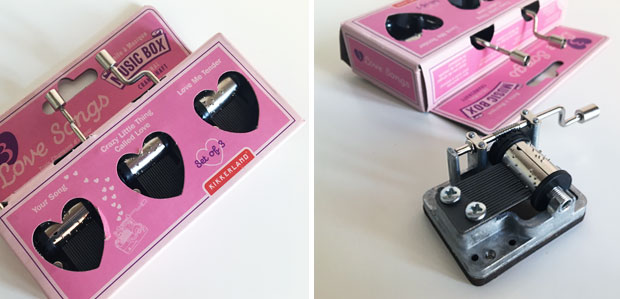 I love this little 3 Love Songs Music Box Set from Fred Aldous. I've always been fond of music boxes and this set contains three love song ones. It would make a great little gift for a partner or someone who loves romantic songs. The three music boxes include the following songs: "Crazy Little Things Called Love", "Your Song" and "Love Me Tender". Simply turn the crank to listen to the melody.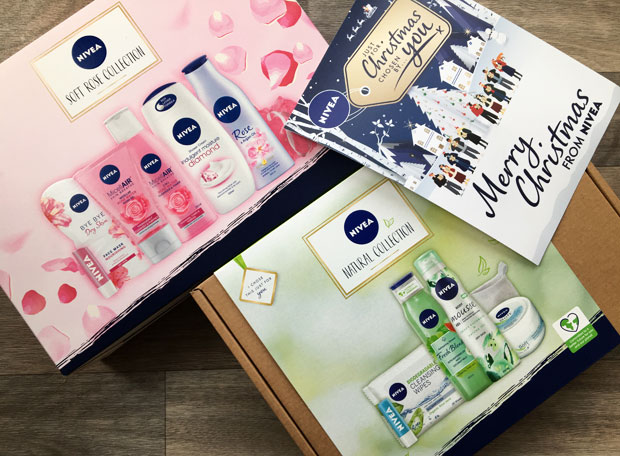 For the one who loves pampering
Last but not least, skincare and body care gift sets from Nivea. Gift sets like these are perfect for Christmas and a great way to treat a loved one to their favourite products or introduce them to something new. Here you can see the Soft Rose Collection and the Natural Collection from Nivea that both contain a lovely range of skincare goodies.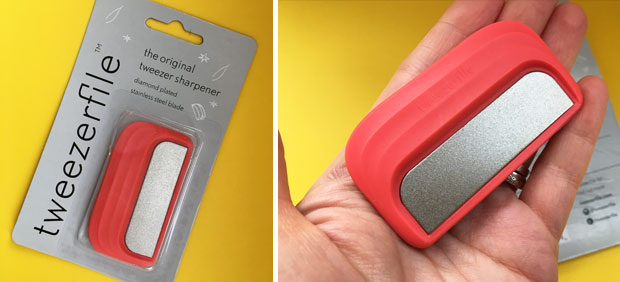 For an Eco Beauty Lover – Tweezerfile
Tweezerfile is an award-winning and innovative new beauty product that allows you to sharpen your old blunt tweezers and bring them back to life. It makes a perfect gift for an eco-conscious beauty lover. It's a small pocket-sized file that is an amazing tool that will bring your favourite tweezers back to life and save them from going in the bin. Your tweezers will be sharp again and you will not have to buy a new one. Tweezerfile is available in two beautiful colours: coral and petrol blue and can be purchased from Amazon or directly from Tweezerfile.com.
Collaborative post. This gift guide features gifted PR samples. All items have been chosen by myself to be in this guide.