Giveaway: Win a Dr Brown's Natural Flow Purple Gift Set
|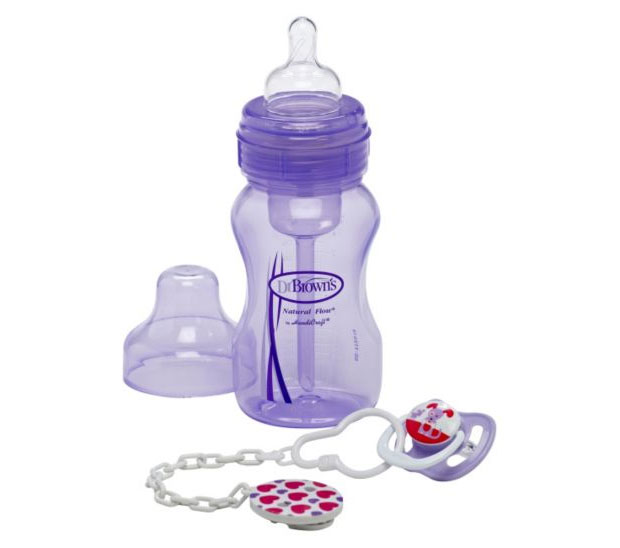 Giveaway: Win a Dr Brown's Natural Flow Purple Gift Set
Dr Brown's Natural Flow Purple Bottle and Soother Gift Set would make a lovely gift for a new baby. The special edition gift set includes a beautiful purple coloured Dr Brown's Natural Flow Baby Bottle (240ml) and a PreVent Soother with a cute clip. The items are packaged together nicely in a box with a window.
The Natural Flow baby bottle has a patented system with an internal vent to create a vacuum free environment to eliminate the presence of air bubbles that are found in many baby bottles. Air can enter through the teat collar without being incorporated into the milk. Then it channels through the internal vent system to the area behind the milk. This allows the baby to feed more comfortably without ingesting air bubbles that can easily lead to colic and wind problems. The vacuum free environment also eliminates teat collapse.
The PreVent orthodontic soother is designed for babies aged 0-6 months. It has a patented Suction-Free Air Channel that helps reduce suction and palatal pressure. It's been designed by a paediatric dentist and has a soft bulb that spreads wider as the baby sucks on it which creates a low pressure comfort. This design is minimally intrusive on the baby's mouth which minimises dental issues that can be caused by other types of soothers.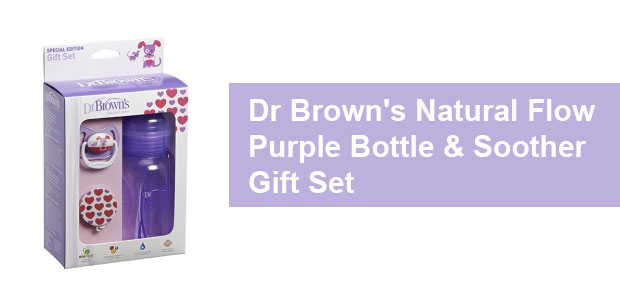 I've been given the opportunity to give one of these sets away to one of my readers. To enter the giveaway, use the Rafflecopter below. UK entries only. Terms & Conditions apply. The giveaway will end on the 17th of August 2015.
This gift set is also available to buy from Amazon.co.uk and Boots and is also available in green.