The Gro-Hush Baby Calmer Review
|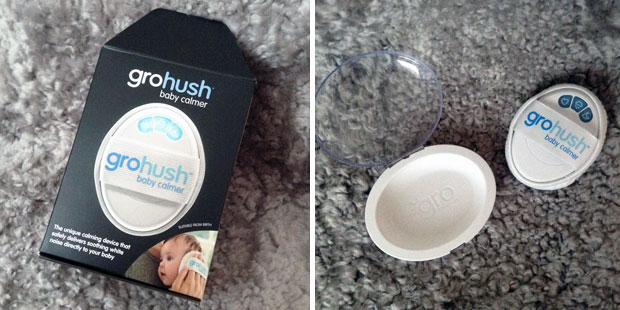 The Gro-hush Baby Calmer Review
The Gro-hush is a portable white noise baby calming machine that plays soothing white noise (choose from heartbeat, ocean waves or rain falling on a tin roof) directly into your baby's ear to allow him or her to be soothed without disturbing anybody else. By holding the Gro-hush to your baby's ear you are also blocking out some of the noise from the surroundings that could be distracting. There are no other white noise machines like this on the market. The sounds are set to a safe level that cannot be changed and play for 10 minutes before turning off.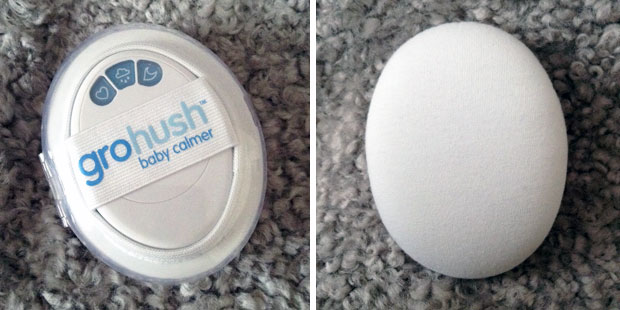 The Gro-hush comes with a sturdy and protective travel case to keep it clean and protected when out and about and when not in use at home. The Gro-hush is quite small (it only weighs 107 grams with batteries) and will easily fit in a changing bag or handbag. It has a washable cushion cover made from super soft jersey cotton.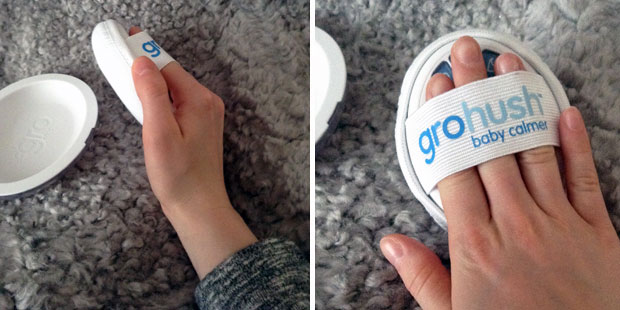 On the back, there's a large elasticated band so that you can comfortably hold the Gro-hush to your baby's head. You can also reach the three buttons for the three different sounds while you are holding it.
The Gro-hush is suitable from birth and probably most effective on young babies because they don't move as much. My baby will be a year old soon and we have tried it on her. She doesn't like having anything on her head so it took some time for her to get used to it. I noticed that, for her, the Gro-hush worked better to keep her asleep or get her back to sleep after stirring rather than getting her to calm down in the first place. Like a sleep-extender or calm-extender. I'm happy with this result! I'm sure younger babies will find this wonderful gadget soothing as part of a bedtime routine.
I love that it's so easy to use, that it comes with a case and the amazing fact that you can play white noise that ONLY your baby can hear and that will not get drowned by other noises. Perfect for settling your baby in a noisy and busy environment.
The Gro-hush retails at £34.99 but can be bought on Amazon where it is often cheaper.
I was sent the Gro-hush for this review. As always, all my reviews are 100% honest and all thoughts and opinions are my own.