HAMSWAN KP-1506 Personal Blender Review + Smoothie Recipes
|
HAMSWAN KP-1506 Personal Blender Review + Smoothie Recipes
If you follow me on Instagram, you might have seen me mention that I've been iron deficient recently and am doing everything in my power to keep my iron levels up by eating healthily. My husband is also on a bit of a health kick so together we are adding healthy smoothies to our diet to increase our intake of fruit and vegetables.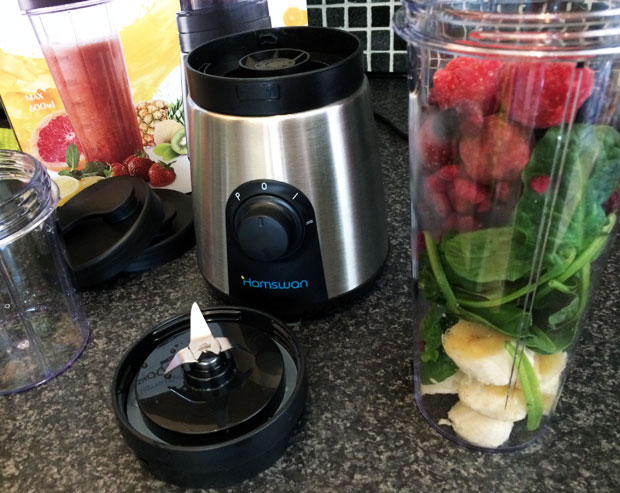 We have a new smoothie maker from HAMSWAN which is perfect for the job. The HAMSWAN KP-1506 Personal Blender is a compact but powerful blender to use at home. The base is made from durable stainless steel which looks great and the blender comes with two cups of different sizes that you can also use as travel cups if you want to take your smoothies with you on the go. You get travel lids for both cups too. All parts are BPA-free, of course.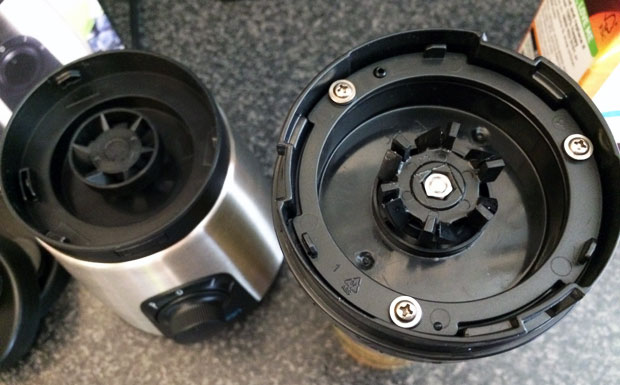 The blender has sharp 2-leaf removable blades that are easy to clean. You screw the bit with the blades onto one of the cups then turn the whole thing upside down and attach to the base. Easy! The blades are strong and can tear through even the toughest ingredients like leafy greens, stems, ice cubes and frozen fruit and berries.
The speeds and settings are easy to control with dial at the front of the blender. There are three settings to use to achieve whichever texture you prefer. The Pulse option is great for breaking down those tougher textures like leafy greens and frozen berries and the other two speeds (Low and High) are great for achieving a smooth smoothie!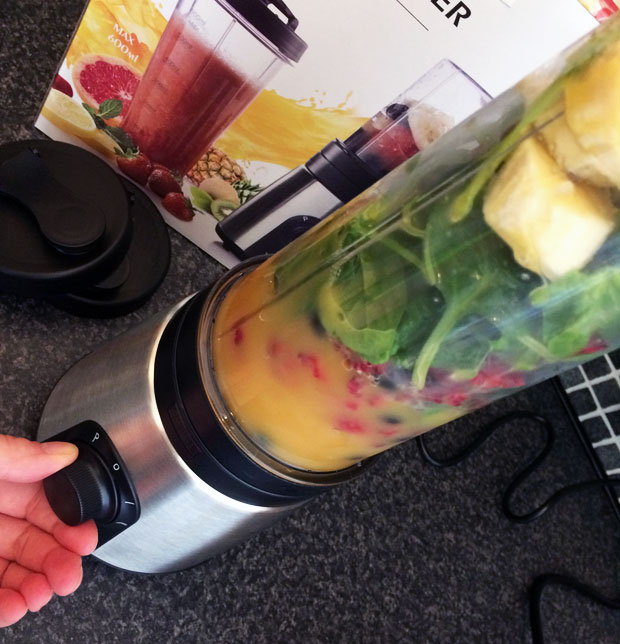 You can put all your ingredients in at once, but if you have something frozen in it, you might need to take the cup off and shake it a bit halfway through. Not a problem at all. I usually blitz the tougher textured ingredients on their own with the liquid first, then add softer things and blend until smooth. If you put everything in at one, put any frozen or tough things closest to the blades.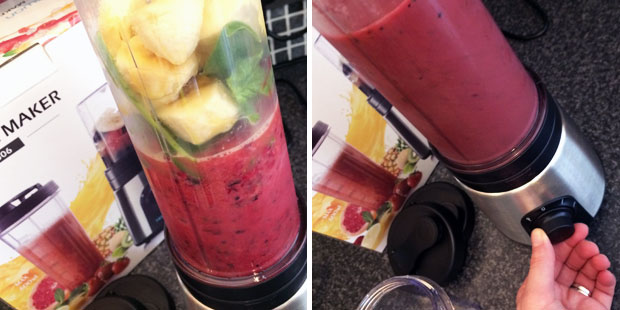 I'm really pleased with this blender! It's so easy to use and it's so powerful too! It's ideal for our needs. I also appreciate the compact and stylish design as we don't have much space in our current kitchen. I don't mind having this blender out on our worktop at all. We use it every day so that's where it should be.
The HAMSWAN blender is also really easy to wash. I rinse it out straight away after each use which makes it a breeze!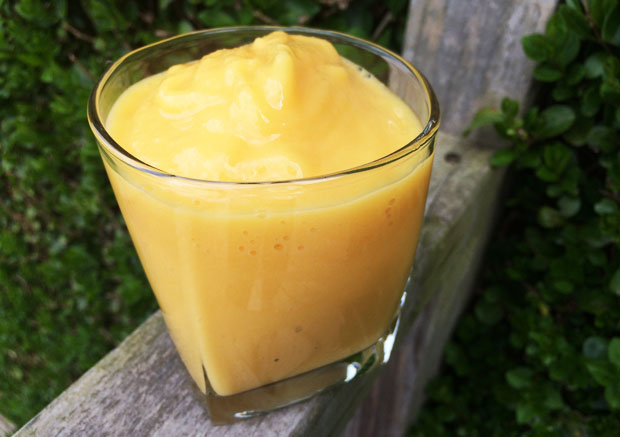 Let's have a look at the smoothies we have enjoyed recently. They all make two servings.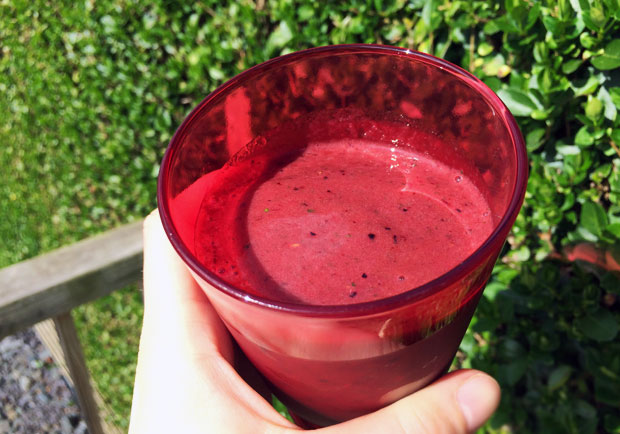 Iron Booster
This iron boosting smoothie is the first one I tried to make. I'm trying to eat a lot of the things that are good for my iron levels and this smoothie is ideal for the purpose. It's been approved by a professional dietician too (my sister!).
Ingredients: 2 handfuls of fresh baby spinach, 1 cup of mixed frozen berries (strawberries, blueberries, raspberries, blackcurrants, redcurrants), 1 banana and orange juice.
Start by blitzing the spinach with the juice (fill the blender about half way up with juice), then add berries and bananas and more juice or some water if you want a thinner consistency. Use the Pulse setting to break down the frozen berries, then blend until smooth.
Tropical Sunshine
This is my go to one when it's sunny outside! It's full of tropical flavours and simply goes wonderfully with a sunny, warm summer day.
Ingredients: 1 banana, 1 cup of frozen tropical fruit mix (pineapple, mango, papaya), 2 tinned peach halves and orange juice (the amount depends on how thin or thick you like your smoothie).
Blitz the frozen fruit with the juice using the Pulse setting, then add the rest and blend until smooth. If you make it extra thick by adding more fruit or less liquid, you can eat it with a spoon like a sorbet! Enjoy outside in the sunshine!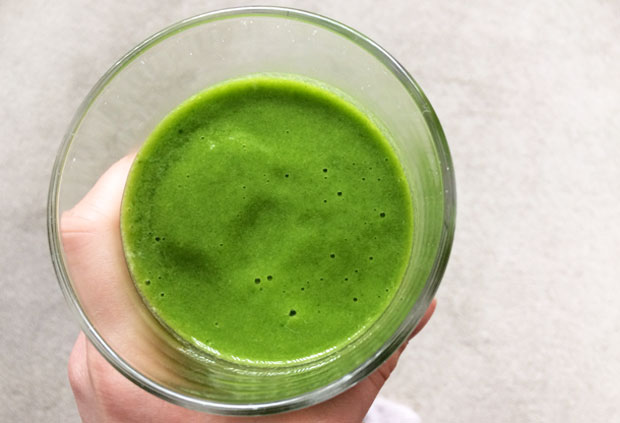 Green Machine
Ingredients: As much baby spinach as you can fit into the large cup (about 4 handfuls), orange juice or carrot juice (or a mixed juice containing carrot – I like one that's got carrot, peach, orange and pineapple juice), ½ cup of frozen tropical fruits (pineapple, mango, papaya). Again, adjust the amount of juice depending on what thickness you prefer.
Blitz the spinach with the juice on the Pulse setting. Add the frozen fruit, blitz again, then use the regular settings to blend until smooth. This is a lovely way to eat a lot of spinach for breakfast!
Buy you HAMSWAN KP-1506 Personal Blender from Amazon.co.uk.
This product was provided to me for this review and I've been compensated for my time. As always, all my reviews are 100% honest and all thoughts and opinions are my own.