Hand Washing Dishes The Eco Friendly Way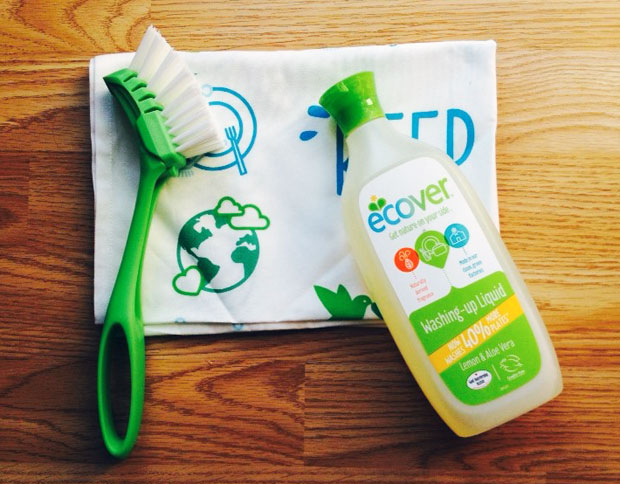 Hand Washing Dishes The Eco Friendly Way
Dishwashing is an everyday task that is easy to make more eco-friendly. One of the first things to remember is to try to use as little water as possible. You can do this by scraping food off the plates before washing and pre-soaking really dirty dishes. You are, of course, using water for soaking but that means less water later when you are actually washing the dishes.
If you have a double sink, you can fill up both parts with water and add detergent to the one that you use for washing the dishes and use the other one for rinsing. Replace the washing water if it gets too dirty.
Choose a natural and eco-friendly dishwashing detergent, like Ecover. The new and improved washing-up liquid from Ecover now washes 40% more plates than before and that's still without any unnecessary chemicals. The beautiful fragrances are naturally derived, the products are made in clean and green factories and packaged in recycled bottles that are designed to be refilled.
There are lots of nice scents to choose from. We've been trying the Lemon & Aloe Vera one and it's so fresh and lovely! It's very efficient too and it doesn't dry my hands out like most washing-up liquids do. The ingredients are 99.8% plant based.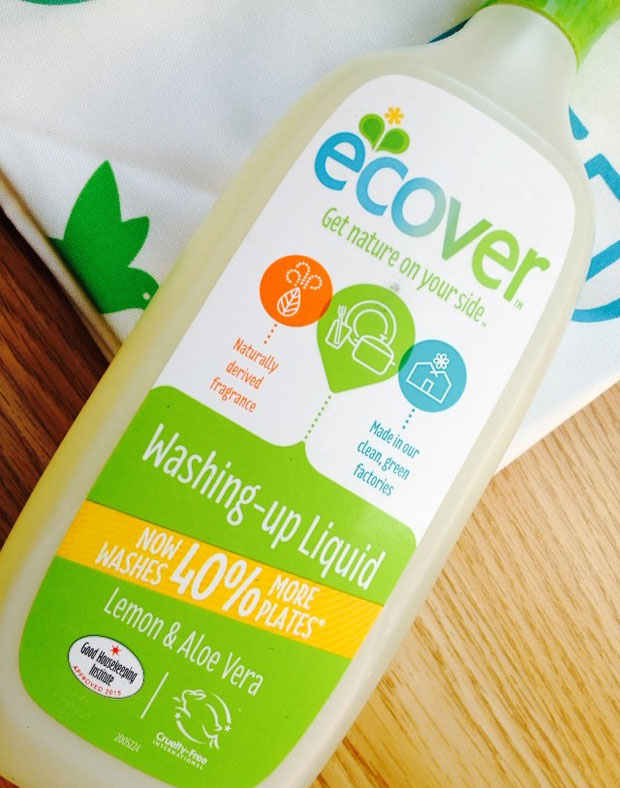 It's also important to think about the tools you use to wash your dishes. Ecoforce is a brand that makes recycled household products and their range includes both sponges and dish brushes. Their eco-friendly brush is made from 70% recycled materials and great for scrubbing dishes, especially oven dishes and stainless steel pans. The brush head is really sturdy and tough and when it's worn out you simply replace it with a refill head but keep your handle. The handle itself is ergonomic and made from 89% recycled materials.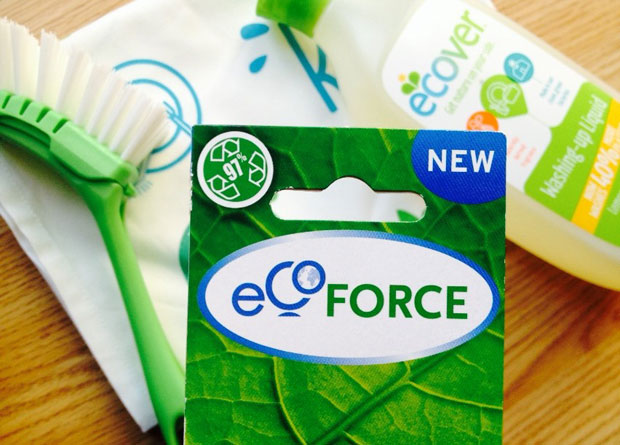 Ecover products are available from most supermarkets and can also be bought online from Amazon.co.uk. There are so many great sounding products for all kinds of household jobs and personal care, too. I'll be checking them out! I know the laundry detergent is brilliant because I've used that many times before.
Ecoforce products are available from many supermarkets and household shops and also from Amazon.co.uk.
I received the products in these images as a gift. As always, all my posts are 100% honest and all thoughts and opinions are my own.