Hape DJ Mix & Spin Studio Review
|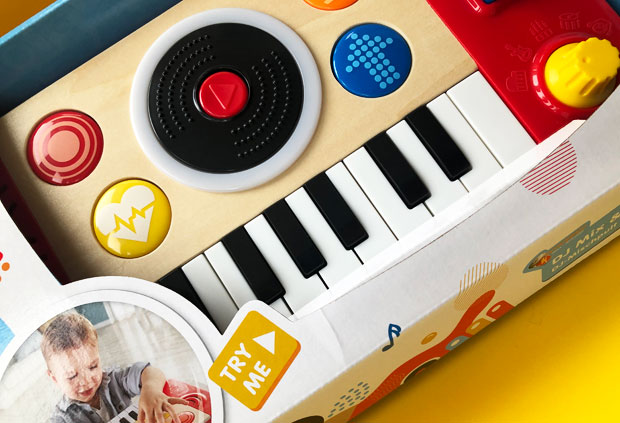 Hape DJ Mix & Spin Studio Review
Kids absolutely love musical toys because they're creative and fun! Us parents might find them annoyingly noisy at times but there's no doubt that they provide lots of entertainment value and a great creative outlet for children too.
My toddler has a new favourite toy, and it is one that her big sisters want to borrow all the time too. Say hello to the new Hape DJ Mix & Spin Studio!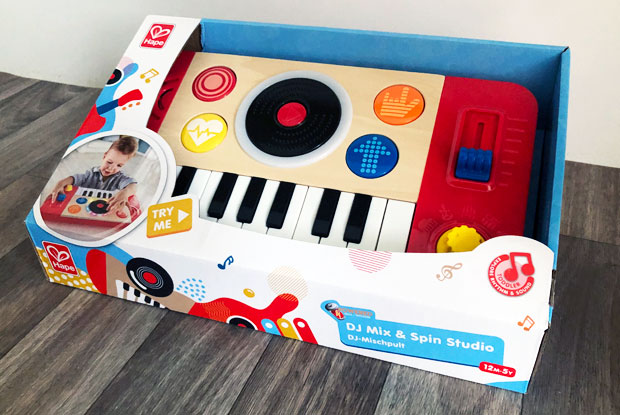 It's a portable deck complete with a good-sized keyboard, a scratch-pad (with colourful rainbow lights that flash along to the beat!), a tempo & pitch slider, five background tunes and four DJ sound effects. It's also got 4 instruments (piano, guitar, organ or drums) and 18 different quirky sounds that can be played via the keyboard. It's got two volume levels as well so that you can control how loud the party gets – a very important feature for parents.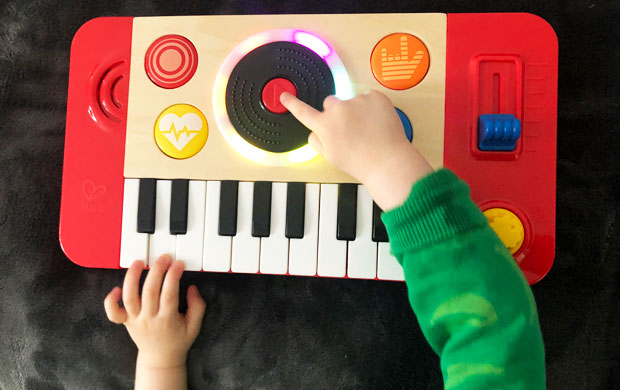 The Hape DJ Mix & Spin Studio comes complete with batteries installed (3 x AA) so that little ones can get started playing straight away.
It's a great toy that's fun for a wide age range. It's suitable from 12 months onwards and children of different ages can use it in different ways. The size of the DJ Mix & Spin Studio is great – it's big enough to fit a decent sized keyboard and all the other bits but still small and lightweight enough for toddlers to move around.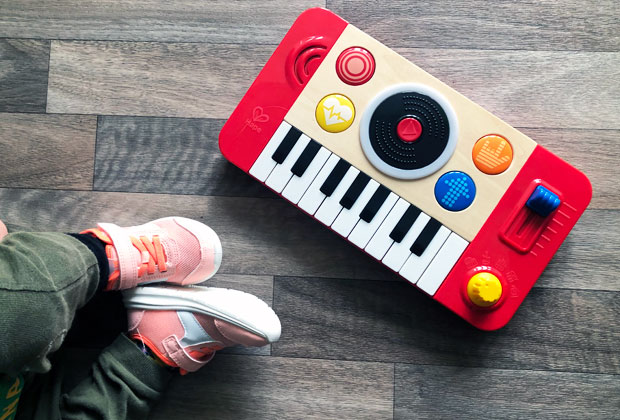 Younger toddlers will enjoy pressing all the buttons and listening to the quirky sounds (the silly mode has 18 funny sound effects, including a beeping horn, lots of animal sounds and a trumping noise!) and listening to the music. Older toddlers will have fun exploring all the different settings, sounds, rhythms and melodies. Older kids can really get into the DJ mixing and composing, creating music to enjoy.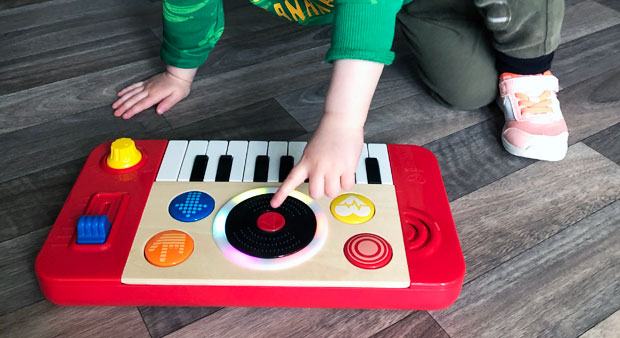 They can also use the keyboard as a classic piano and learn to play well-known nursery rhymes with the help of the colour coded music book and sticker notes that you can put on the keyboard keys. We put ours on a piece of cardboard from the packaging that we can place in front of the keys. My older two girls love learning to play new songs on this toy!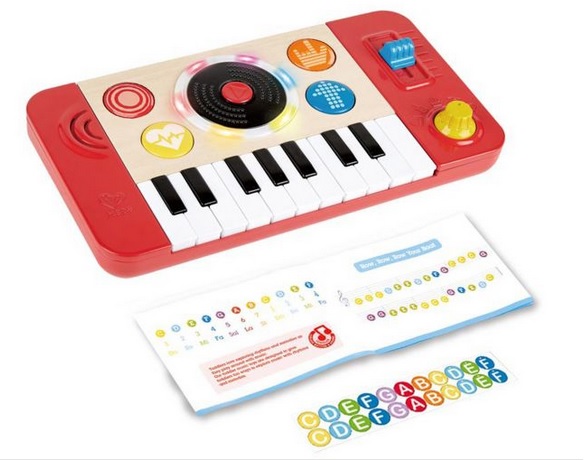 All three of my girls (aged 2, 5 and 7) absolutely love this toy! It officially belongs to my toddler but as soon as the big girls get a chance, they head over to borrow it.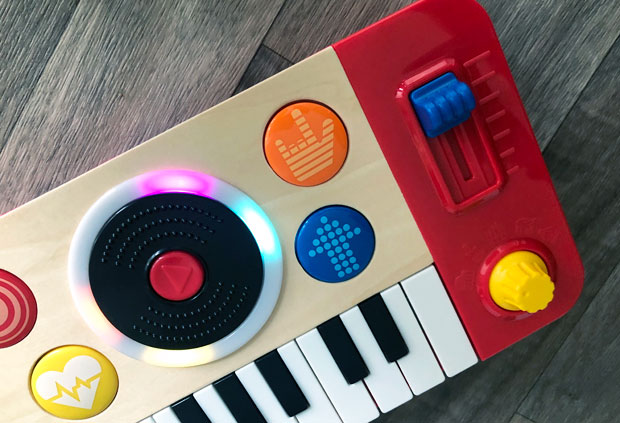 Hape DJ Mix & Spin Studio is available from Wicked Uncle and selected stores.
This toy was gifted for this review. As always, all my reviews are 100% honest and all thoughts and opinions are my own.