Harry & Rose Organic Luxury Baby Skincare Products Review
|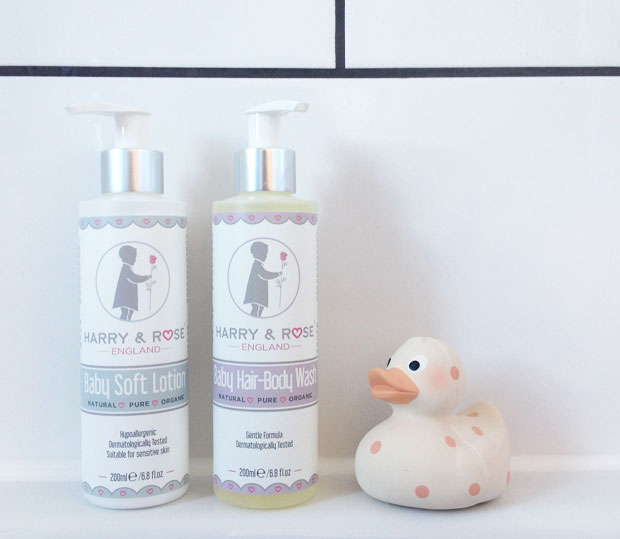 Harry & Rose Organic Luxury Baby Skincare Products Review
I love skincare and finding new lovely products for myself and my daughters. Harry & Rose is a new baby skincare range made in England. The luxurious range consists of three products — a Baby Soft Lotion, Baby Hair-Body Wash and Baby Bubble Bath.
Harry & Rose support British quality manufacturing and use sustainable, safe, natural and organic ingredients. All the packaging is recyclable but still high quality, beautiful and luxurious. The products are natural and pure, made for the sensitive skin of babies and don't contain any parabens, phthalates, SLS/SLES, dyes, mineral oils, fragrances or allergens. They're also hypoallergenic and have not been tested on animals.
The plan behind the brand was baby skincare products that are luxurious and made from the highest quality ingredients but at the same time are affordable enough to use daily — products that don't just do the job but that make bathtime a bit more special.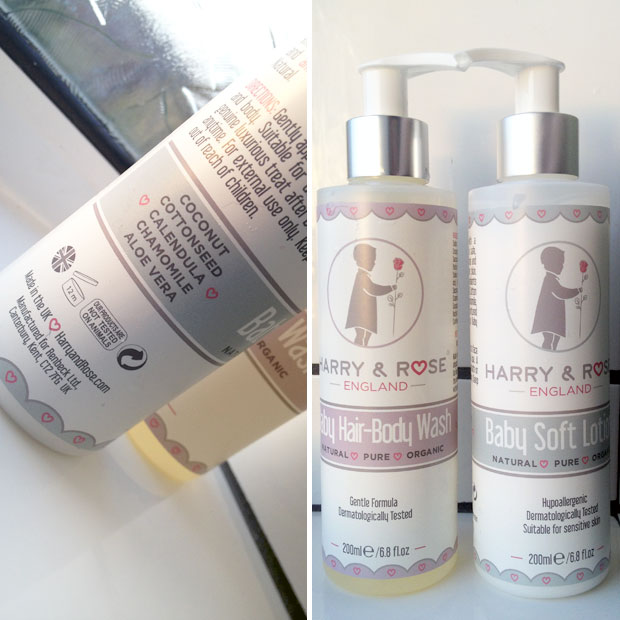 "As a mum, I love my beautifully formulated creams and lotions. The silkiness of a top-end product, a scent that lasts, the softness of my skin — it's a few minutes of luxury that help me feel good all day long.

With Harry & Rose, your little one — who loves to be touched and to discover soft scents – can also experience this luxurious relaxation."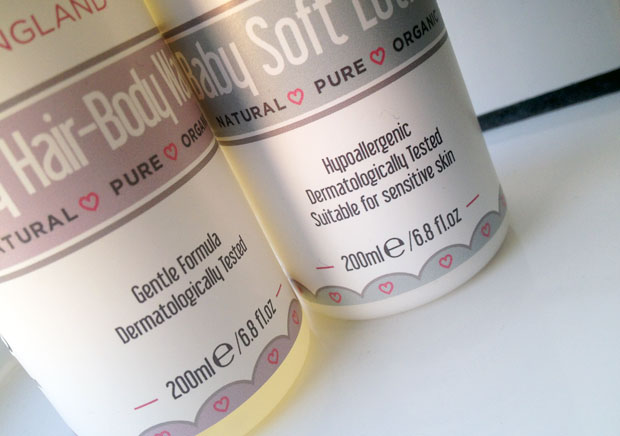 As parents, we of course care about what goes into our babies bodies via food and drink or through the skin. I try to use products that are natural and organic as baby skin is very delicate. Harry & Rose products have a gentle pH level that helps preserve the skin's natural balance to help keep it soft and supple. The products can be used daily and are suitable for all babies and children — even newborns and babies with sensitive skin.
Harry & Rose products contain natural ingredients that are safe and effective and have been properly tested and used for a very long time due to their properties.
You'll find these ingredients in the product range:
Coconut to keep skin moisturised. It's suitable for all skin types and protects against rashes, eczema, patches of dry skin, dermatitis and cradle cap.
Calendula has amazing anti-inflammatory and antibacterial properties and is very soothing and healing on eczema flare-ups and dry skin.
Sweet almond is rich in emollients and great for sensitive skin. It also adds a lovely sweet and natural scent!
Aloe Vera is a wonderful moisturiser and works beautifully on eczema and rashes.
Cottonseed is an oil that nourishes and protects the skin whilst also retaining moisture. It's an excellent ingredient to treat dry and damaged skin.
Chamomile is a plant that soothes skin rashes and is gentle on sensitive skin.
Sunflower oil is a great source of Vitamin E which is nourishing, calming and hydrating for all skin types but especially suitable for newborn skin and eczema.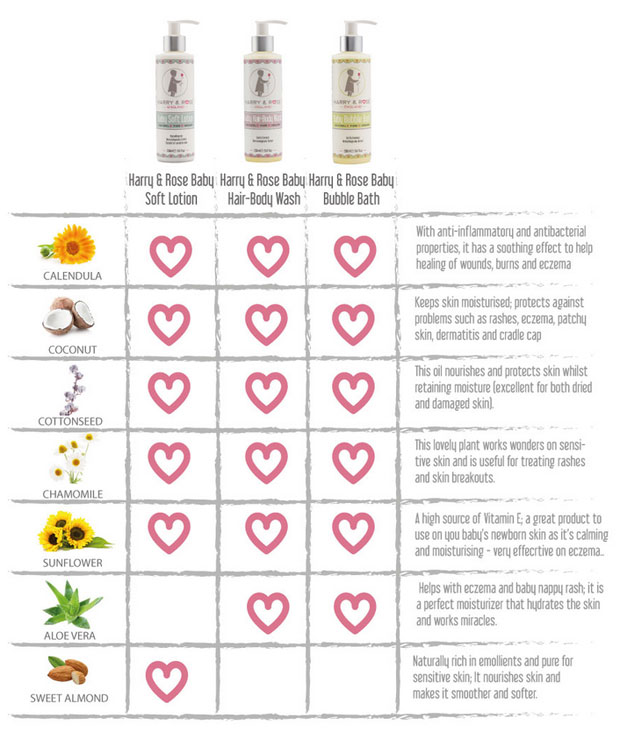 We are currently using the Baby Hair-Body Wash and the Baby Soft Lotion on our 10-month-old baby girl.
The Baby Hair-Body Wash is a natural and soothing all-in-one product that you use to wash your baby's hair and body. It helps soothe dry skin, itchiness, eczema and cradle cap and the gentle no-sting formula cleanses and moisturises your baby's skin leaving it really soft.
It can be used daily and on all skin types. The allergen-free scent is amazing and the formula produces a gentle lather that cleanses my baby's skin beautifully! It's a pleasure to use and I love that it's one product for all needs. It creates soft bubbles too which my baby loves to play with as I wash her hair and body.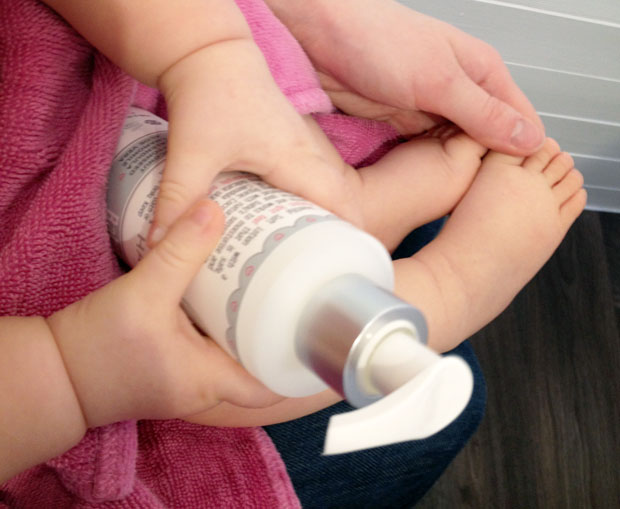 My youngest daughter has good skin overall, but recently developed a small rash on her leg and shoulder. This wash has not aggravated her skin at all — it's just gentle, soothing and hydrating.
I don't put cream all over my baby after her bath but do moisturise these dry patches that she's developed to help get rid of them and ensure they don't get worse. Usually I go for a balm or a thick cream but now we're using the Harry & Rose Baby Soft Lotion.
It's a lovely lotion that is light but effective and absorbs into the skin quickly leaving it soft and protected but never greasy or with a residue. This is a must for me when using a lotion. It needs to be quick and easy to use on a wriggly baby and not be sticky or messy. It ticks all the boxes!
Clean babies always smell amazing but Harry & Rose products make them smell even more wonderful — without covering their natural baby scent.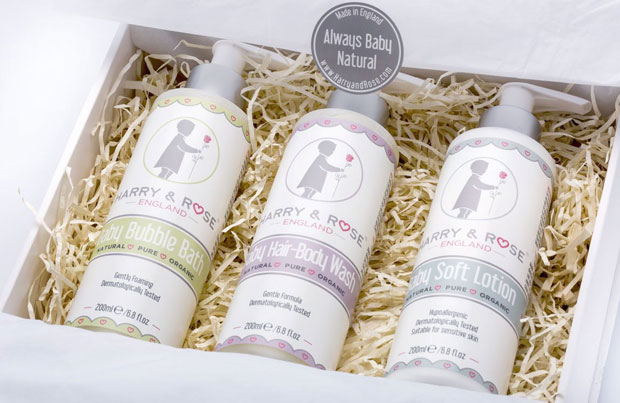 I love that the products come in attractive packaging that you want to keep on display. The pumps are easy to use, hygienic and ensure you don't use too much product.
The Harry & Rose products cost £6.90 each for 200ml bottles and are also available in gorgeous gift sets. These would make perfect presents for a baby shower or a new baby. You can see all the products and gift sets here.
"We believe that what goes on your baby's skin should be lovingly formulated and of excellent quality."
Collaborative Post. As always, all my reviews are 100% honest and all thoughts and opinions are my own.