Healthy Vegan Snacks for Children & Busy Parents (that are tasty too!)
|
Healthy Vegan Snacks for Children & Busy Parents (that are tasty too!)
Snacks can often be the key to keeping children (and busy parents!) in a good mood and avoiding anyone feeling hangry… But it can be hard to make healthy choices when hunger kicks in or convenience becomes a priority so it's a good idea to have some healthy options available at home for a quick snack or to enjoy on the go.
In this post, I'll share a few new healthy vegan snacks that my family is enjoying. Some are for kids, some are for adults and some are for everyone but what they have in common is that they're all healthy, vegan and tasty too.
My Little Piccolo Mighty Banana & Cocoa Oaty Bars
This is a new addition to My Little Piccolo's snack range and is a healthy and delicious snack for kids. These handy bars are high in fibre and packed with natural, nutritious ingredients. They're suitable from 1 year onward and are vegan, gluten-free, palm oil free and low in salt and sugar too. Most importantly, the kids absolutely love them and they're so easy to enjoy on the go. Since they're nut-free too, they can go in lunch boxes for school too. 10% of profits from the sales of these are donated to charities supporting local families.
When you think about snacks for kids, seeds are not usually the first thing that pops into your head but once you've tried Munchy Seeds, they might be! Munchy Seeds make tasty 25g snack packs with roasted seeds. Seeds are super nutritious and packed with protein, iron, fibre, vitamins and minerals so make a healthy snack. These packs are very handy for on the go (or packed lunches) and can also be used in recipes (I made pesto with one pack the other day!) or sprinkled over yoghurt, for example. They come in a range of yummy, toasted seed mix flavours: Mega Omega, Honey Roasted, Sweet Chilli, Warm Cinnamon, Salted Caramel and Mild Chili.
We love them all but the kids are especially fond of the Honey Roasted, Salted Caramel and Warm Cinnamon flavours. They're available to buy from Sainsbury's, Waitrose and Ocado and Munchy Seeds also make Sprinkle packs, Mega packs and Bumper tubs. Also available online from the Munchy Seeds website and Amazon.co.uk.
Here's one for the busy parents! I'd found myself reaching for a chocolate bar for that mid-morning slump that always happens when life is hectic. It had become a bad habit and one I was looking to replace. I don't calorie count or diet but I wanted something that was a healthier option with more nutritional value.
The vegan protein bars from VTMN (a new UK based food supplement company who develop and market clean, ethical, science-led products) are a perfect snack for parents like me who are looking for a healthy and filling snack for themselves. Parents often forget about themselves as they prioritise the kids but it's important to feed ourselves properly and make healthy choices for ourselves too.
I'm pleased to say that VTMN Lean Protein Bars taste amazing! They definitely feel like a treat but contain just 1g of sugar, lots of plant protein (17g per bar, from wheat, pea and rice) and are high in fibre too. Much more filling and much more nutritious than a chocolate bar but still very enjoyable with a coating of real dark chocolate.
Last, a chocolatey treat for the whole family but one that's healthier than most chocolate brands. Happi makes oat milk chocolate that is dairy-free and vegan and also lower in sugar compared to other chocolate brands.
Happi chocolate is 100% natural and made with gluten-free oat milk and sweetened with rice syrup which means it's got 35% less sugar compared to the mass market brands. The chocolate is rich and creamy and made using 47% single origin chocolate sourced directly and ethically from farmers and growers.
Happi chocolate bars are available in five delicious flavours: Plain Happi, Cacao Nib Crunch, Salted Caramel, Orange and White Chocolate and in chocolate buttons too. Our favourite is the Salted Caramel one.
Another big plus is that the fun packaging is sustainable, and Happi also gives 1% of its annual net sales revenue to youth projects and mental health organisations. Happi chocolate is available from Selfridges, Ocado, Amazon.co.uk and local independent retailers.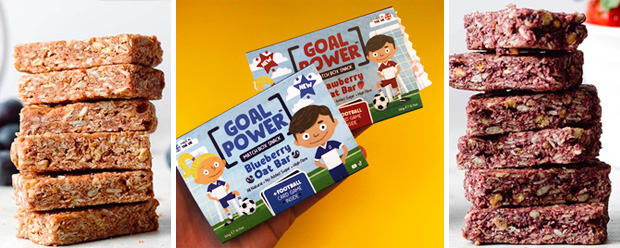 Here's another snack for kids. Goal Power bars are a brand-new snack brand for children with a focus on getting children active.
The snack itself is a delicious and nutritious oat bar available in Strawberry and Blueberry. The bars are made with British wholegrain oats, creamy coconut, dates, pea protein, crunchy sunflower seeds and fruits and my kids absolutely love them! I wasn't sure if my picky eldest would like the berry flavours, but she is a big fan. The all-natural bars do not contain any added sugar, are high in fibre, free from nuts, gluten and palm oil and vegan too.
Perfect for lunch boxes and snacks on the go to keep energy levels up. Each pack also contains cards to use for a fun football game, with football facts and skills to learn. Lots of fun for kids and healthy and yummy too!
Safe + Fair Sea Salt Protein Chips
We all want the very best for our kids, and if we can find snacks that are wholesome and delicious, without any nasty surprises. That's why we love Safe + Fair pea chips, made from real, plant-based ingredients, and packed with protein, fibre and essential vitamins to keep them charging through their day.
One of the things I absolutely love about Safe + Fair is their dedication to maintaining the utmost in quality and transparency – all their goodies are free from common allergens like dairy, gluten, soy and nuts, making it so much easier for parents to provide stress-free options for kids with allergies or dietary restrictions. The dedicated allergen-free facility they use is a giant tick, too!
The pea protein chips are a favourite for us because it gives us an easy-peasy way to ensure that the kids are getting a good serving of protein through a snack that's more like a moreish treat. They come in three flavours; Sea Salt, Sweet Jalapeño and Hickory BBQ – Sea Salt is the favourite for many!
Hope you've found some new healthy vegan snacks to try out after reading this blog post.
| Collaboration. This blog post features some product samples that were kindly gifted to us. As always, all thoughts and opinions are my own.