Higher Nature Organic Flax Seed Oil From JG Supplements Review
|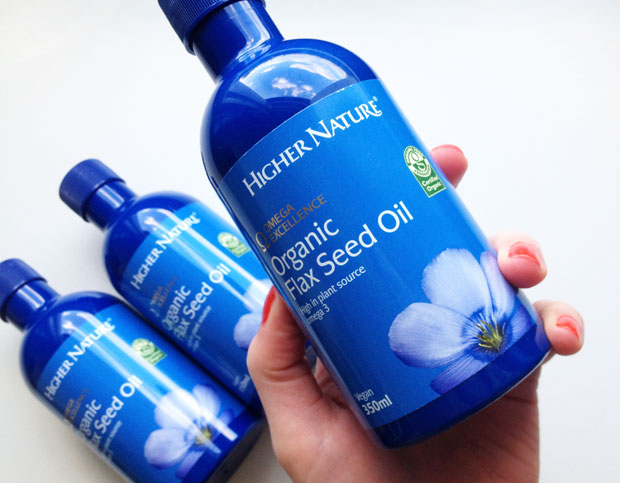 Higher Nature Organic Flax Seed Oil From JG Supplements Review
For the past couple of months, we've been trying out a new flax seed oil supplement that I ordered from JG Supplements. I usually take a flax seed oil supplement in capsule format and this is the first time I've used it in liquid format.
Flax seeds are full of omega 3, 6 and 9 fatty acids and are a brilliant vegan way to get these healthy fats into your diet. This 100% organic flax seed oil is unrefined, cold-pressed and cholesterol-free. It has a pleasant nutty taste. You can use it as a salad dressing, drizzle it onto vegetables, eat it straight off a spoon or mix it into other foods. I like to put my daily 5ml spoon into my breakfast porridge, mix it into a yogurt or add it to a smoothie. This product is suitable for the whole family and I add it to my daughter's evening milk too on the days I don't use her other omega supplement. Though it's an oil, it is not suitable for cooking as that damages the healthy fats.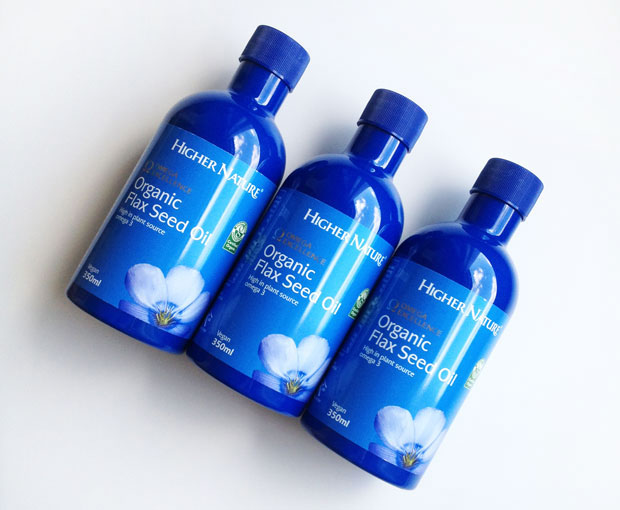 One teaspoon contains 2890mg Alpha-Linolenic acid (Omega 3 EFA), 585mg Linoleic acid (Omega 6 EFA) and 720mg Monounsaturates (Omega 9 FA). The recommended daily amount it 1-2 teaspoons for adults.
The oil comes in a 350ml bottle and contains enough for 35-70 days depending on if you take one or two teaspoons per day. It should be used within 6 weeks from opening so if you only take one teaspoon per day, you might not be able to finish the bottle before the oil goes off. Then the capsules or ground seeds might be a better option for you. Flax seed oil should be stored in a cool and dark place and in the fridge after opening.
One 350ml bottle of Higher Nature Organic Flax Seed Oil costs £11.90 from JG Supplements. The company is UK based and specialises in nutritional supplements, health and whole foods. They stock a wide range of health products to suit all needs and their large buying power makes sure their prices are highly competitive so that they can provide the very best health products at the most affordable price. Great customer service and a smooth shopping experience are high priorities for JG Supplements. The website is easy to use and the different product pages contain all the information you need. You can check out using PayPal for added protection and security which is an aspect that I always appreciate.
We were sent these products for this review. As always, all my reviews are 100% honest and all thoughts and opinions are my own.