Hippy Paste No Nasties Natural Deodorant Review
|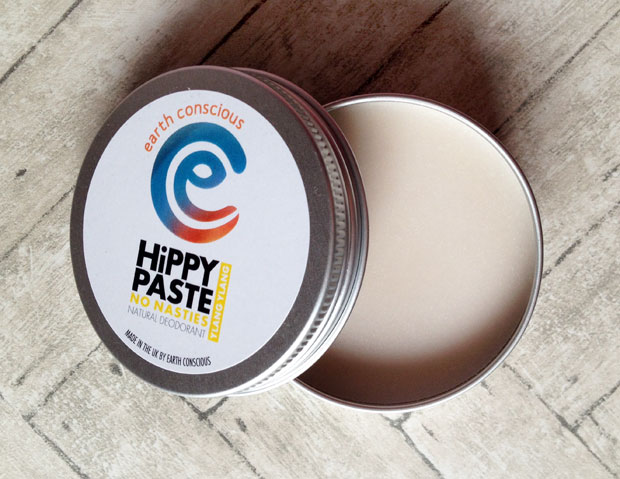 Hippy Paste No Nasties Natural Deodorant Review
Earth Conscious is a brand that you might have read a lot about on this blog. They used to make and sell lots of different eco-friendly products but have now decided to focus completely on their natural deodorant. They have released a new version under the new name Hippy Paste and it's now available in lots of different scents. I've used their previous deodorant and loved it so I was very eager to try this new version.

There are two main reasons why choosing a natural deodorant is a good idea — for your health and for our planet.
Health: It's not just what goes into your body that counts, what you put on it is very important too. Regular antiperspirants work by releasing aluminium into your body which then sits in your skin. When sweat meets the aluminium, it reacts and forms a barrier that blocks the sweat from coming through which results in the toxins from the sweat going elsewhere instead of leaving the body as they should. The armpits are full of lymph nodes and so close to our sensitive breast tissue so this can't be good for us. Natural deodorants like Hippy Paste will not block your sweat pores but still ensure you smell fresh.
Environment: The products we use and put on our body either get absorbed by us and reaches our bloodstream or gets washed off and if it's bad stuff can infect our waters. One ingredient that is commonly found in deodorants is Triclosan which is highly toxic to marine life and believed to have a devastating effect on our eco systems as it's been found in the bottom of the food chain, in algae. When people eat seafood, they end up eating these toxins too.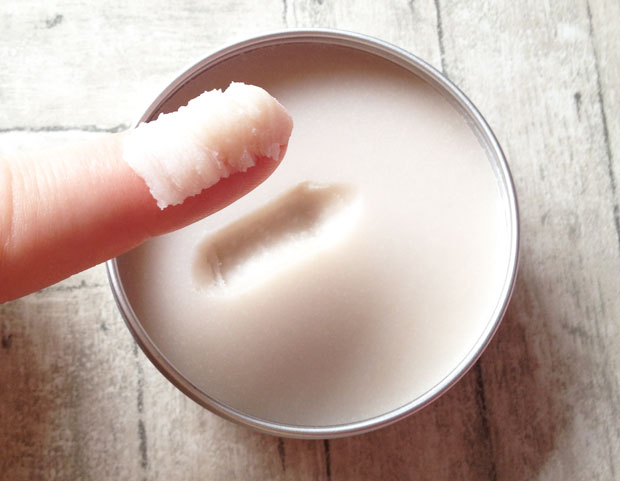 Good news! You don't need to choose between an efficient deodorant and your and our planet's health. We can have it all! Hippy Paste comes in a cute metal tin and is made from 100% natural ingredients and nothing else. This natural deodorant does not contain any aluminium, parabens, palm oil, carcinogens or toxins and poses no danger to marine life when washed away. It's kind to your skin and your body and is completely environmentally friendly. Of course, it's not been tested on animals. It's so natural, it's even edible! I'm not recommending that you eat your deodorant, I'm just highlighting the purity of this product.
Hippy Paste is a creamy paste that's easy to apply. I use my finger to scrape a bit out onto the top of my nail — I use about one nail's worth and that is plenty for both armpits. You just use your fingertips to rub it in and then you're good to go. Since the product contains coconut oil, the texture changes slightly depending on the temperature. If it's cold it gets firmer and if it's warm it gets softer.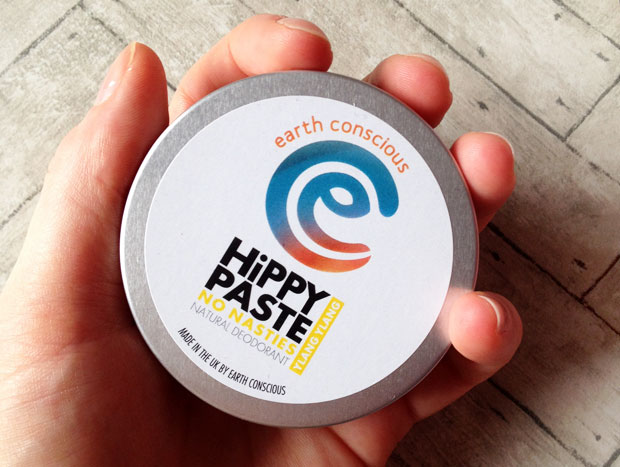 I'm currently using the scent Ylang Ylang which I love! It's fresh and relaxing. The other scents available are: Citrus, Lavender, Mint, Pure and Tropical. They only cost £5.00 each which is amazing for a product that is handmade in the UK, completely natural and that really works. One tin lasts ages, too. Plus, you even get free delivery when you order four or more deodorants.
I'm so glad that Earth Conscious is back with their brilliant, updated deodorant! It's an amazing product that is kind to my sensitive skin and keeps me fresh without the need for any nasty chemicals. I highly recommend Hippy Paste! I can't wait to try the other scents, too.
Read more and buy here.
I was sent this product for this review. As always, all my reviews are 100% honest and all thoughts and opinions are my own.