Homeware Christmas Gift Ideas | A Christmas Gift Guide 2018
|
Homeware Christmas Gift Ideas | A Christmas Gift Guide 2018
This week, I'm focussing on Christmas gift guides and this is the first one to go live this year! I'm very into homeware myself (and always have been) and believe that gifts for the home can make the perfect Christmas presents. Homeware gifts are great to give to friends and family who have recently moved to their first home or a new home, who love cooking and baking or who are simply into interior details and homeware.
There are lots of different products out there to suit different budgets, interests and tastes and, for this gift guide, I've selected a few of my favourites for this year: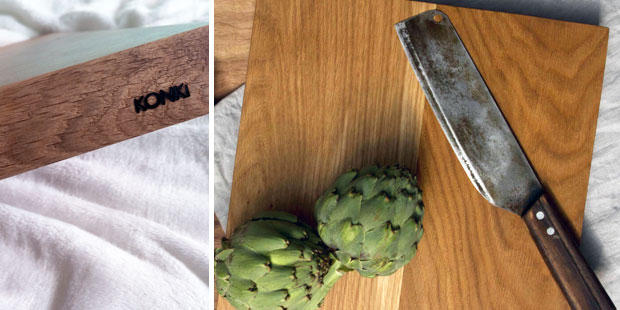 A Sustainable & Eco-Friendly Choice
The 'Klonk' Large Chopping Board (£29.00) from Wearth London is a stunning, chunky wooden chopping board. A board like this should be a staple in all kitchens! This one is handcrafted in Bristol from the workshop's leftover wood from Konk's sustainably sourced European Oak furniture. It's a beautiful piece full of character and personality as each one is made to order making it truly unique. The size is 350mm x 320mm x 30mm and the board is great for chopping or serving things like bread or cheeses. Check out the rest of Wearth London's website for lots of independent, natural, organic, sustainable and ethical UK brands and gifts.
I love using baskets for storing my children's toys and things as they make these items easily accessible to the kids and also makes tidying up easier. They're also stunning to look at and make a great addition to your home. These Lorena Canals Leaf Baskets (£40.00 each) from reroom.co.uk, who specialises in childrens interiors, are so beautiful and stylish and a great size for toys, blankets or even plants. They're made from 100% recycled cotton and have a hand-crafted leaf and tassel detail that makes them extra special. The baskets are machine washable and made with non-toxic and non-polluting dyes which makes them great for children and environmentally friendly too.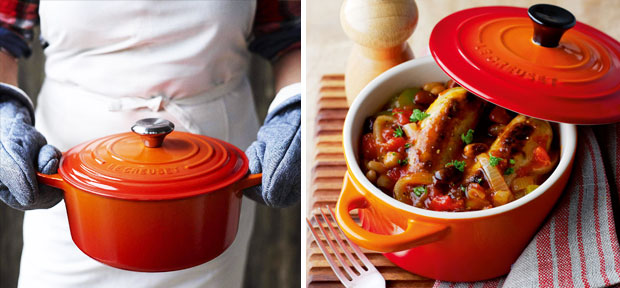 A Long-Lasting Kitchen Classic
Anyone who's into cooking or baking would be over the moon to receive a classic gift from Le Creuset. They make lots of beautiful high quality cast iron pans and casseroles, ceramic pots, bakeware, kitchen accessories and more in a stunning range of colours. I've had a ceramic casserole from Le Creuset for a few years now and I love it so much! This year, I'm planning to treat myself to one of their cast iron pans or casseroles. The Le Creuset Signature Cast Iron Round Casserole, 24 cm in Volcanic (£173.08) is available from Amazon and in homeware stores.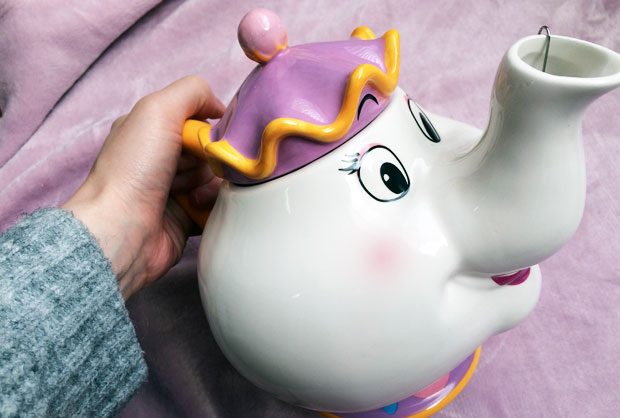 It's no secret that many adults still love Disney films and Beauty and The Beast is extra popular at the moment with the new release of the live action version of this classic Disney film. If you have a tea and Disney loving friend or family member, this adorable Mrs Potts Teapot (£29.99) from MenKind.co.uk would make a lovely gift! You could use it for decoration but it's a fully functioning, very large teapot, complete with a wire funnel filter. There's also a Beauty & The Beast Chip Mug (£9.99) to match.

I love books! I love to buy them, to read them and to display them in my home. Stylish bookends like these Arc Bookends (£20.00 each) from AnthologyFive make it easy to display books anywhere in your home without a designated book shelf. They're ideal for displaying the books you're currently reading or your personal favourites. They're available in this wonderful bright yellow which gives you an amazing pop of colour and also in classic white for more minimalist homes.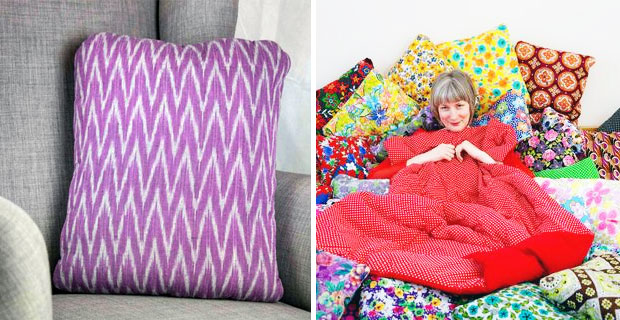 Comfort, Cosiness and Empowerment
Secret Projects empowers women in India through the making and selling of clothing and homeware. Their range includes a product called Secret Pillow (£50.00) which is a pillow that unfolds into a blanket. There are lots of stunning designs, patterns and colours to choose from that will suit different homes and styles and it's a lovely thing to do to give a gift like this that also supports such an important cause. All Secret Projects products are made and sold to empower women in India with a 4 stage Training for Empowerment Programme. 
Hope you've enjoyed these homeware Christmas gift ideas!
Some of the featured items are PR samples gifted for this gift guide.