How The Right Lighting Can Help You Sell More In A Kitchen Showroom
|
How The Right Lighting Can Help You Sell More In A Kitchen Showroom
A successful kitchen showroom must have good lighting. Without proper lighting design, the showroom won't appeal to clients, who will then be less likely to buy from you. At our kitchen showroom in North London, we optimise our lighting for the best customer experience. Our speciality is Italian kitchens and we play up our best features with our lighting.
Here are our best tips on using lighting to help you sell more in the kitchen showroom. Obviously, you can use these tricks in your kitchen at home too to make it look its best too!
Most of our North London clients like to see bright, open kitchens that feel inviting. Nobody wants to picture themselves living in a dark house, much less cooking in a dark kitchen. Create openness with luminosity. Simple recessed fixtures on the ceiling can add extra light in focused areas of the room. Lights over the cupboards draw the buyers' eyes up, elongating the space.
Bigness and openness will attract the most attention from clients shopping for a new kitchen. Without feeling welcome in the space, your customers are less likely to want the same design for their home.
Accentuate the Best Features
Use lighting in your kitchen showroom strategically. Highlight the major features of your kitchen, especially the parts you'd like to sell. If you're offering a promotion on countertops, for instance, instal lighting under the cupboards to emphasise the counters. If you specialize in building custom kitchen islands, making it the focal point with pendant lighting.
Don't underestimate how useful lighting is in the showroom. With the right lighting solutions, you should be able to direct your clients' attention to your showroom's major features.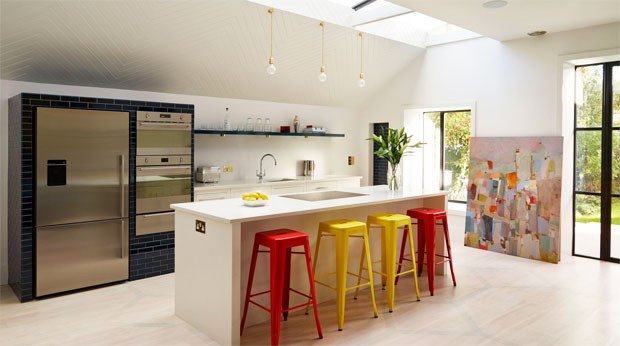 Keep it Simple and Consistent
Kitchens are the most functional room in the house. People easily fall into the trap of cramming too much into one space – an island with barstools, plus a table with chairs, plus a sitting area, plus a storage space…the list goes on. You don't want to sell a cluttered kitchen to your clients. Keep your design and your lighting simple and consistent.
You might be tempted to show off your statement lighting fixtures, the ones with higher price tags. Incorporate bold fixtures smartly, while keeping everything else minimal. Use the lighting in your showroom to highlight the open space in the kitchen. Clients want room to walk around and peek at the displays. Make this easier for them by brightening the kitchen with accent lighting. Consistency and simplicity go a long way in the kitchen showroom.
As we've mentioned, brightness is key in the kitchen showroom. With the right lighting, you can prevent shadows from falling in odd places. If a feature like a refrigerator in the corner, the pantry off to the side, or the breakfast nook is stuck in the shadows, it won't be noticed by clients. If it goes unnoticed, you're less likely to make a sale on it.
It's also important to think about shadows functionally. When you're working in the kitchen, a pendant light over a workspace seems like the best solution. But this easily casts shadows over your workspace. Integrating ambient lighting is the best way to prevent this, by illuminating the space more fully. Guests will be thinking about their particular needs when looking at kitchen design; you should too.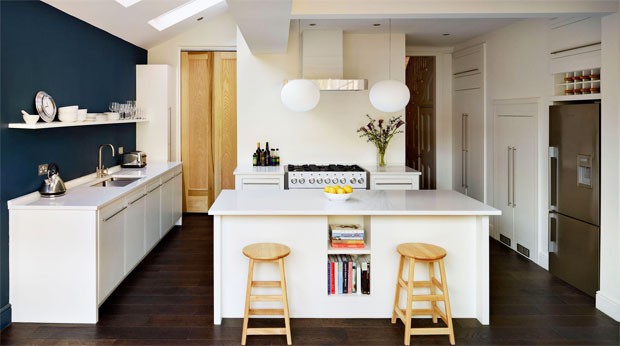 Combine Natural and Artificial Lighting
If it's possible, adopt natural lighting solutions in your kitchen showroom. Natural daylight is always more effective and more welcoming than artificial lighting. Daylight also gives a sense of calm. Relaxed clients are more likely to purchase than anxious ones.
Maximise the available natural light by arranging your kitchen showroom around it. Place a dining table and chairs next to a sliding glass door, as people usually prefer sharing meals in these bright, open spaces. Position the sink or workspace underneath a window, letting the natural light illuminate a functional area.
A lot can be said for simplicity and consistency, as we mentioned. That doesn't mean you should hesitate to go bold with your showroom design. Adding one, well-placed chandelier or a series of quirky pendant lights can have a unique effect on the space.
You can also consider lighting as accessories, or to display artwork in the showroom. Get creative with your lighting solutions. This ingenuity infuses into your clients, who feel like they can trust you to design a kitchen aligned with their personality and style.
With these tips, you're on your way to developing an ideal lighting plan for your kitchen showroom. As kitchen designers in North London, we're experts in devising Italian kitchens for our clients. At our showroom, we show what's possible in North London kitchens, helping customers realise their dream kitchen. You can also use these professional ideas to get the right lighting for your kitchen at home.
Guest Article by Peter Hadzhi, managing director at MultiLiving, who has been in the kitchen and home improvement world for decades, helping homeowners and developers across the UK re-think their spaces with outstanding kitchens.