How To Keep Your Baby's Room Warm and Cosy
|
How To Keep Your Baby's Room Warm and Cosy
Babies have difficulty regulating their internal temperature, which is why it is essential to ensure that your baby's room is at a comfortable temperature. A chilly room can make a child fussy, while an overheated one can be dangerous. Ideally, the temperature should be between 68- and 72-degrees Fahrenheit (UK recommendations are between 16 and 20 degrees Celsius) to make sure your little one gets a good night's sleep. What do you need to do to ensure your sweetheart is safe and comfortable while they sleep? Try these simple tricks. Your baby cannot tell you when they are too cold or hot, so it is up to you to keep them cosy but safe.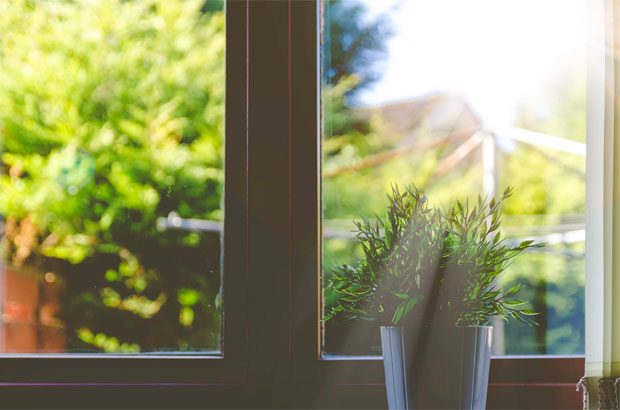 The sensitive skin of an infant has to be protected from the harmful effects of heat from the sun. UV rays will make the skin extra sensitive. Hot weather increases water loos which, in turn, can lead to dehydration. This can leave the skin irritated, red, and dry. You have to keep the little one away from direct sunlight between 10 a.m. and 4 p.m. However, if you practice safe exposure, you have nothing to worry about. This does not mean getting a suntan. Instead, expose your baby to sunlight during the morning. Morning daylight exposure will help your child sleep better at night. It helps adjust the body's internal clock What is more, letting the sun shine in is a great way to heat the baby's room naturally. Leave the curtains open and take advantage of natural light and heat. A big bonus is that it does not cost a thing. You might want to trim any trees, bushes or climbing plants that are growing around the windows to make the most of the sunshine.
Place the crib far away from draughty windows
If you are feeling draughts when it is cold outside, you might need to re-glaze the windows or consider replacing them. Currents of cool air are not good for babies. The child's respiratory system is not fully developed and the cold wind can affect the chest and lungs. The baby should not sleep near the window if it's draughty. Place the crib as far away from the draughty window as possible. According to WebMD, the best place to put the child's bed is near the door. You can get to your kid's side right away if they have problems at night or in the case of an emergency.
Have the central heating replaced
This is not an extreme measure. The comfort of the baby's room lies in the most expensive appliance in the home: the boiler. This device provides heat for the central heating system, not to mention that you can use it together with a hot water cylinder and cold-water feed. The boiler keeps you and your children warm in the winter and cool in the hot summer. Corgi HomeHeat, experts in heating, plumbing, electric, and drainage, replacing the old boiler is not a troublesome task and it can be fitted into any room if it is sealed. Of course, you will not have the boiler in the nursery. If you are on a tight budget, look into government schemes that might be available to you. Talk to your energy supplier and see if you are eligible. If the boiler is insured and it is not functioning properly, have it replaced. The warranty usually lasts  years after the appliance has been installed. A smart thermostat might be included in the deal which allows you to control the heating in your home and save money on utility bills.
Dress your baby in a cotton onesie
A cotton onesie or sleepsuit is a fantastic option for dressing your little one. Some models have fold over mittens, which is really helpful during colder nights. Cotton is warm yet breathable. A cute animal print will make the piece of clothing even sweeter. It is a good idea to put a vest underneath the onesie when it's chilly. Online stores are the best places when it comes to shopping for onesies for kids if you're after more unique designs. Make sure that the bodysuit is made from 100 per cent organic cotton and that it is machine-washable. Infant clothes are made from various fabrics, including but not limited to cotton and polyester blends, fleece, cotton and spandex blends, cashmere, and bamboo. Carefully read the product description before buying.
If you think that it's very cold, why not try pre-heating the child's bed. Use a hot-water bottle or a heating pad. The hot-water bottle will ensure warmth, but it is not recommendable to use it to provide heat to specific parts of the body. The heating pad, on the other hand, may irritate the little one's skin, so choose wisely. Make the baby's room warm enough so that the infant can get a good night's rest in lightweight sleepwear. Place the hot water bottle or heat pad in your child's bed about 30 minutes before putting the child to sleep. Remember tor remove it before you put your child in the bed! Another option is to invest in a sleep sack. The garment can replace loose blankets in the crib which makes sleeping safer. Sleeping sacks are available in different designs, ranging from zippers to secure wraps. The wearable blanket decreases the chances of suffocation and provides a feeling of security. As the baby will get older, they will grow out of the sleep sack and move onto a duvet.
Keeping your baby's temperature at a normal and safe range is very important. See to it that the nursery is at a comfortable temperature. The child's room should not be cold but neither should it be hot. Infants can have a hard time sleeping if the temperature is not optimal. Your baby can even get a rash if she gets too hot. Make sure the baby is warm at night but not too warm. If your baby happens to get cold, avoid warming their skin by rubbing it. This will only make the skin sore. It is better to hold the little one close to you until she warms up.
Guest Article.