How to Make Your Own Snack Bars
|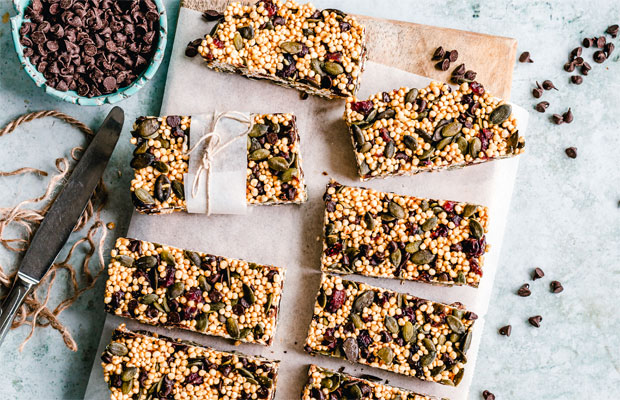 How to Make Your Own Snack Bars
Many brands of cereal bars are not as healthy as you'd think they are. Often, the main ingredient is some kind of sugar. A bit of sweetness is a good idea but it shouldn't be the main part of a healthy snack bar. Luckily, it's not very difficult to make your own snack bars at home. When you make your own snack bars, you can control exactly what goes in them to suit your tastes and dietary needs.
I will not be sharing a specific recipe in this blog post but instead focus on the ingredients that you can add to your own bars – you don't have to follow a strict recipe at all as long as you have the different dry and wet ingredients in a ratio that will firm up to a snack bar.
Dry ingredients to choose from:
Oats (I would always recommend using oats as the base as they're healthy and provide a good texture).
Ground almonds.
Ground flaxseeds.
Ground chia seeds.
Desiccated coconut.
Wet ingredients to choose from:
Some kind of butter or a mix of butters – melted regular butter or your favourite nut butter.
Something sweet and runny – honey, golden syrup, maple syrup.
Chocolate spread or melted chocolate (if you're making a treaty version!)
Flavourings:
Cinnamon.
Vanilla extract.
Cocoa powder.
Pinch of sea salt.
Crunch and Chunks:
Roughly chopped nuts.
Seeds.
Chocolate chips.
Rice cereal.
Dried fruit. (Tropical fruit is really nice!)
The oats and ground nuts and seeds provide the base and bulk of the snack bars while the butter and sweetener creates a glue to hold everything together. The flavourings, chopped nuts, chocolate chips and dried fruit provide the taste and the crunchy bits to make the bars taste great!
Have fun and experiment to make yummy energy bars at home using your favourite ingredients (or whatever you happen to have at home). The texture should be firm so that you can squash the mixture into a tray or baking tin (lined with parchment) for chilling. Press it all down firmly with the back of a spoon for the best result.
You can also melt chocolate to drizzle on top and add some crunchy bits like nuts or dried fruit on top like on these fancy flapjacks. Chill for a couple of hours, then cut into bars. You can wrap them individually in some baking parchment or simply store in an airtight container.
It's great being able to make your own snack bars at home to control what goes in them. They make great snacks for at home and for family hikes and camping too.