InstaNatural Youth Express Vitamin C Moisturizer Review
|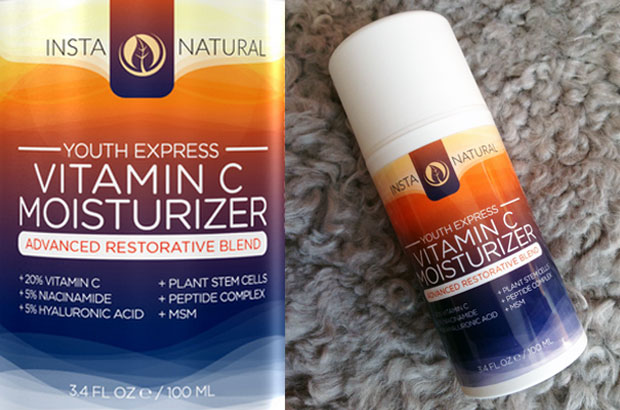 InstaNatural Youth Express Vitamin C Moisturizer Review
This moisturiser contains an unique blend of powerful antioxidants and other ingredients that achieve a healthy, glowing complexion. The key ingredients are 20% Vitamin C, 5% Niacinamide, 5% Hyaluronic Acid, Plant Stem Cells, Peptide Complex and MSM. Together these ingredients create a formula that brightens your complexion as it tackles blotchiness and damages from sun exposure — and protects you against further damage. The cream also helps reduce wrinkles, hyper pigmentation and dry skin.
This moisturiser is suitable as a day and night cream for all skin types and can be used on the body and around the eyes, too. You use it like any other moisturiser after washing your face and applying your serum. For best effect, massage upwards in circular motions, then let absorb completely. You can use it twice a day or just once if you have sensitive skin.
I find this cream to be really light and refreshing. For me it's perfect as a daytime cream during the summer half of the year when I only need a lighter cream. I use this after my serum and then I apply SPF on top.
It glides on very easily and sinks into my skin really quickly. The scent is fresh and natural and very suitable for summer. My skin feels soft, nourished and perked up after using InstaNatural Youth Express Vitamin C Moisturizer. It's like it wakes it up a bit, which is lovely in the morning after yet another broken night's sleep. I would especially recommend this to other mums, but women and men of all ages and lifestyles can benefit from the properties of this lovely cream.
InstaNatural Youth Express Vitamin C Moisturizer costs £19.47 and is available to buy from InstaNatural's website or from Amazon. InstaNatural offers a 100% satisfaction guarantee too, so in the very unlikely event that you are not happy with your product you will be fully reimbursed.
I was sent this product for this review. As always, all my reviews are 100% honest and all thoughts and opinions are my own.