Keep Me Going Cereal Review
|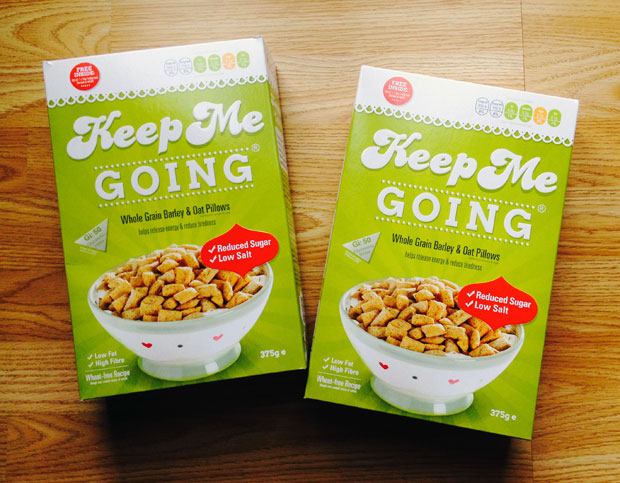 Keep Me Going Cereal Review
Keep Me Going is a new healthy breakfast cereal for the whole family. The brand was born when Richard and his wife noticed how much salt and sugar were in the cereal their three children were eating. The idea was to develop healthy and nutritional products with functional benefits (like a low GI) that could be as competitively priced as the big brands in the supermarkets.
The process took two years but now the product is here. Compared to brands promoted as healthy, like Special K Original for example, Keep Me Going has 8 times less salt, 60% less sugar, double the fibre and a much lower GI — similar to that of traditionally made porridge.
The ingredients list is nice and short: barley & whole grain oat flour (81%), sugar, rye malt, magnesium, salt, vitamin mix.
This cereal does not contain any artificial colours or preservatives. Keep Me Going contains a small amount of sugar and salt, but only what's needed to create a delicious flavour. The rye malt adds a lot of yumminess too!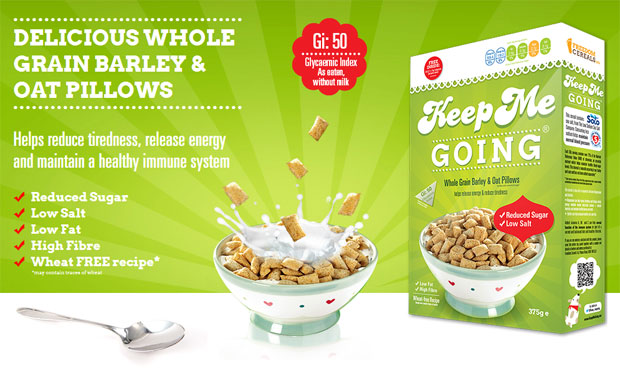 This cereal is suitable for the whole family and to make it more appealing to children (without adding lots of cartoon characters etc.) there are three collectable country trading cards in every box. The cards show the flag of the country on one side and has interesting facts about the country on the other. You can also use them to play a game similar to Top Trumps.
The bright green design of the box is fun yet stylish and also appeals to children and adults alike. It's truly a family cereal! My toddler daughter likes to eat them the way they are — dry out of a snack bowl. My husband eats his cereal with just milk and I love mine with yoghurt and fruit. You can also mix Keep Me Going with other cereal for a tasty mix that brings down the total sugar content.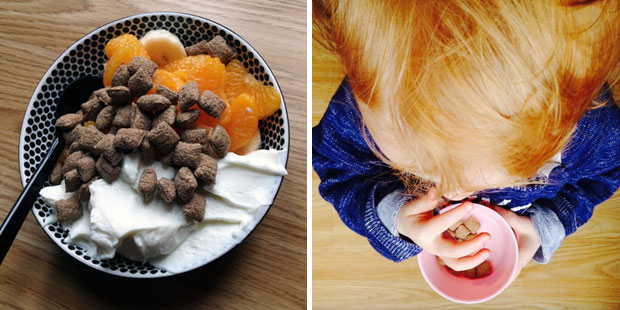 We all agree that the cereal is very tasty! It's got a lot of flavour and we love the format of the pillow shaped cereal pieces — they provide just the right amount of bite and are the perfect size for small fingers and mouths.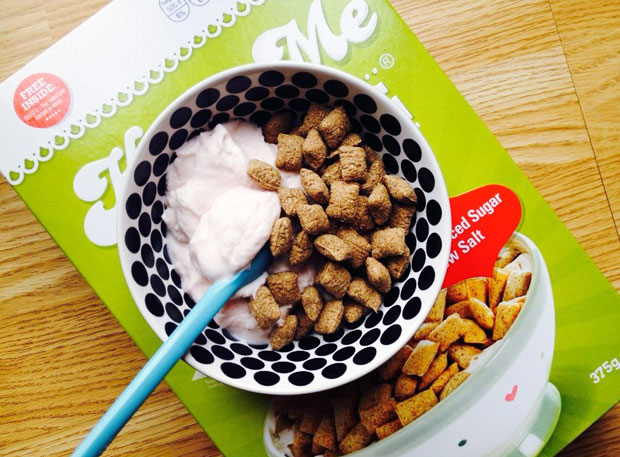 The goal of making this product was to create a:
Really healthy, tasty wholegrain cereal with reduced sugar, low salt, low fat, high fibre and packed with the right goodness to help you through your day.
The goal has definitely been reached. This cereal is delicious and proves that you don't need lots of sugar and salt to make cereal taste nice. The wholgrains full of fibre and goodness help keep me full for longer too. Most of all, I love that a really healthy cereal tastes so good and that my whole family can enjoy it together.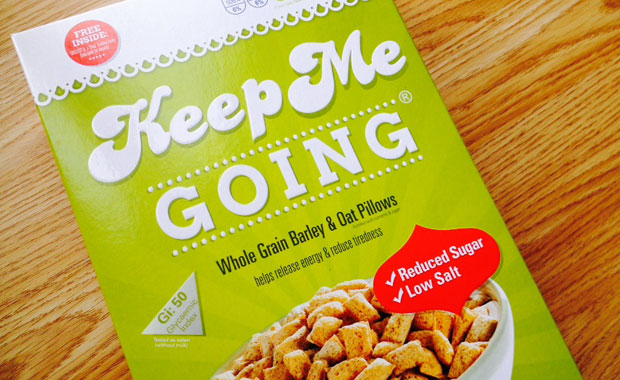 Keep Me Going has just launched and is available to buy from Ocado. Hopefully, we'll be able to buy it from some of the major supermarkets soon too. Ocado have lots of great offers for new customers, like this one that gives £20 off your first shop and free mid-week deliveries for a whole year.
So far this product has been the focus, but new ideas are being developed and the range will be expanded soon. I can't wait to see what the other products will be and I'd love to try them too!
Visit KeepMeGoing.net for more information.
We were sent two sample boxes of this cereal for this review. As always, all my reviews are 100% honest and all thoughts and opinions are my own.