Kitchen Interior Details – Marble Kitchen Knives from Viners
|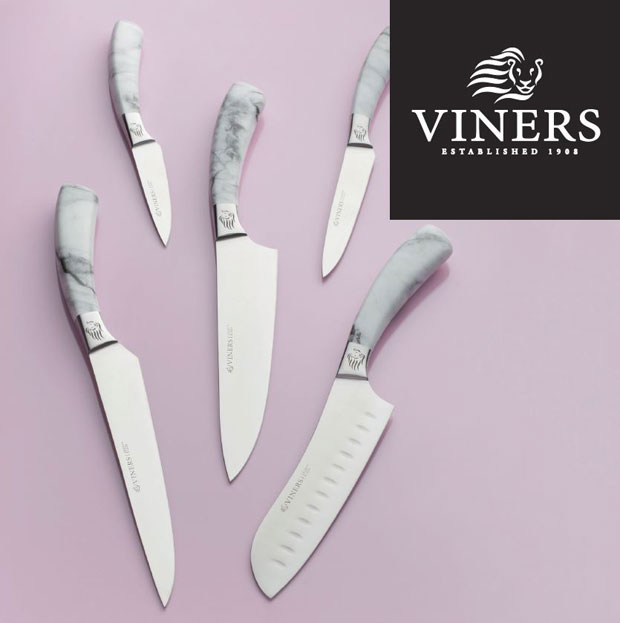 Kitchen Interior Details – Marble Kitchen Knives from Viners
Marble is a classic material to have in your kitchen as your worktops but over the past couple of years, marble has become a huge trend for other interior details too. From furniture to decorative items, the marble trend is here to stay.
It's not just purely decorative items that can feature marble though — I've just come across Viners who make knives and the company has just extended its Eternal knives collection by launching a new range featuring a stunning marble-effect handle.
Viners has over a century of cutlery experience and is a very loves and distinguished British brand that originated in Sheffield where we live.

The brand has continued to develop innovative products but still maintain its tradition of creating elegant, robust and high quality cutlery with a design-led finish.
I have to say that they look quite amazing and would suit any modern kitchen. These new knives feature a subtle smoky marble-effect handle that has a curved structure for optimum comfort when used for slicing or dicing.
The range includes five beautiful knives and they're all made with the finest quality German grade steel blades for superior performance and precision.
The collection includes:
4" Paring Knife (£10.50)
5" Utility Knife (RRP £11.50)
5" Santoku Knife (RRP £17.50)
8" Carving Knife (RRP £17.50)
8" Chef's Knife (RRP £17.50)
The range is so elegant and classic, yet has a modern look to it and it's nice to see professional quality combined with style and a bit of fun. The knives are made to last and have a 25-year guarantee. The blades have a high carbon content for strength and durability and are also taper ground to ensure a sharp cutting edge.
You might know that we are in the process of trying to move house this year and with that comes many interior design plans! I love interior design anyway but when a house move is near and you have a full house to decorate, it becomes even more present in your life.
Kitchen details are one of my favourite things to shop for as my family spends a lot of time in the kitchen cooking, eating, baking and crafting so it's important that it's a nice place.
This marble knife set from Viners would look great in our new kitchen so it's definitely on my list of kitchen equipment to remember when it's time to kit out the new kitchen! They have lots of other beautiful kitchen things too that I've just checked out on Viners.co.uk. I'd better make a wish list!
PR Collaboration.