#LittleOneWears – Hatley Spring/Summer 2016 Collection
|
#LittleOneWears – Hatley Spring/Summer 2016 Collection
Hatley is a clothing brand founded 30 years ago by John and Alice Oldland in the small town of North Hatley, Quebec. It's now an international clothing brand that prides itself on quality production, social responsibility and environmental awareness. They offer fresh, fun fashions for every season.
Hatley is a longtime favourite among celebrity children such as Suri Cruise, Seraphina Affleck and Apple Martin and the brand has just announced the launch of their first ever UK store in London's Chiswick High Road as well as the launch of their new UK website. Hatley products are sold by thousands of retailers in over 30 countries — for example Harrods, Selfridges and John Lewis, but the new London location will be the first stand-alone store in the UK.
The brand makes baby and children's clothes as well as beautiful fashion for ladies. The collections are full of bright and fun colours and patterns. They have everything you need — including daywear, sleepwear, rainwear, swimwear and outerwear — in lots of great designs. The also sell homeware items, accessories and clothes for men.
For my new blog series #LittleOneWears, we are reviewing a PJ Set from Hatley. This beautiful sleepwear set is called Crazy Hearts PJ Set and is a lovely pyjamas that I knew my 2-year-old daughter would love before she'd even seen it. She loves bright colours and patterns and if clothes are not fun she'll often refuse to wear them.
The bright magenta background with a heart pattern made of turquoise, white, pink and red hearts — some of which are dotted or striped — is definitively a fun and bright pattern that appeals to my daughter's taste. The neck, the cuffs and the ankles are trimmed with turquoise which makes a lovely contrast to the magenta. The cuffs ensure a tight fit at the bottom of the trousers so that there's no risk of tripping if the pyjamas are slightly big.
The Crazy Hearts PJ Set consists of a long sleeved top and full length bottoms with an elasticated waist for comfort. The pyjamas is slim fitting and seems very comfortable to wear. My daughter can move around well in it doing her usual jumping and dancing around.
The pyjamas is made from 100% cotton and the fabric is soft and lovely. I washed the set before wear like I do with all baby and children's clothes and the colours remained just as bright and vibrant after a machine wash at 40 degrees.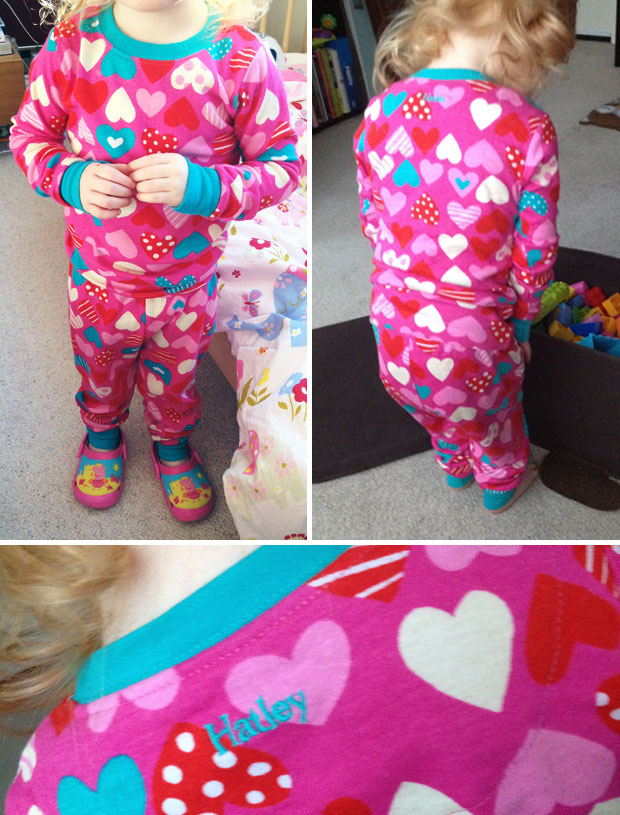 This has become my toddler's favourite pyjamas and she usually favours sleepsuits over two-piece pyjamas. This one has changed her mind and she asks for her hearts pyjamas each night and I struggle to get it off her in the morning. She's even worn it as a daytime outfit because she loves it so much! I wish us adults could get away with wearing pyjamas in the day too. Like this one!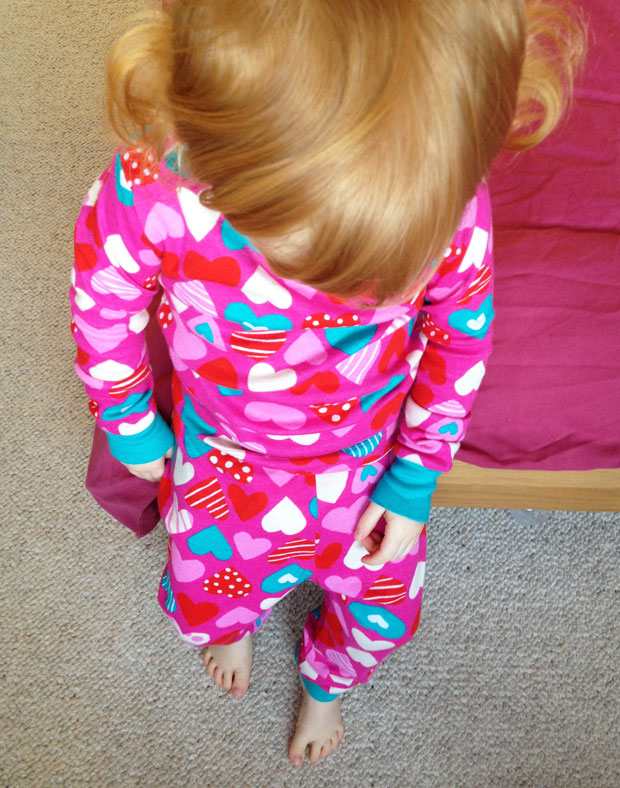 The Crazy Hearts PJ Set costs £24 and is available in sizes 2-12 years. There are loads more designs to choose from in the girls' and the boys' sections of the Hatley website. For me, the designs are quite unisex and I would happily put my daughter in any of the beautiful patterns.

We were sent this item for this review. As always, all my reviews are 100% honest and all thoughts and opinions are my own.