Lumi*Essence Brightening Repair Treatment Review
|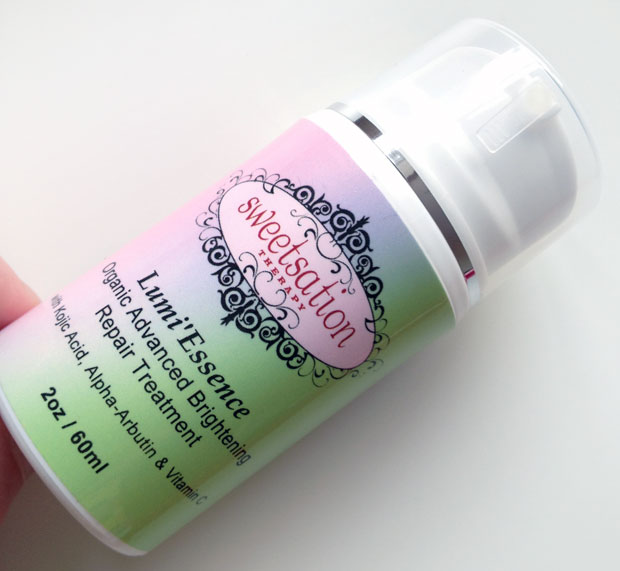 Lumi*Essence Brightening Repair Treatment Review
This is a hydrating face cream that targets uneven skin tome from sun damage. It's best suited for light to medium skin colours to treat dark brown spots, sun spots, age spots, uneven skin tone and melasma skin discolorations.
This organic and all natural lotion is rich and feels great on my skin. It's completely safe for sensitive skin and is Hydroquinone-free.
You use a pea sized amount of the light yellow lotion all over your face in the morning and in the evening, preferably after exfoliating. For oilier skin types, this lotion will provide enough hydration on its own but dry skin types may need another moisturiser on top. You should always use at least SPF 30 with this cream if you'll be spending time outdoors or near a window.
For me, this cream provides plenty of hydration on its own. I would describe my skin as combination skin. I'm prone to breakouts but can sometimes get dry skin and some areas can be sensitive and react to products.

After applying the Lumi*Essence Organic Advanced Brightening Repair Treatment, my skin immediately looks radiant and glowing and any dryness is gone. The treatment feels rich and it takes a while to sink in properly but that just makes it feel even more nourishing and like the ingredients get a good chance to do their thing. The cream contains Kojic Acid which protects against radiation-induced damage and Alpha-Arbutin which is a natural skin lightening agent.
I have somewhat uneven skin tone from sun exposure when I was little but in the form of freckles that I'm happy to keep but I also have some marks from old acne breakouts that can definitely do with fading away. What I love most about this product is the instant healthy glow that it adds to my tired skin which is perfect for the days I want to be make-up free but still improve my skin and look a bit more awake and healthy than I probably am.
When used overtime, the Lumi*Essence Brightening Repair Treatment helps to visibly diminish discolouration from sun damage and makes skin more uniform and healthy looking.
You can buy it from Amazon!
I was sent this product for this review. As always, all my reviews are 100% honest and all thoughts and opinions are my own.