Making Toddler Dental Care Fun with Brush-Baby!
|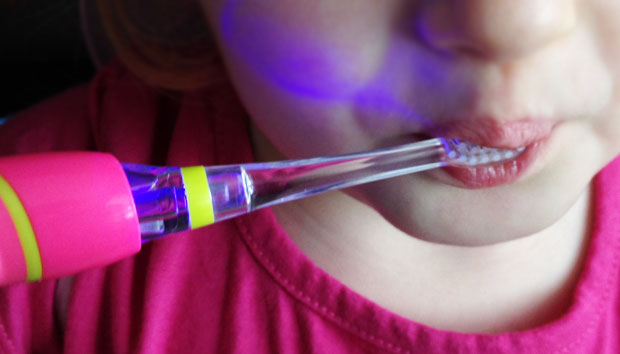 Making Toddler Dental Care Fun with Brush-Baby!
Brush-Baby is an award-winning early years' gum and toothcare specialist started by an entrepreneurial mum who was frustrated at the lack of dental care products available for her baby, so she designed her own range of products.
I have two daughters aged 3.5 years and 14 months and currently they both love brushing their teeth but we have definitely gone through phases where it's been quite challenging to get those little teeth cleaned.
Choosing fun dental products can definitely help get little ones more excited about brushing their teeth and I always make a big deal about how cool the kids' new toothbrushes are and how yummy the toothpaste is to get them in the same mood and it works for us. This makes them feel like it's a treat brushing their teeth each morning and evening as they think it's fun and exciting.
We have a few new products from Brush-Baby that we are using right now and we have found some new favourites.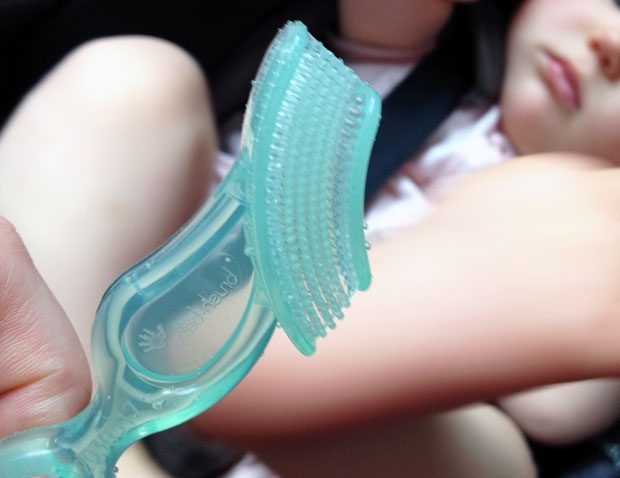 Baby / Toddler Products:
This is an award-winning silicone brush that does not splay like normal bristle toothbrushes. It's great for teething babies and toddlers who refuse to brush their teeth. It's a great way to clean both teeth and gums as your baby chews on it. It's suitable for babies/toddlers aged 10-36 months.
I think my toddler is just past the phase where she would have loved this. For many months, she was chewing on everything and I bought her a bunch of silicone teethers that she loved but she's just not interested in those things anymore. She might be when she starts teething again. She does really love a regular toothbrush though.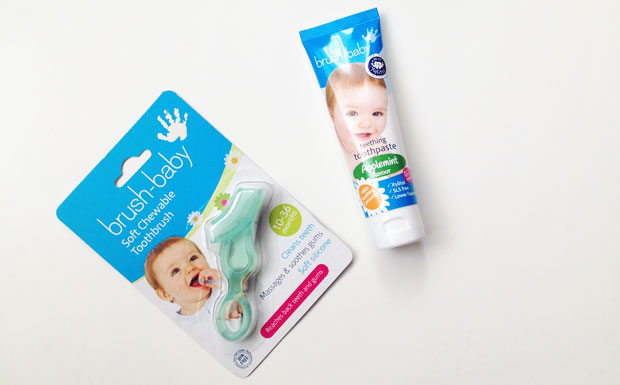 Picking the right products for our children during the teething process is important to ensure that they have the most comfortable process possible. However, if you start noticing unusual symptoms during this period, be sure to check out this Cosmetic dentist in Roseville or one near you for a quick checkup.
This is a delicious Applemint flavoured toothpaste formulated with camomile to soothe during the teething stage. It combines dental protection formulation with the natural anti-inflammatory effects of camomile to soothe those sore, teething gums. It's a gentle toothpaste for babies and toddlers aged 0-2 years. It's SLS free and a non-foaming formula with xylitol to reduce sugar acids and helps restore the mouth's pH balance to a healthier level. The low flouride helps strengthen enamel but is still safe to swallow. My littlest one loves this toothpaste and I can see why! It tastes great and I love the mix of apple and mint together.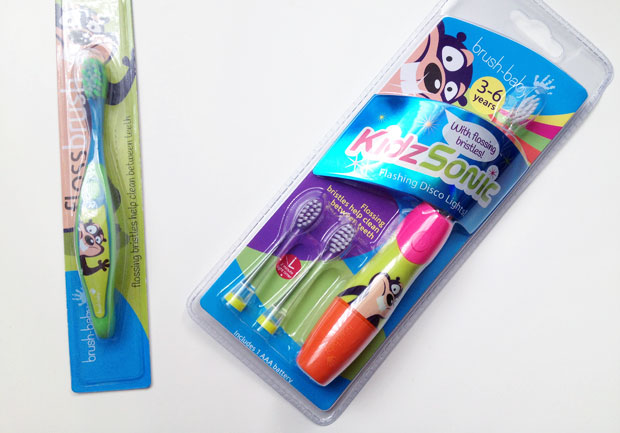 Kids Products:
We have two new toothbrushes for my eldest which is great as we keep one upstairs and one downstairs.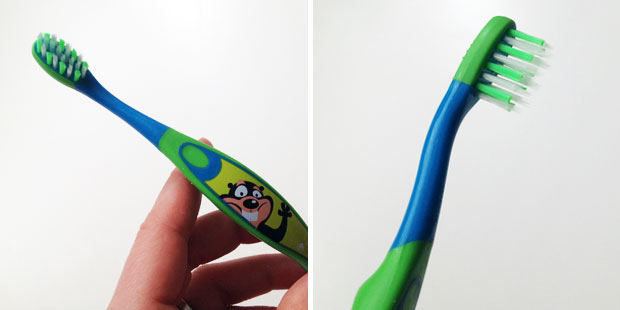 This toothbrush is a great way to introduce flossing to children who are too young to floss. The FlossBrush is designed to help clean between teeth and into the gum line with its longer bristles and has short bristles to clean the surface of the tooth too. The unique bi-level bristles remove plaque not reached by conventional toothbrushes.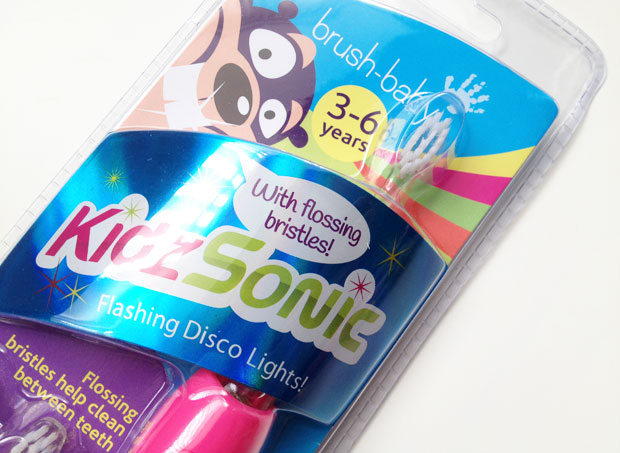 This is (quite literally) the highlight of this bundle of products! It's an electric toothbrush for kids that lights up with flashing disco lights! What better way is there to get kids excited about tooth brushing? It's got flossing bristles to get in-between teeth and short ones to clean the surfaces — like the FlossBrush above.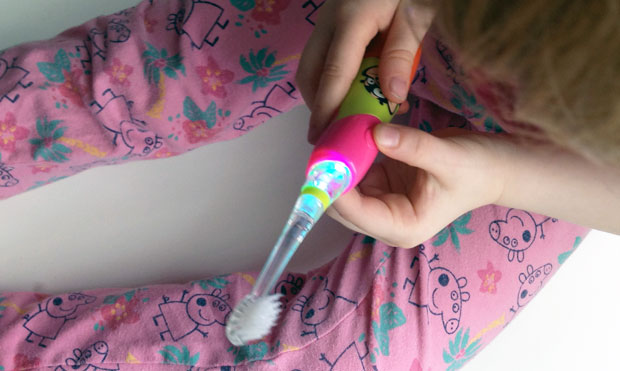 The handle is lightweight and ideal for small hands to hold comfortably. The brush head vibrates softly when the toothbrush is on which helps clean your child's teeth and gums. You still have to manually brush — it's not as powerful as a chargeable electric toothbrush as this runs on an AAA battery. It's a great way to introduce good oral habits from a young age.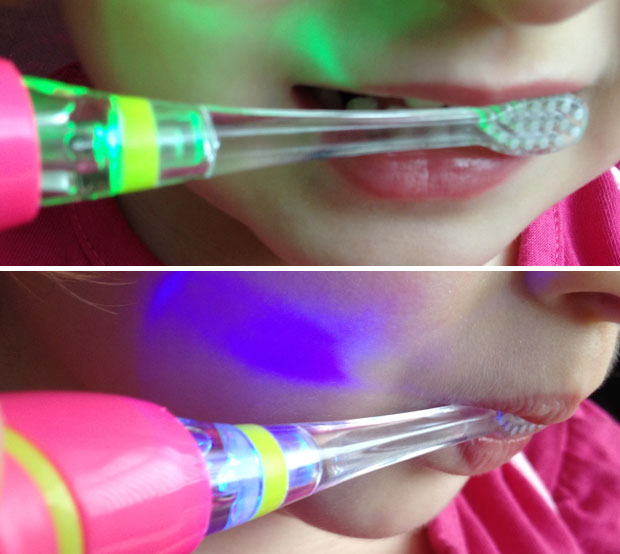 This brush has a flashing 2 minute disco light timer with 30 second pulse reminder, to keep kids brushing and to remind them when to move to a different part of the mouth. I love this feature! The lights also makes it easier for an adult helping to see inside the mouth and help brush well in all areas. My 3-year-old is a bit obsessed with her new electric toothbrush — she loves the flashing lights in different colours!
The toothbrush can stand up on its own and comes with three brush heads.
Watch my quick demonstration below:
Don't miss Brush-Baby's guide to How to Teach Your Child Proper Toothbrushing.
Collaborative Article. We were sent these products for this review. As always, all my reviews are 100% honest and all thoughts and opinions are my own.