MAM Week – Day 5 Part 2: MAM Learn-To-Brush Toothbrush Set Review
|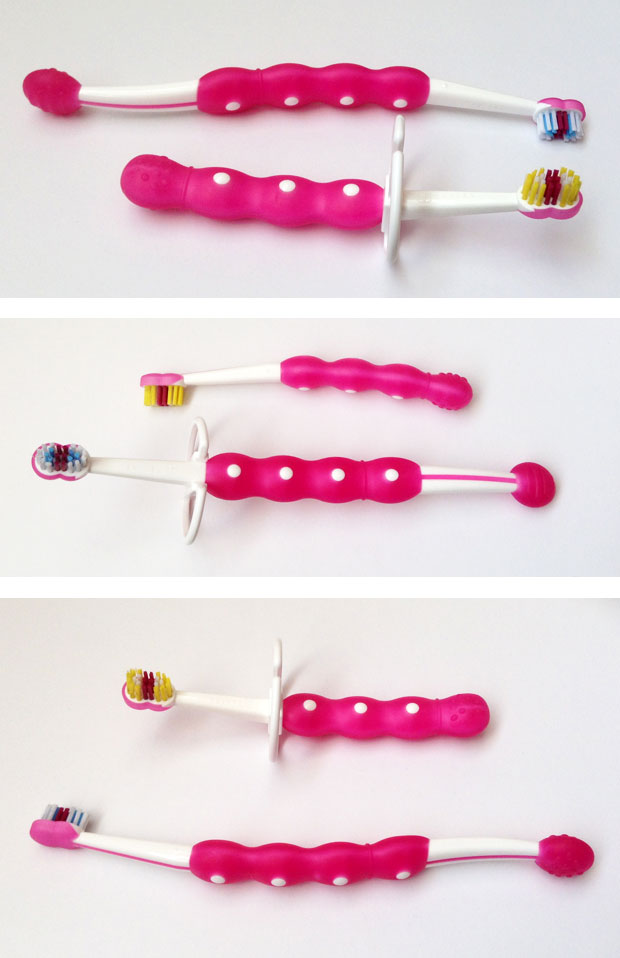 Day 5, part 2, of MAM Week is here! Last out is our MAM Learn-To-Brush Toothbrush Set Review.
Teaching your children good hygiene from the start is very important and getting them into a good oral care routine is a big part of this. The MAM Learn-To-Brush Toothbrush Set is a set of two toothbrushes: one with a short handle for your baby to hold on her own and one with a longer handle that is meant to be used together with an adult.
The long one is such a great idea! Babies (and children) love to do things themselves but they really don't know how to brush their teeth properly so this is the best of both worlds: the baby/child feels independent brushing his/her own teeth but a parent can help make sure all the right places get cleaned.
The bottom end of both brushes has a massaging bit with some texture that is perfect for cleaning the tongue or for sore gums to chew on. The brush heads are rounded and the bristles are soft but quite firm. The handles are really nice to hold for both babies and adults.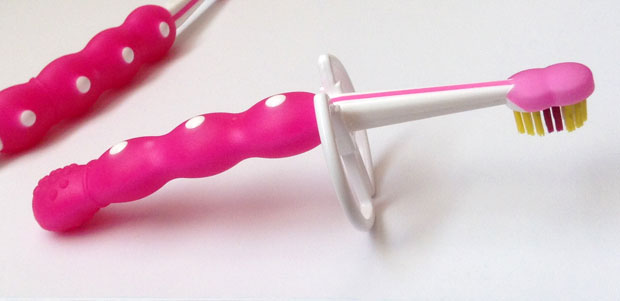 My favourite bit is the protective shield! It can be taken off and moved to the other brush and it makes sure your baby doesn't put the toothbrush too far in and gags. It also ensures that the brush doesn't touch any surfaces when laid down so it is very hygienic.
We are still waiting for the first tooth to show up but we are definitely close and my baby loves to chew on things including these brushes. Together we brush her gums and her tongue and she loves it. I give her the short brush to chew when I brush my teeth so it has become a routine for us to do it together.
The MAM Learn-To-Brush Toothbrush Set is suitable from 6 months onwards and is also available in Blue and Green.
We were sent these toothbrushes for free in exchange for this review. As always, my reviews are 100% honest and all opinions and thoughts are my own.