10 Everyday Situations That Are Made Easier with The LapBaby
|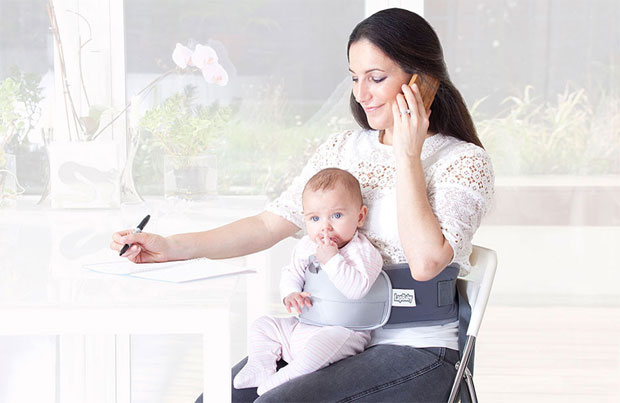 10 Everyday Situations That Are Made Easier with The LapBaby
Being able to have some hands-free time even when you have a young baby is so convenient and now, thanks to the LapBaby, it's possible! Read my full review of this amazing product here.
There are so many everyday situations in my life as a mum of young children that have been made easier since I got the LapBaby:
Working – I spend a lot of time doing various things on our PC such as writing, editing photos and graphic design work. Being able to do these tasks easily with both hands at the same time as I have my baby sat on my lap (happy and satisfied!) is so important to me and saves me loads of time as I can be much more efficient when I have two hands.
Eating Meals at Home – Meal times can be quite rushed and stressful when you have a baby and often the parent with the baby has to eat one handed if the baby has not settled at the right time. I try to get my baby to sit in her bouncer chair when we eat but she's usually been sat there for a while already while I cook the food so she's ready to be close to me again when it's time to eat. Having the LapBaby means I can still enjoy my food and use both hands to eat properly while my baby sits on my lap and joins the family at the dinner table.
Playing with my Toddler – Playtime with my toddler is very important and we love playing with Lego, Playmobil, figurines or jigsaws on the living room floor. When the youngest one wants to join in, I use the LapBaby so that I can still use both hands to create some fabulous Lego constructions!
Doing Crafts – I'm a crafty girl and my toddler is too. She loves playing with PlayDoh and we do that up to three times every day. Crazy, I know! We do this at the kitchen table and, with my baby in the LapBaby, it's so much easier to play properly and get creative with the PlayDoh.
Dining Out – We don't dine out as much anymore but I'm sure we'll start going out a bit more again soon now that the newborn phase is over. Like many babies, my baby sleeps happily when we're out and about moving in the pram but wakes up when we stop to have some food or a coffee. Instead of juggling a plate and cutlery or a hot drink and holding my baby, I can have her securely placed on my lap while I enjoy having a meal or a coffee out.
Travelling by Train or Bus – When we travel by train or take longer journeys by bus, I need as many hands as I can have to look after both the kids and our stuff. I also need my hands to entertain the toddler during the trip and the LapBaby makes this possible. My baby happily plays with a toy or a teether clipped onto the LapBaby and the journey is made a lot easier and fun for all of us.
Flying – We've not flown with the LapBaby yet but we will do and I'm sure it will be so useful! The baby belts that you get on the plane are so annoying and, in my experience, babies hate them. I don't know if we'll be allowed to use the LapBaby during take-off and landing but we will definitely use it during the rest of the flight for a comfortable trip for the whole family. I think that the LapBaby should be the standard baby belt on planes!
Socialising with Friends – My babies are not early sleepers. Baby No 2. sleeps quite well from about 9.30-10.00 pm onwards but is up and quite social before then. If we want to see friends and have a chat over a glass of wine or something, the LapBaby comes in handy to give my arms a rest as we all enjoy the company of friends.
Getting Ready – This is something that can be difficult when you have a baby that doesn't sleep in the daytime and wants to be close to you at all times. I can use the LapBaby to be able to do my make-up (on the few occasions that I wear any) and the process is a lot smoother and faster than when I try to do it one-handed or with an upset baby sat next to me!
Playing Games – In my family, we love playing board games or card games and a family dinner party often turns into a night of playing games. Babies love to feel involved and having my girl sat on me in the LapBaby means she can see what we're doing and I can take part in the games without worrying about balancing my baby at the same time.
Read more on LapBaby.com and buy from there or through Amazon.co.uk. It costs £24.99 which I think is an amazing price for this awesome product!
I was sent this product for this review. As always, all my reviews are 100% honest and all thoughts and opinions are my own.