Miss Nella Non-Toxic Peel-Off Nail Polish Review + Giveaway
|
Miss Nella Non-Toxic Peel-Off Nail Polish Review + Giveaway
Miss Nella is a nail polish brand that makes non-toxic peel-off nail polishes with children in mind. The nail polishes are available in lots of different colours, both glittery and non-glittery. The formula is completely non-toxic and is water-based too. This means that there is no odour. The incredible peel-off technology means you can remove the nail polish quickly and without the need for any harsh chemical removers. These nail polishes are suitable from age 3 and above. Adults can of course use them too.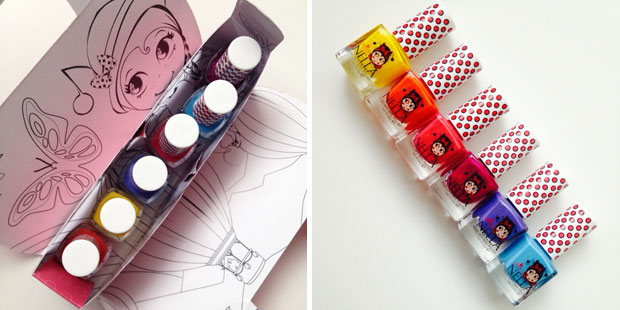 The current range includes 18 beautiful shades with primary base colours such as red, blue, yellow, and glittery and non-glittery colours such as pink, yellow, red, orange and purple and lots more.
I've tried a rainbow of colours from this range of nail polishes: Jazzberry Jam, Sweet Lavender, Mermaid Blue, Strawberry 'n' Cream, Poppy Fields and Sun Kissed. Miss Nella nail polishes cost £5.99 each or you can buy a double pack for £9.99, a mini pack of 3 for £15.00 or a six pack for £24.99.
I love having colourful nails but am not a fan of all the toxic chemicals in regular nail polish and avoid using these when pregnant or when my kids are in the same room.
The Miss Nella nail polishes that I've tried were all really easy to apply. Most only needed one coat. It was just the blue one that needed an extra coat for full coverage. The polishes dry really quickly and are easy to peel off whenever you need or want to.
The polishes are great for kids but also for adults who like to change their look quickly and easily. These polishes are so easy to peel off. Each nail comes off in one piece and it's so satisfying! My favourite shade must be Jazzberry Jam because it has a really pretty sparkle but I really like the other colours too. Since these nail polishes peel off, they don't stay on for very long. If you wash your hands a lot, the polish starts to peel the same day but this is not an issue as they're meant for a bit of fun and are mainly for kids.
If you would like to try these nail poishes, head to Miss Nella's website to shop your favourite colours or enter my giveaway below for a chance to win a double pack. There will be five lucky winners! UK entrants only. Terms & Conditions apply. The giveaway will end on the 8th of August 2016.
Find our more about Miss Nella by following them via Instagram, YouTube, Twitter and Facebook. They celebrate their birthday this month so there are lots of fun surprises, freebies and special offers at the moment!
a Rafflecopter giveaway

I was sent these nail polishes for this review. As always, all my reviews are 100% honest and all thoughts and opinions are my own.