InstaNatural Argan Oil Review
|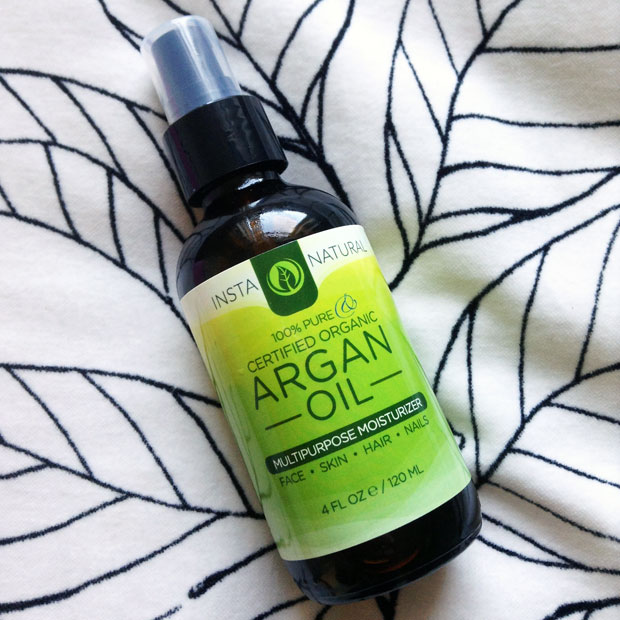 InstaNatural Argan Oil Review
This is a proper multi-tasking product! It can be used on your face, body, hair and nails as a moisturising treatment. InstaNatural's Argan Oil is 100% Pure Certified Organic Virgin Argan Oil and nothing else. No fragrances, chemicals or preservatives — just pure, cold-pressed Argan oil unlike many other brands on the market.
The oil is lightweight and absorbs quickly. The natural scent of Argan oil is nutty and earthy and quite mild. I can only smell it as I apply the oil and then the scent goes away. Some people describe it as similar to popcorn but I think it's more like a mild olive oil scent. The scent indicates the high quality of the oil — scent-free Argan oil products have been deodorised which is a process that also removes vital nutrients at the same time.
Argan oil is great for many things: I've used it on my hands and nails, my body, my face and my hair. A few drops go a long way to soothe dry skin and cuticles and used on my hair it reduces the look of split ends and frizz. When my face feels really dry, this makes a lovely hydrating treatment and heals any flakiness and tight skin as I massage it in. It's even said to help control breakouts, which is perfect for my skin type. My skin is left moisturised and glowing.
This oil can also be used as a pre-styling heat protector for your hair, as a soothing aftershave or as a massage oil. It would also make a wonderful stretch mark oil for pregnancy!
I'm really enjoying using this product for lots of different things. I love multi-tasking products! You can really tell that this oil is of the highest quality — it feels lovely and smells just right. There's no greasy feel and I can really see that it works.
InstaNatural's Argan Oil  costs £16.95 and is available to buy from InstaNatural's website or from Amazon. InstaNatural offers a 100% satisfaction guarantee too, so in the very unlikely event that you are not happy with your product you will be fully reimbursed.
I was sent this product for this review. As always, all my reviews are 100% honest and all thoughts and opinions are my own.